for awhile i have been wanting to do something to my hair. It seems to lack a shape or i just wanted to look different. I did head over to my trusty ah Hui for a trim over the weekend. It was then that i realised it has been about a year since i actually went for a hair cut with him. and i actually barely did any trim for the past year... and i suddenly remember why! ahhaa.. coz he cut it too short (in my opinion) when i went to him, also before CNY last year! hahahaha
Geor says its very stressful to cut my hair. want to cut yet cannot compromise on length. hahaha
so anyway, sidenote, ah hui has since changed salon (kinda... still under Shunji but previously was called Base Station when located in Isetan) and the new environment feels a lot more cramp and messy. I kinda preferred when he was in isetan. Feels quieter and all.
many would know ah hui as my trusty stylist coz i have easily recommended about 20 over people whom a good 50% still go to him regularly. The rest who dont is probably coz he is just too far away (Tampines).
anyway, ah hui is a stylist with visions, who wants to do it differently from others. So he look up courses, business courses. I admire him for the discipline and visions. As such, he is taking a hiatus and will only be back maybe 6 months to a year later.
OK.. so i have drifted. So i wasnt satisfied with my hair cut over the weekend from Hui, i was yearning for some change. Something different that i can tell i guess. I was really tempted to cut it short yet the days of having blow dry it just strikes fear in me - though yes, i do still have to blow dry and curl my long hair now but its just different. Long hair is alot easier to do all that. Plus long hair i can kinda of at certain days afford to not style it and just tie it all up on a super late day (which i am fully capable of being late like all the time - i'm sorry).... and so, in the office, YL and Sonia were both visiting Sophia of Aqua Hair Korean salon and they have beautiful hair. In fact i have been itching to visit Sophia for a long time but never got down to it. YL recently had a very nice new hair cut so i am tempted once again.
so i went. Aqua is located at level 2 or 3 of Delfi Orchard. Sophia is korean - as you would have guessed. She is very sweet and very gentle. It was a very nice experience.
and the results were pleasing!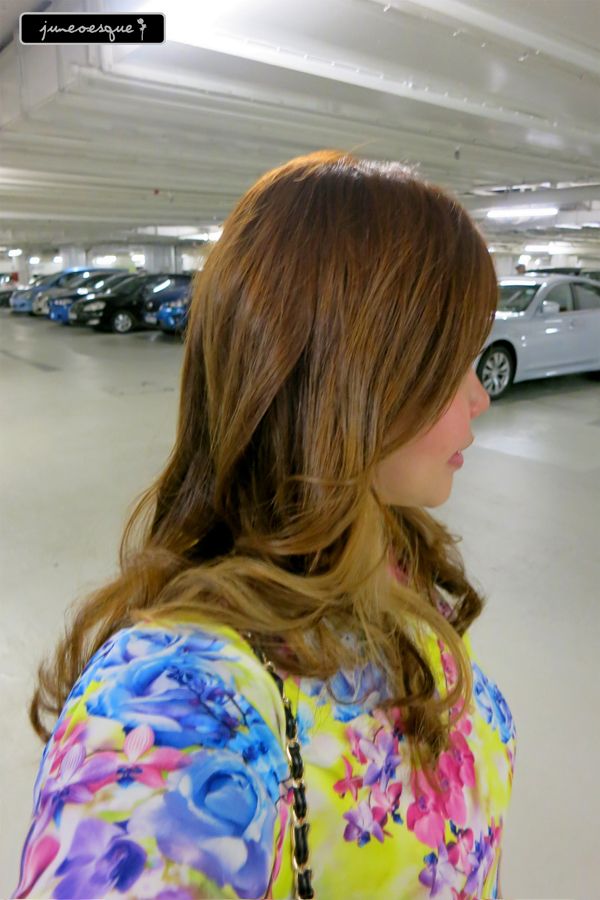 actually, i was very torn, very keen to cut my hair short again but decided to put that aside till after CNY. Let's not make rash decisions before CNY. hahaha
Geor came to meet me after the cut....
and we went for Nam Nam!
Her first Nam Nam experience!