as some would already know, i have been trying to swim regularly as part of an attempt for a healthy living. Got to give thanks and credit to Joanne and her mum. Jo's mum gave me access to her place so that i can go swimming anytime i want. But knocking off at 6.30pm doesn't make it easy because by the time i knock off and rush home etc and get there, its swimming in the dark... and at times kind of creepy. haha
Also got to thank Clammy who makes it a regular routine to swim with me bi-weekly. Such commitment from friends make it even more encouraging to continue the routine. :)
so yes, i actually enjoy swimming a lot! and since the hotel comes with a pool, there's no reason to make use of it especially when its much more convenient to wash up there after. so i made an effort to be up around 8 am this morning to head down for a swim....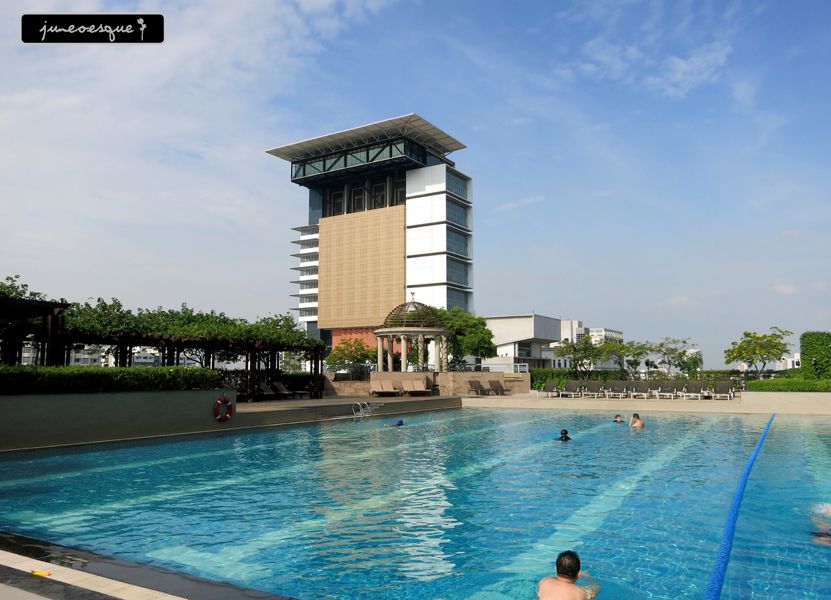 Pathuwan Princess has a nice sized pool but the water in the pool is kinda salty. bleah!
there were nice chilling areas which were good for sun tanning...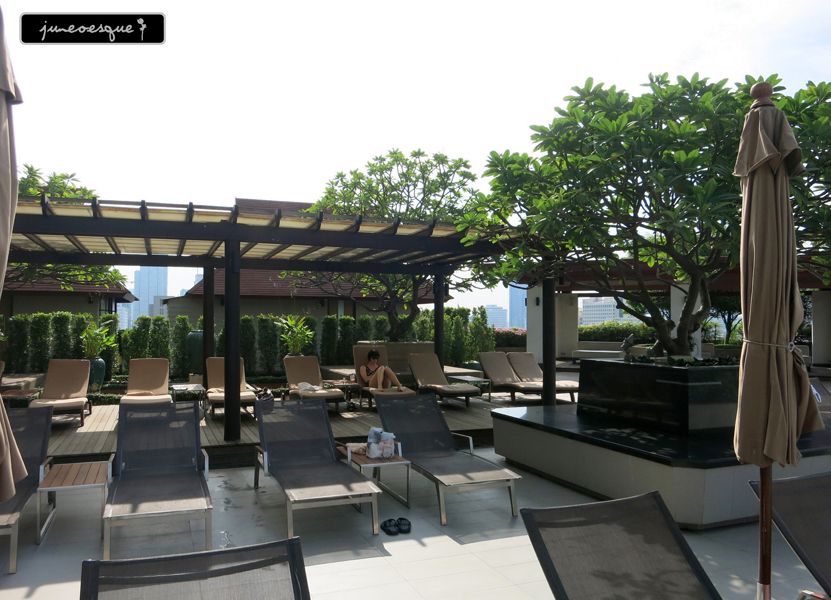 i had a good swim of about 10 laps only. had wanted to do more but the sun was just too hot!
first agenda for today is WANTON MEE! Yes, you know, that very famous one that everyone is talking about! It is located within Pratunam, opposite Platinum Mall.
To be more specific, find the Mcdonalds where Glow Pratunam Hotel is (Glow Pratunam is also the same building where they call the Shibuya Shopping Mall). On the lane where you see Mcdonalds, walk in, it is around 6 to 7 shops in the lane and on the right side of the lane.....
SabX2 Pratunam Wanton Noodles
4/32-33 Soi Petchburi 19, Pratunam, Bangkok, Thailand, Tel
+66 2 653 9618
+66 2 653 9618
Opening Hours: 9am - 3pm Daily
aside from wanton mee, this place is also famous for their pork trotters rice! Check out the awesome goodness!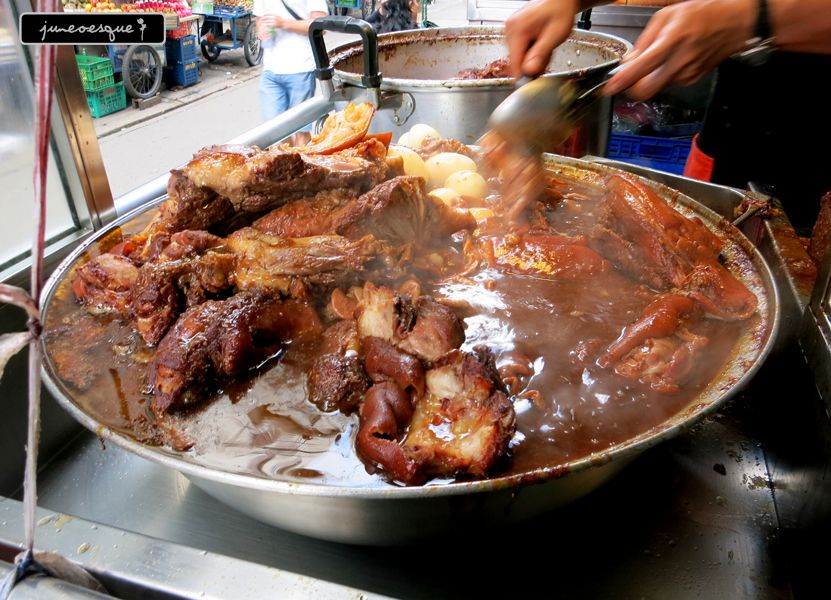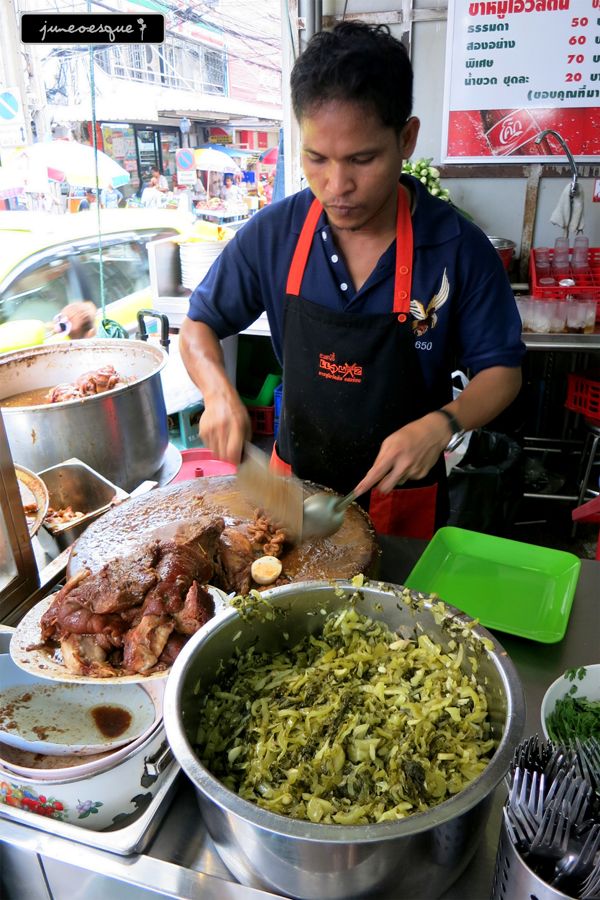 the inside seats are fully air conditioned (
heng ah
) which makes the meal rather enjoyable. And bascially, the interior is simply filled with Singaporeans, Singaporeans and more Singaporeans!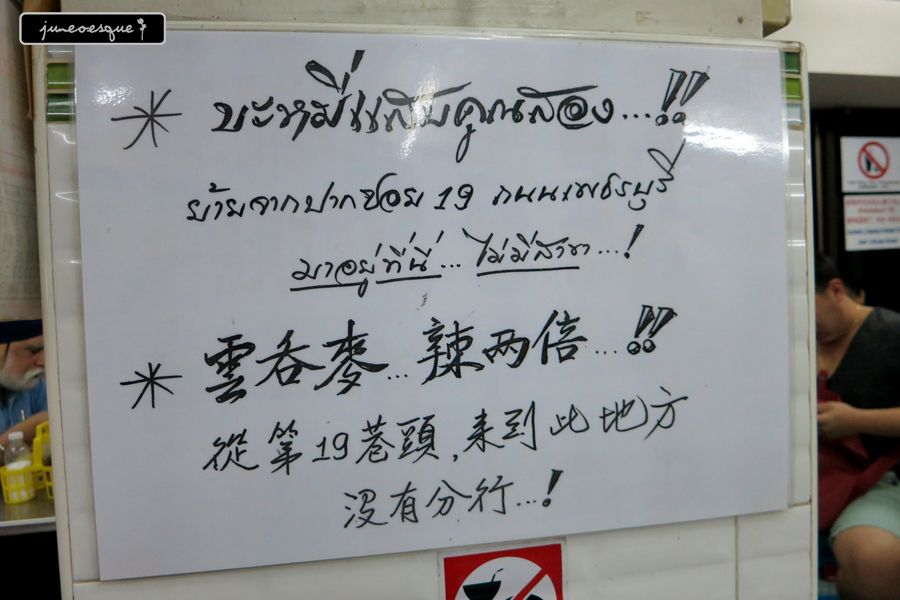 it was also a breeze to order because the servers generally speak chinese. It was kind of funny coz we ordered 2 bowls of wanton mee and dar dar was telling me when her husband came previously, he ordered 3 bowls for himself because the serving was just really small. Who knows, after our orders came, 2 guys who sat beside us ordered and that's when we realised, got size one! hahaha
anyway this is our small sized wanton mee....
you know how sometimes when things are too widely raved about, it is usually disappointing? well, not so for this place. The wanton mee is indeed not bad. I think mainly because of the lard sauce they use to season the noodles. The wanton is also of a decent size and rather tasty. the small portion can be finished within about 4 - 5 mouths. haha.. really a small portion.
We also ordered the pig trotters without the rice with some intestines and all...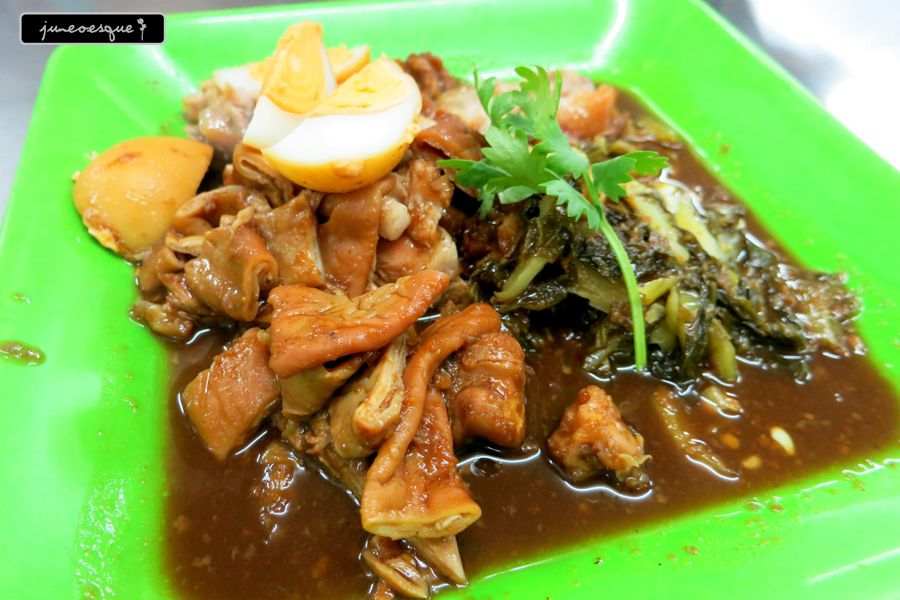 it was sooooooo good! So tender and flavourful!
it was so good, we ordered an additional plate of just the meat...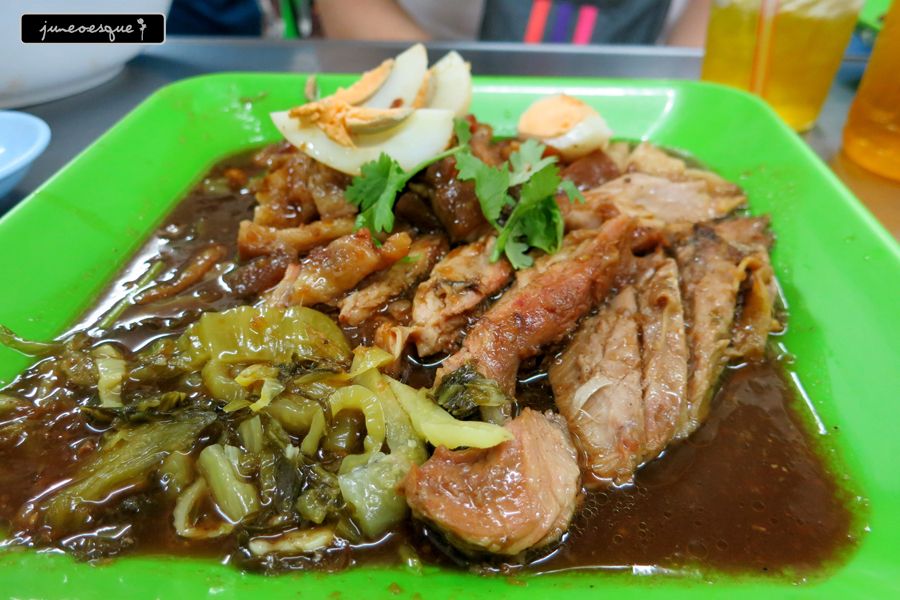 and haha.. we also topped up on the noodles!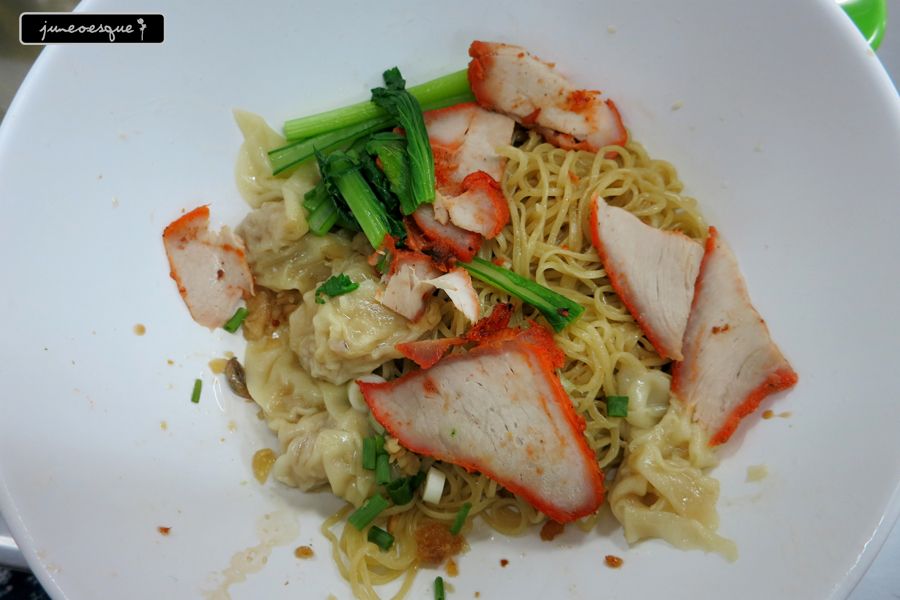 and whenever in bangkok, i will also try to check out the pies they have in mcdonalds. they will usually have savoury pies instead of the sweet ones we have in Singapore. And today they had Spinach Pie...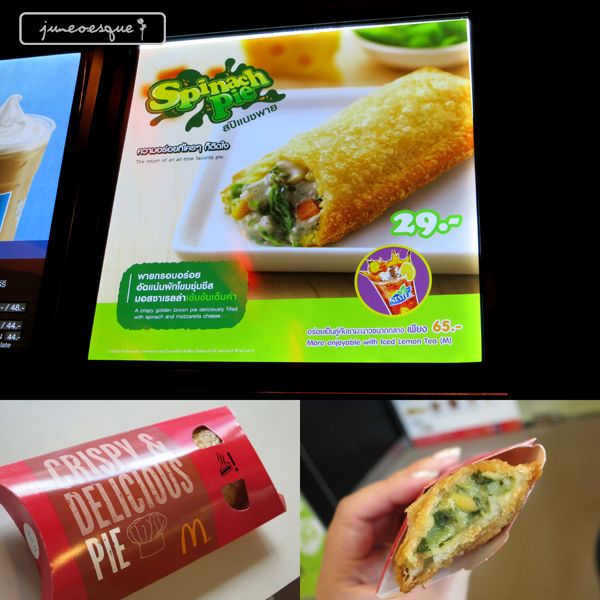 despite it being a savoury pie, it is still a little sweet so i like it as much.
after our heavy brunch, we split up and went on our way for our intensive shopping!
and it was really intensive. The thing about bangkok shopping now is they typically don't let you try the outfits before purchase. and they will indicate very clearly that there is no refund and no exchange. They really don't care if you buy a wrong size. The sad thing is also that they are no longer polite or friendly like they were many years ago. Somehow, somewhere along the way, they have just turned to be an unfriendly bunch and its all strictly business. Quite sad.
But overall, items are still generally really crazy cheap.
I had loads of good buys. So good that i had to reschedule our meet up timing from 4pm to 5pm with dar. haha
i was lugging around 3 big bags of shopping.. so much that i couldnt really walk anymore.
I was sitting around waiting for dar dar when i spotted one of the gigolos from the joint we were at last night! haha.. he recognised me as well. we smiled and i quickly looked away, in fear that he might come by and sit down. haha
After dar dar met up with me, we headed to A&W for my favourite nuggets!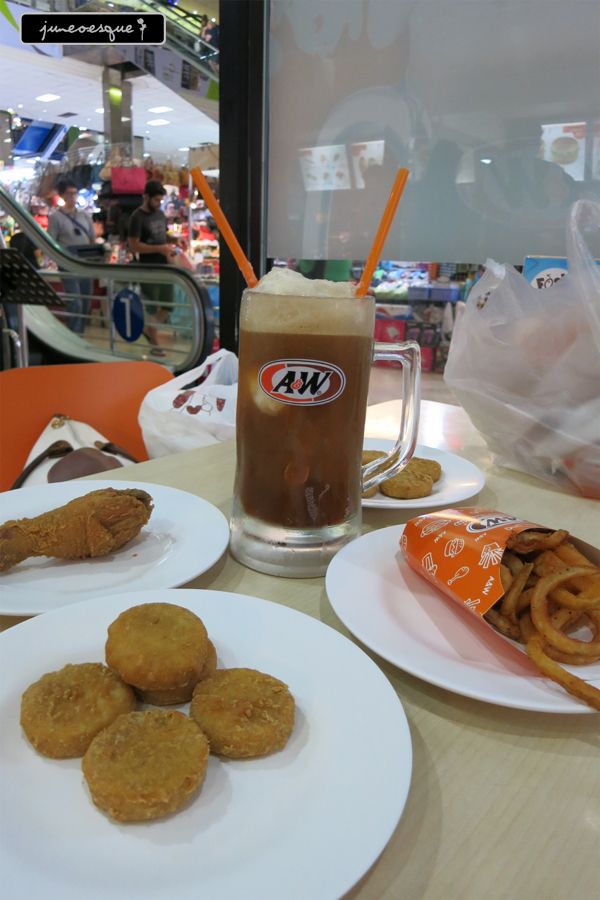 they have absolutely the best nuggets. very tender!
we took a cab back to the hotel to drop off the crazy shopping and we had wanted to hop back out but alas, the draw of the bed was just too much. We ended up nua-ing in the room for awhile longer and we couldnt get any slots for massage at healthland so we ended up heading out to the night shopping around siam centre area.