barely had about 2 hours of sleep coz i effectively finished packing only around 3 plus am and i had to wake up around 4.30 am to prepare to get to the airport around 5.30 am for our 7 am flight.
haha.. i told dar dar this first in last out theory is quite tortureous! haha
so on our flight, other than the not so tasty SQ breakfast, we were both fast asleep...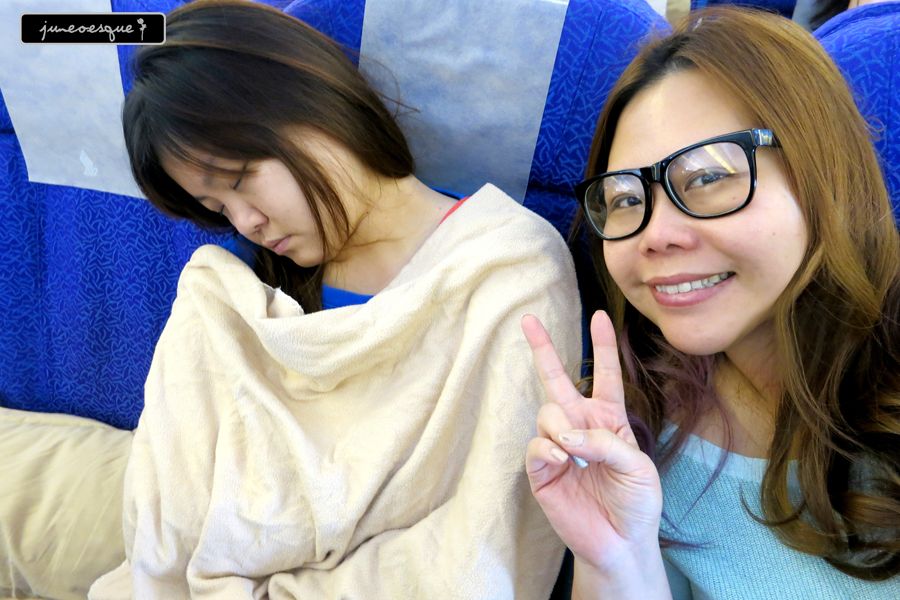 arrived in thailand around 8 plus am and we took a cab over to the hotel...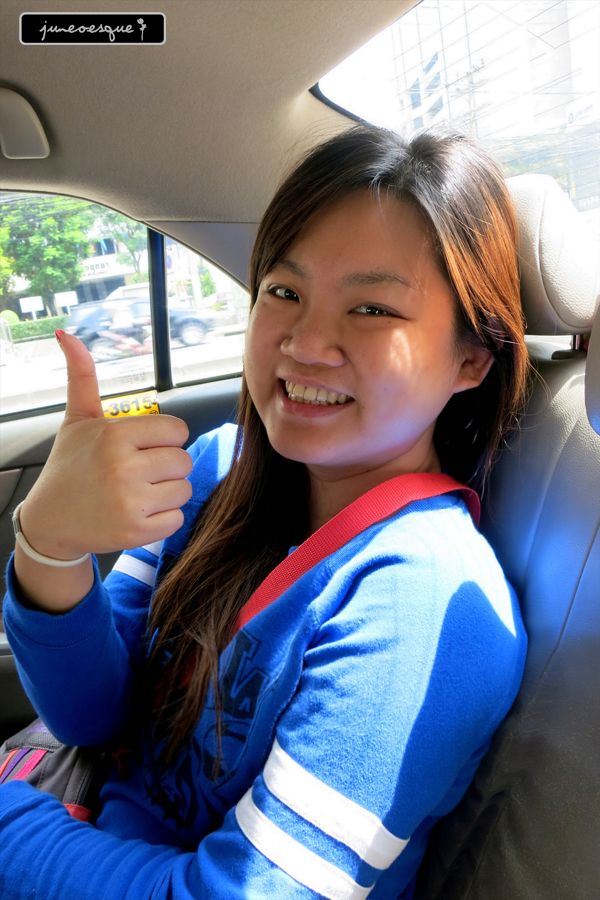 this time round we are staying at Pathuwan Princess Hotel...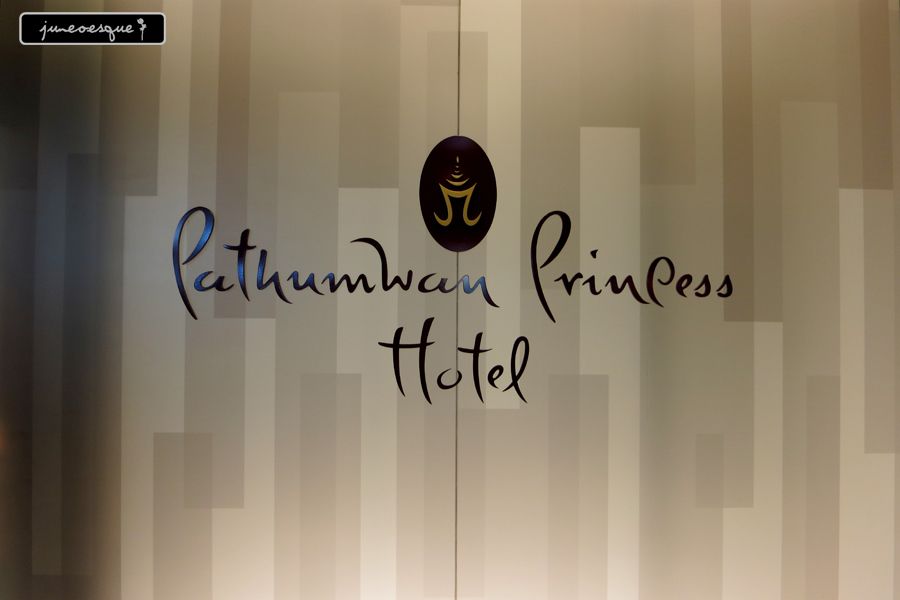 this hotel came highly recommended by my colleague Yang Ling. Its located right where MBK is and it is linked by the BTS station Stadium. I was also quite lucky, upon checking, there was corporate rates for the company i work for.
We got to the hotel around 11 am after a huge jam of about 1 plus hour and were granted an early checkin.
it was a nice and decent sized room...
there's just this thing about the draw of a bed. A hotel bed in particular. haha.. we were soooo tempted to take a nap but the whole point of the first in last out theory on holidays is to maximise the stay overseas so we dragged ourselves out of the bed.
the first thing we did was to head for lunch at Ping's restaurant. It is located at level 2 of the hotel we are staying in...
Ping's Thai Teochew Seafood Restaurant
Address: 2nd floor, Pathumwan Princess Hotel, 444, Phayathai Rd., Pathum Wan, Pathumwan, Bangkok 10330 Thailand
Tel: (02) 661 7860
Website: http://www.pingsrestaurantgroup.com
Lunch A La Carte: 11:30 a.m. - 02:30 p.m.
Dinner A La Carte: 05:30 p.m. - 11:00 p.m.
This place came highly recommended by a few different sources..
we ordered an appetiser sampler...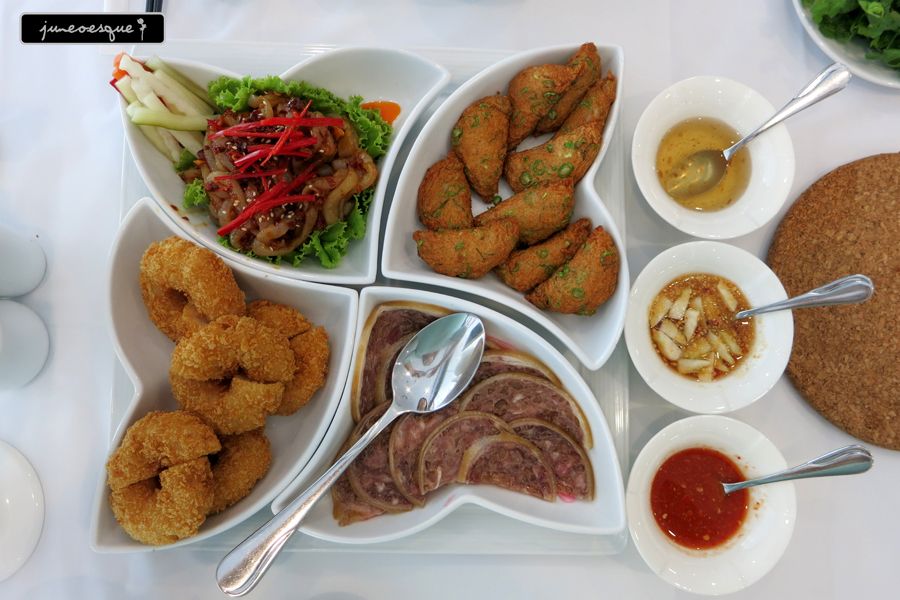 we had wanted to order a small set ($500 baht) but because we were also keen in the prawn cakes, we upgraded to a medium one ($800 baht)...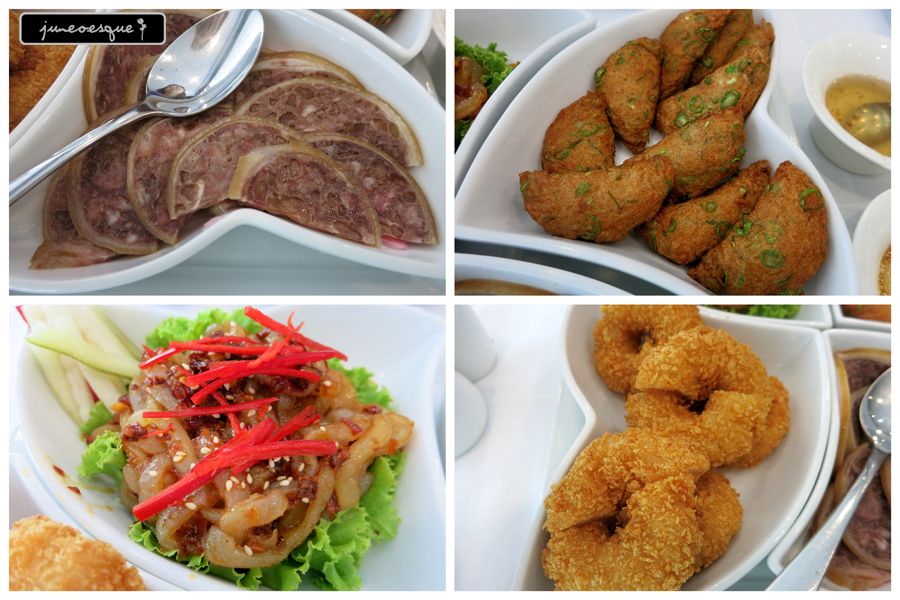 the meat slices were decent, the prawn cakes were also decent. the otah was very mediocre. the jelly fish was good! the texture was crunchy and it was seasoned with some haybe hiam like sauce.
But overall, $800 baht (around SGD $32) for a starter like this feels expensive.
we also shared an oyster egg $180 baht (around SGD $7)...
the oyster egg is not impressive.
The popular dish here i believe is their shark fins so we ordered the special one at $2000 baht (around SGD $80)....
and it proved to be really worth it. The sharks fin was really good! the soup was very tasty and flavourful.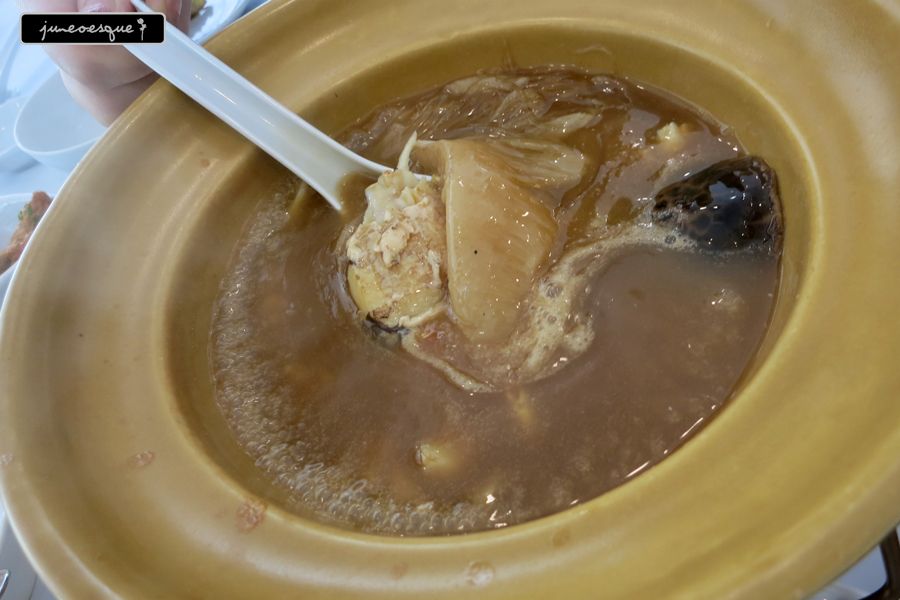 another one of their specialty item would be their braised gooseweb noodles....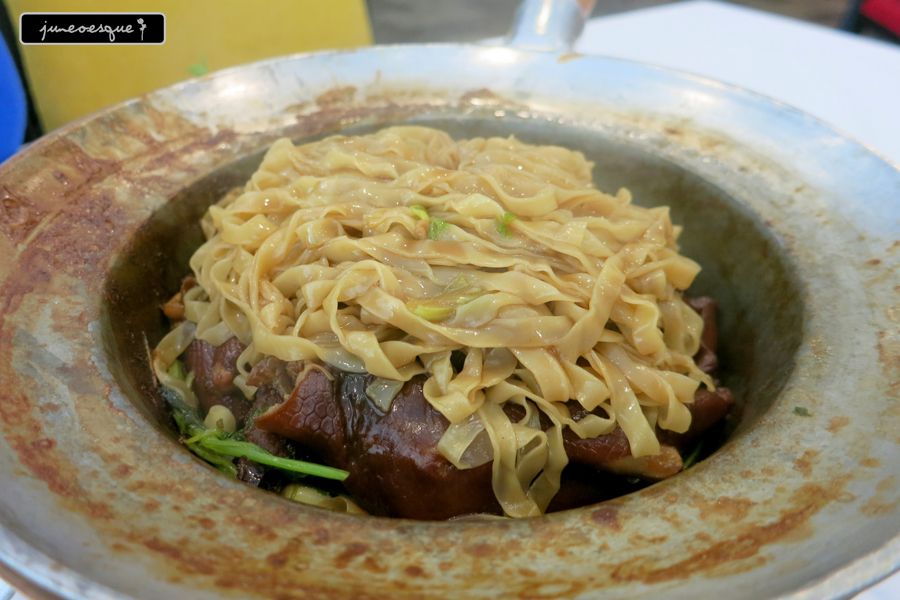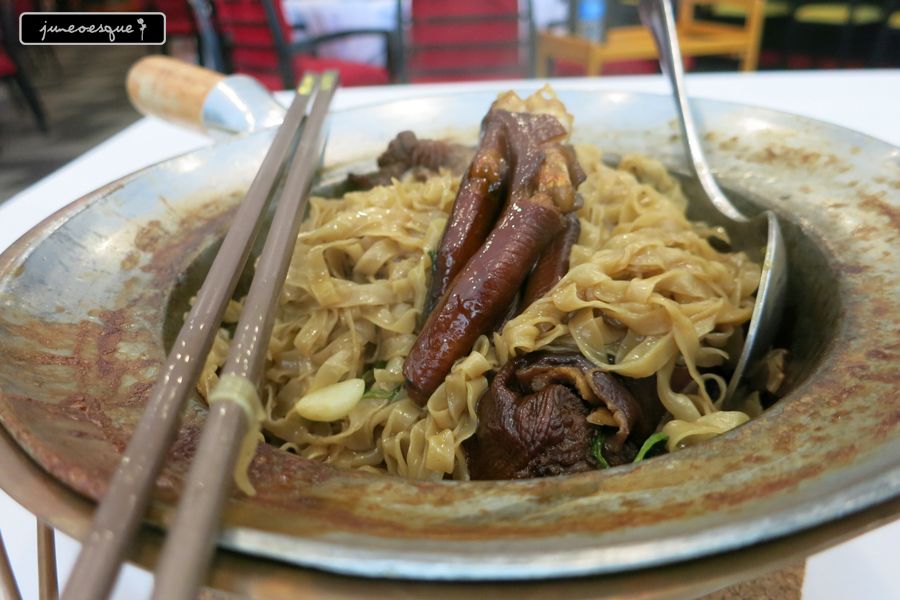 it was soooooo good! Very tasty and the noodles were soft. The gooseweb was ok but the noodles were so tasty i wish we had more!
right below the claypot was a layer of pork belly....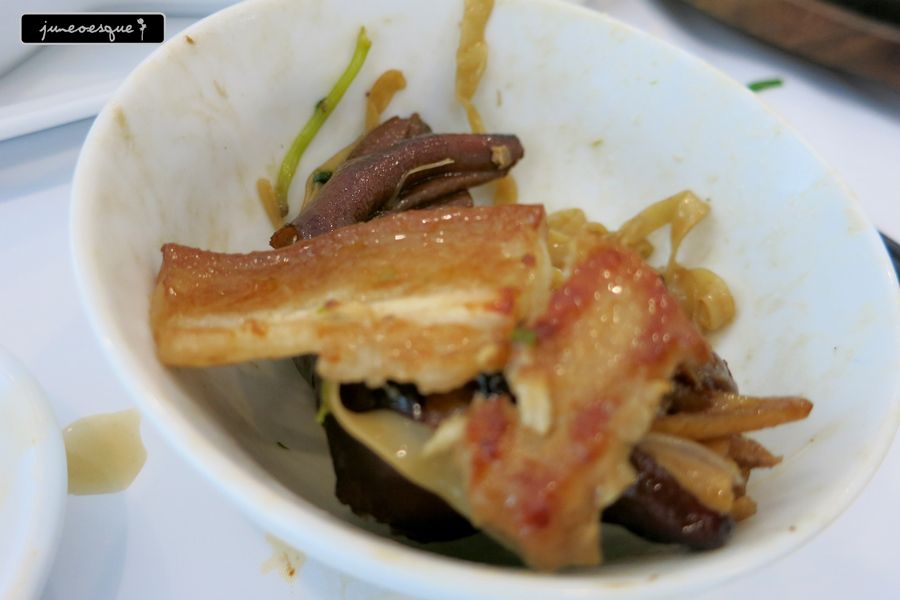 very fragrant and yummy!
after lunch, we headed over to Innit located along siam square soi 2. i had customised outfits but sadly they were not done right so i can't collect it today.
we shopped around a bit more and we were still full from our lunch so we skipped dinner. But we did buy some street bbq octopus!
they smell really good and they are huge!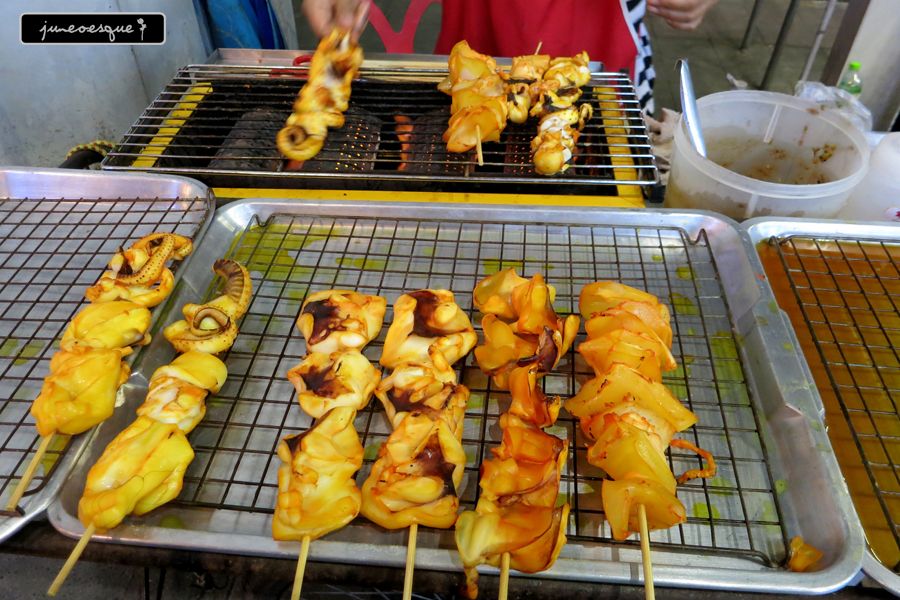 and they taste really good!
we rushed back to the hotel to drop off our shopping before heading to Healthland for our massage. Dar dar's take is every night we must massage!
Healthland also came highly recommended by different sources. Mainly its about how cheap yet decently decorated it is. Which it probably really is that popular hence its advisable to make bookings instead of doing a walk in. I visited it once during my last visit to Bangkok and while i agree the whole decor, look and feel of the place looks like a very decent spa, i was not particularly impressed by the services. It starts all the way from the people who answer the calls to take in appointments (very curt), to the receptionists at the counters who assign you to the masseurs to the masseurs. Typically, all are not particularly polite.
The masseurs will talk amongst themselves even when massaging you like they are talking about you... and they don't stop talking.. they will keep talking even when they are massaging you. After the massage, they expect a tip. And they will compare the amount of tips they receive and openly share with their colleagues about the amount they receive. They will also give you the look if they feel that you are giving too little as tips.
Overall, although its a physically nice spa with decent pricing (i am only referring to the 2 hours thai massage, the other items aren't as cheap), i am very uncomfortable with the services received.
After the massage, Dar dar brought me to some where around Patpong to find.. hehe.. quak quak quak!
i must say, it was quite the experience!
its a small little alley, the area is around that of our local Emerald hill.. walking along the alley, there are units and units of gigolo shops with 'pimps' at the door. everyone is trying to convince you to head in to watch the shows. The cover charge is typically around $350 baht (around SGD $14) and comes with a drink. The men will keep urging you to check out their joints or even offer you to take a look from the door before charging you...
and yes, we did check out one of the joints. we were like the only ladies there. the other patrons were all gays. The most unsuspecting looking gays. The guys will be performing on the stage and yes, they go full monty! Just like in tiger shows, how the ladies try to perform with their assets, in this case the guys also perform with theirs. Like they will use their ding dongs to hit a golf ball into the hole. I suspect a lot of viagra involved to have the ding dong standing strong the whole night.
basically, the papasan would try to come over to encourage us to choose a guy to sit down with us. But we rejected and informed we would just enjoy the show and they are pretty nice to leave us alone.
The guys on stage would chut power to constantly try to make eye contract and
dian
you! haha
we hanged around for about 40 mins to watch some performances before leaving the place.
It was quite the experience! hahaha
we were hungry after the drinks and headed to chinatown for supper. I super duper miss this Scala Sharksfins restaurant!
We got there around 12 midnight...
475-477 Yaowarat Road, Samphanthawong Subdistrict, Samphanthawong District

,

Bangkok

,

Thailand
http://www.chinatownscala.com/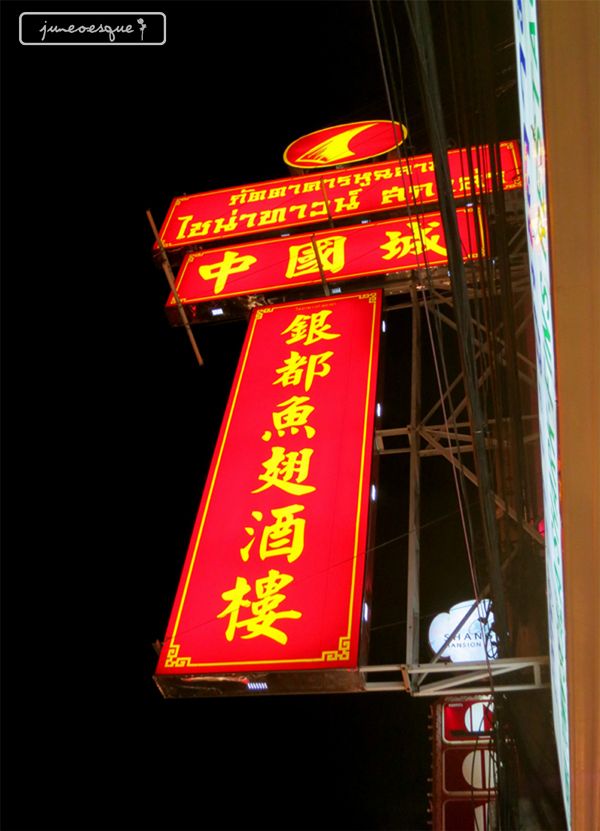 its almost mandatory to order the cheap and yummy sharkfins of $300 baht (around SGD $12)...
if we didnt have the Ping's sharkfins this morning, i think this would have been very good. especially with the price. haha.. but honestly this is indeed very decent. Its tasty and a good amount of fins.
and what i really really miss of this place, is their oyster omelette and their crab vermicelli!
the oyster omelette $150 baht (around SGD $6)....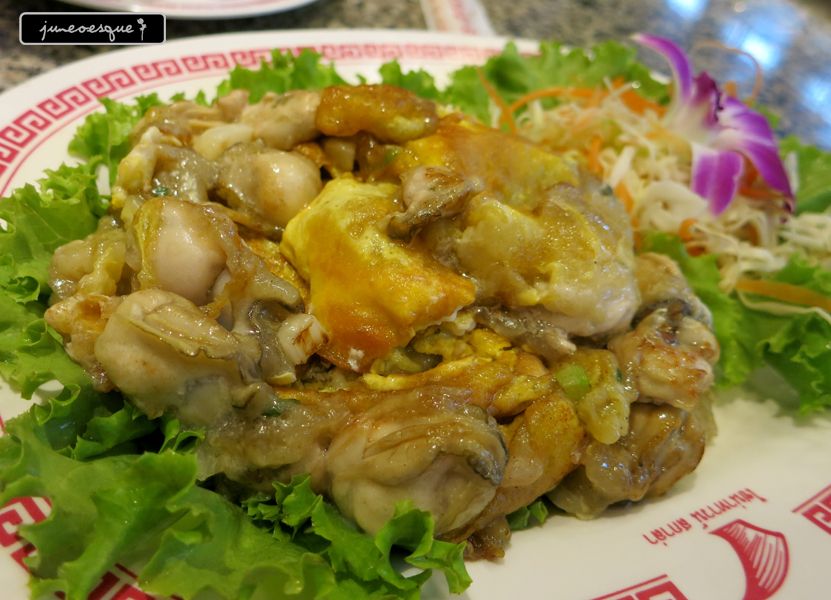 its just damn yummy! the oysters are huge and the egg is just soooo tasty!
and the crab vermicelli that made me
nian nian bu wang
....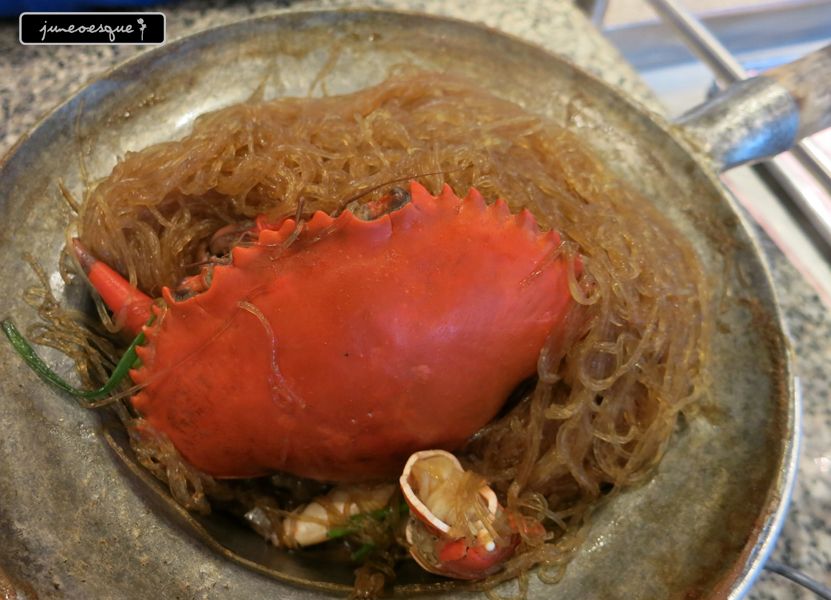 cost around $600 baht (around SGD $24)...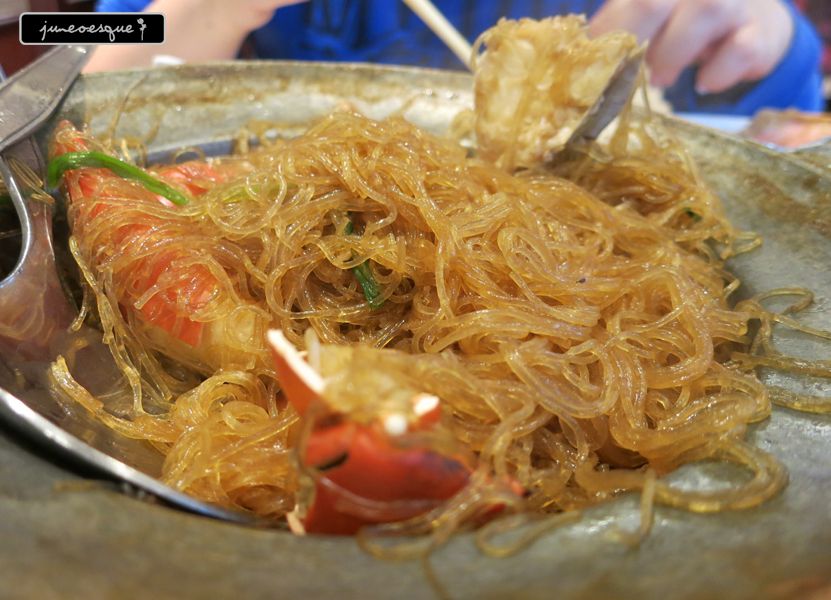 i specially asked for additional vermicelli. Its sooooo good! very flavourful vermicelli that will make me want to head back to bangkok just for this!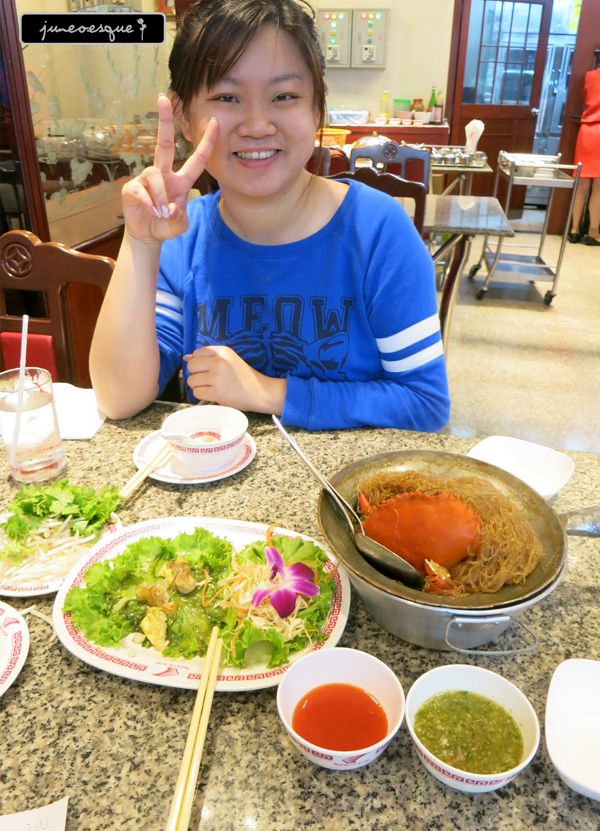 dar dar also agrees that its super good!
and yes, we were super full but we found this bbq pork cart right outside the restaurant...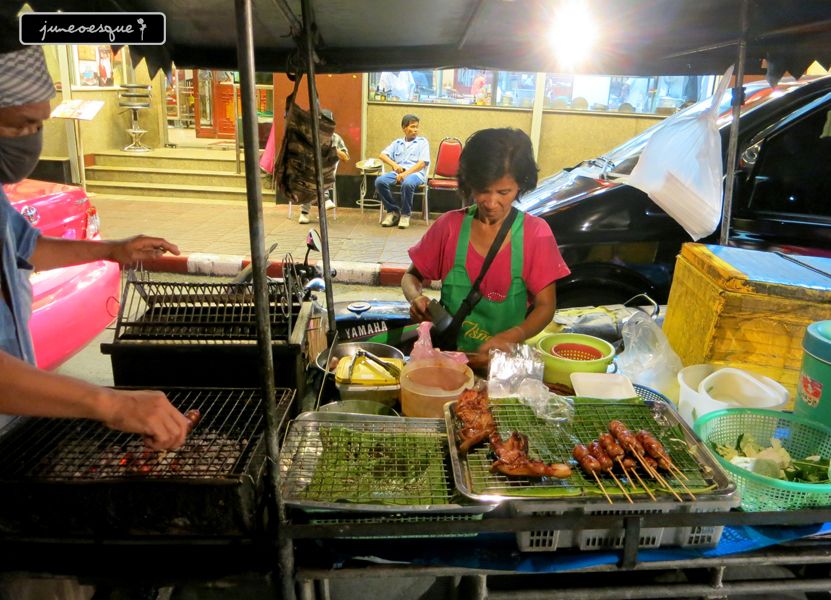 couldnt help but buy a piece. it was sooooo tender.
we took a short stroll further down to the 土产 shop to buy some gao sai back.