Lunch at Centrepoint Swensens. Jefrince is right. The only Swensens branch with very nice Soft Shell Crab fried rice is the one at Bishan. The rest of the other branches one sucks.
But i love Swensens' lunch time promo! With every main course, you get a free choice of either drink/side/dessert. Although there is a range they allow you to choose from but its a pretty decent range, not like one miserable scoop of ice cream.
i chose the sides of meatballs...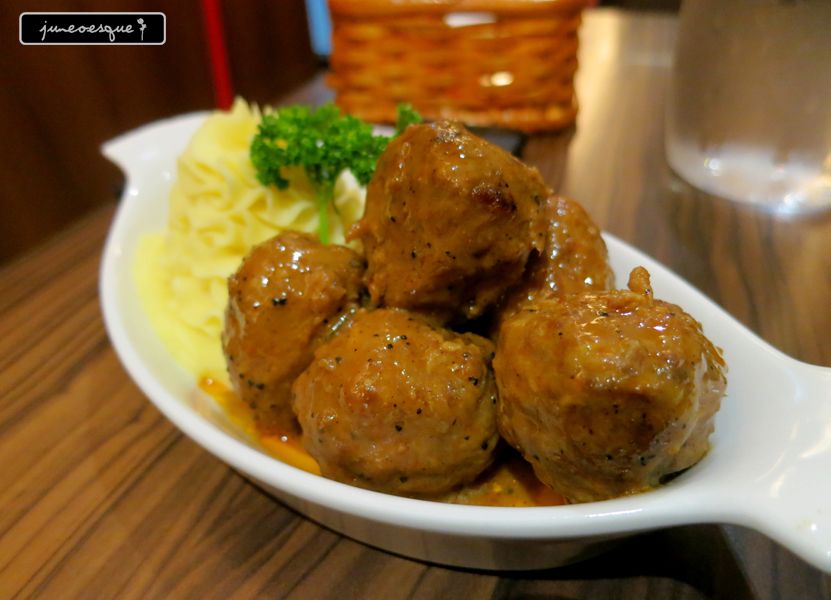 rather consistent and decent throughout the times i tried it at the different branches.
soft shell crab fried rice...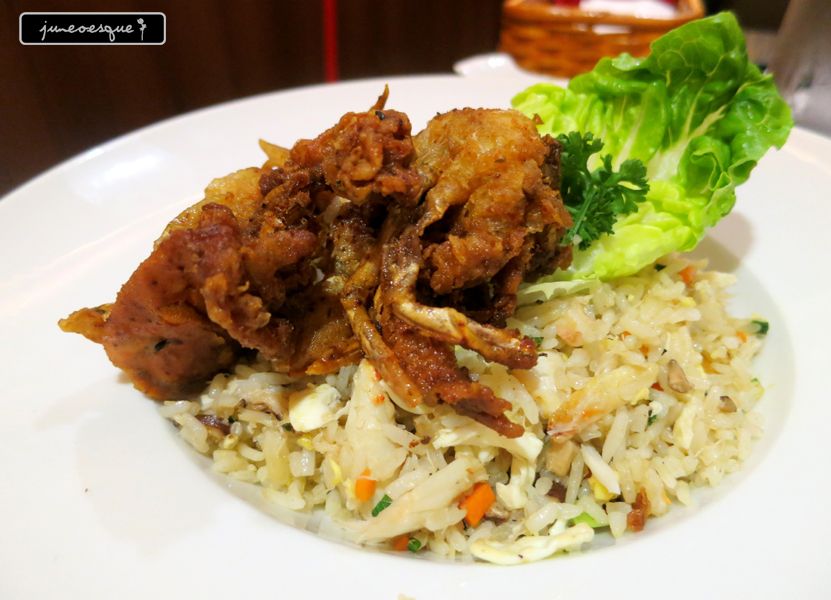 sucks. too oily summore. Feeling totally not satisfied.
today is a special day because i had planned a mini surprise birthday party for Joanne!
ya, i know i said i won't plan anything for anyone again right.. but i cant help it.. Birthdays just should be special and Joanne has been such a great friend throughout the year.
Her surprise party this year is held at Rice & Fries!
We have a theme for today's party as well - Minions! And i spent last weekend trying to look for DIY party props. I suspect the whole world is going for the minions theme. Yellow cups were out of stock like everywhere! i went to a party props shop, they checked 3 branches for me, all branches out of stock. i went to Spotlight, all other colours were available except yellow!
Hence, special mention and credits to be given to the lady boss of Rice & Fries (Xinying). Not only did she help me get the balloons, she also helped me search for the cups and decorated them for me!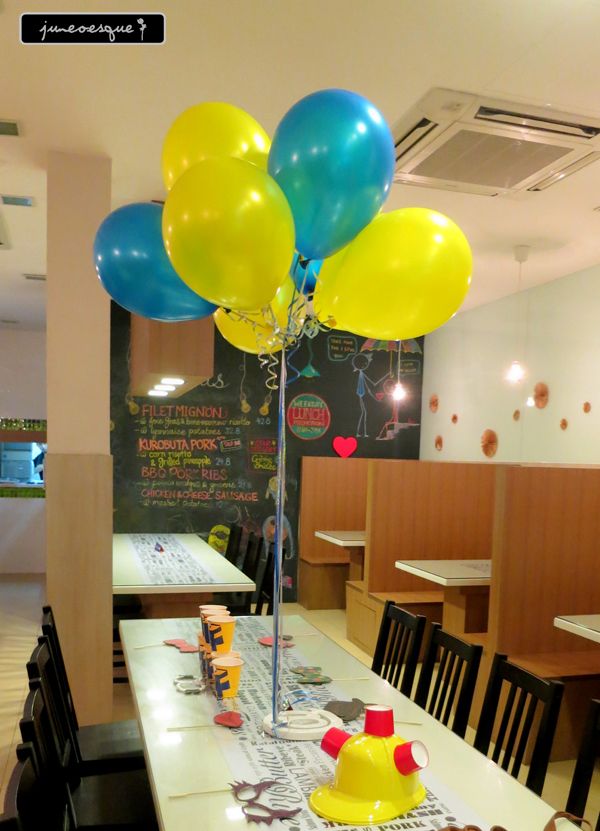 lovely signboard!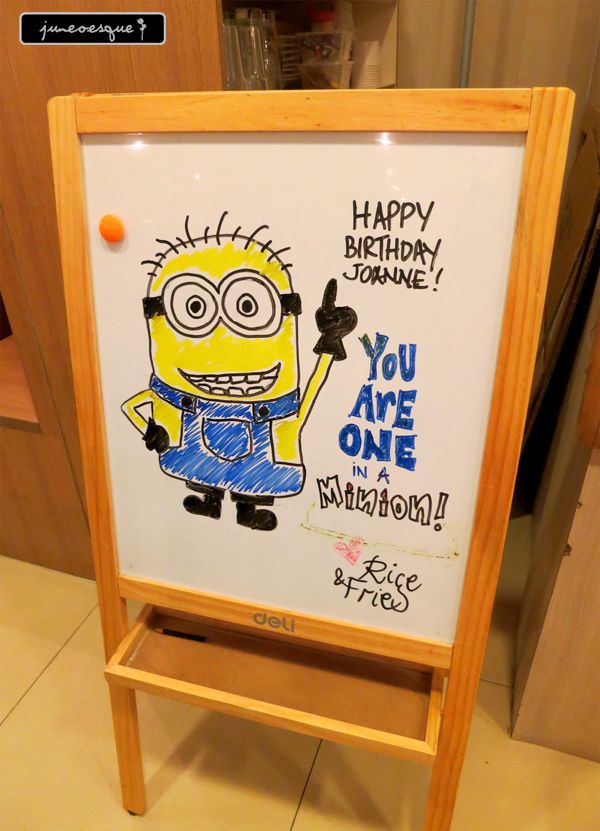 oh yes, DIY minion cups!
needless to say, whoever was early was busy camwhoring!
i also ordered minion rainbow cupcakes. ordered them from La Petite Patisserie...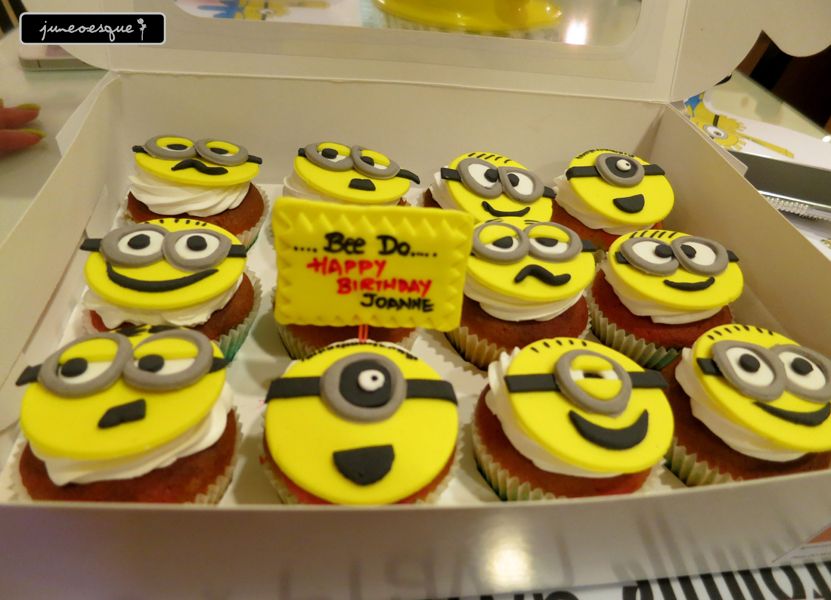 we actually also ordered the rainbow cake from them last year for Joanne's birthday as ell. Last year's cake was amazing! But this year, the cupcakes were a big disappointment.
Firstly, the rainbow as now nicely tiered.. it is a total mess of colors. Also, the texture was sooooo dry. Huge disappointment.
while waiting for the birthday girl and the rest to arrive, Audrey was playing around with the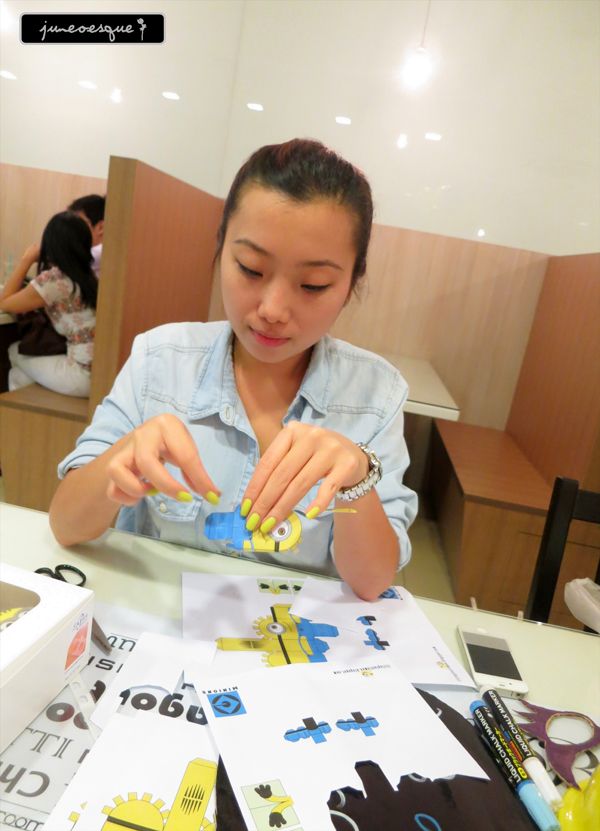 Bee do bee do!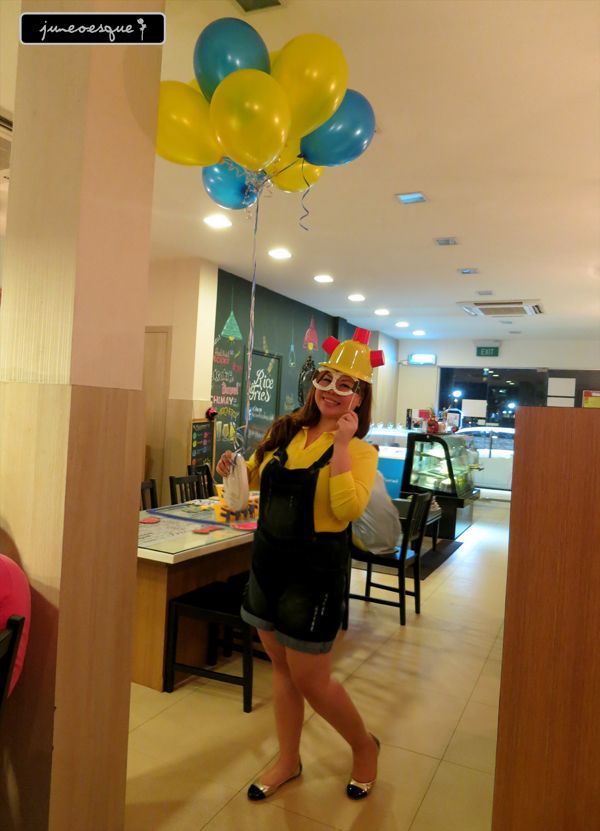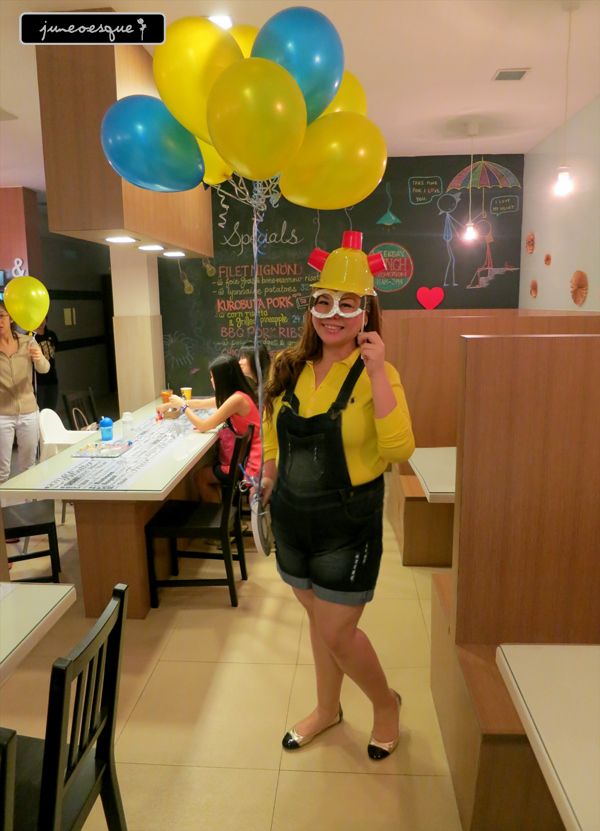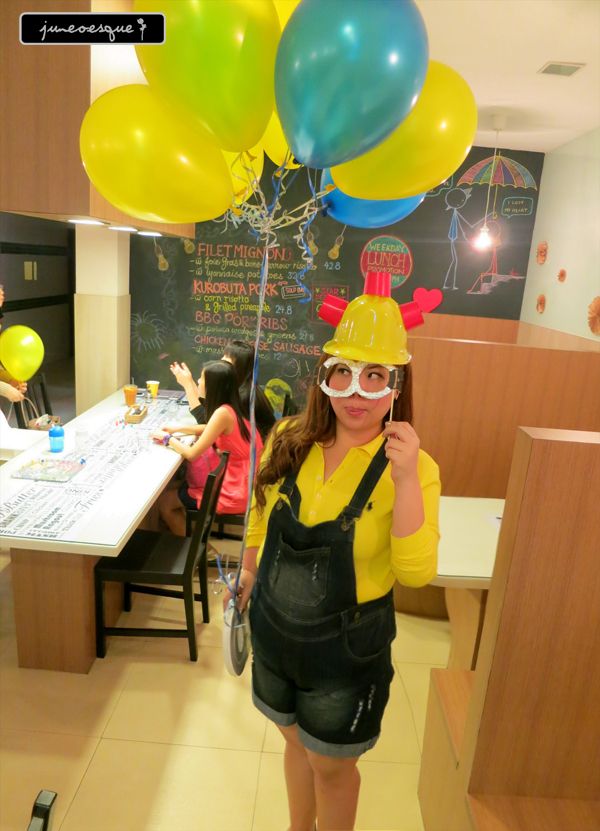 and thanks to Xinhui who also helped with the party props and specially came down to help ensure everything's alright!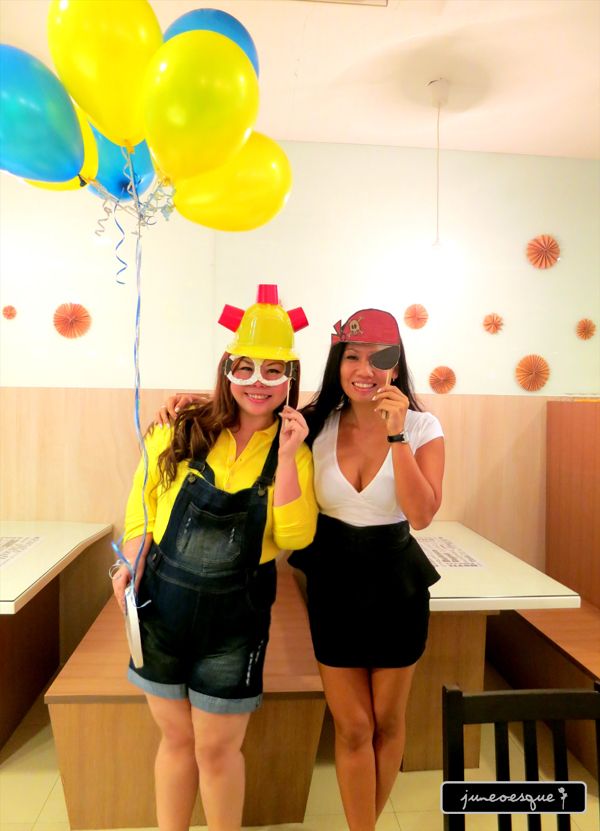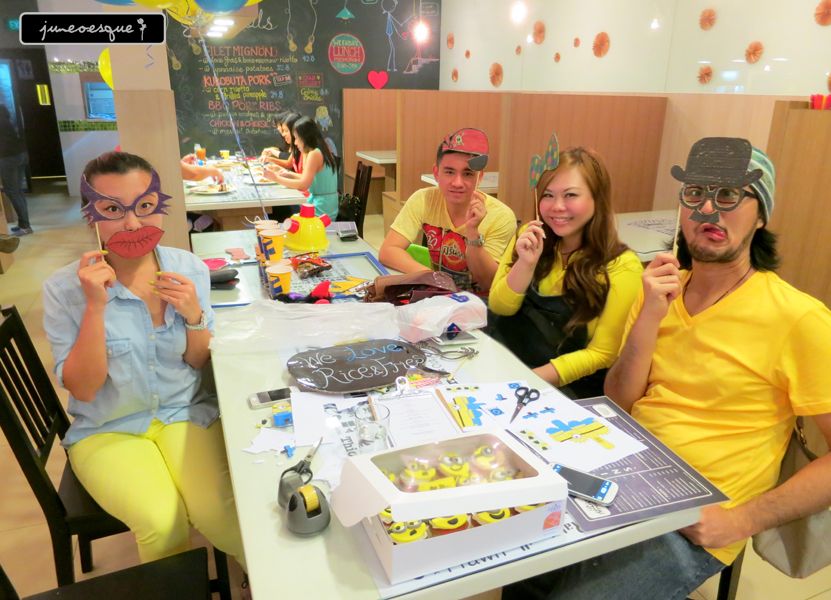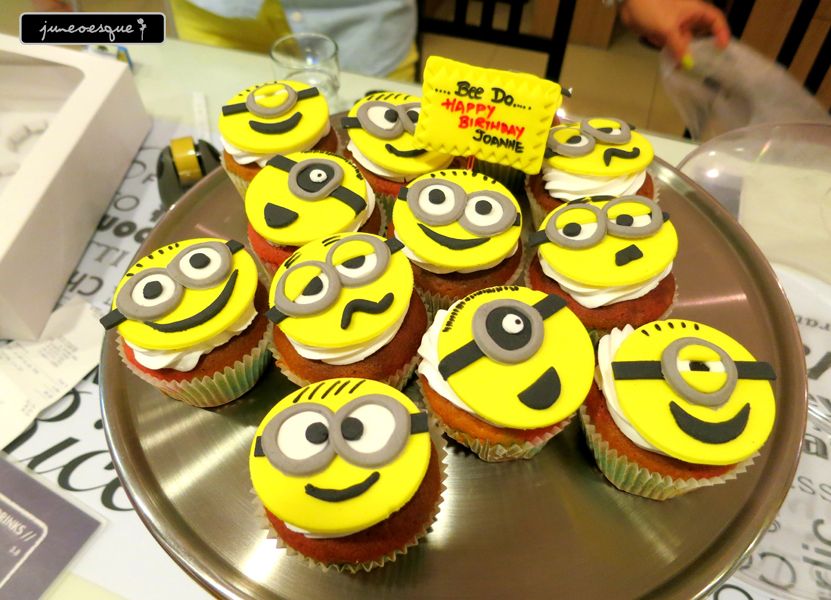 arrival of the birthday girl!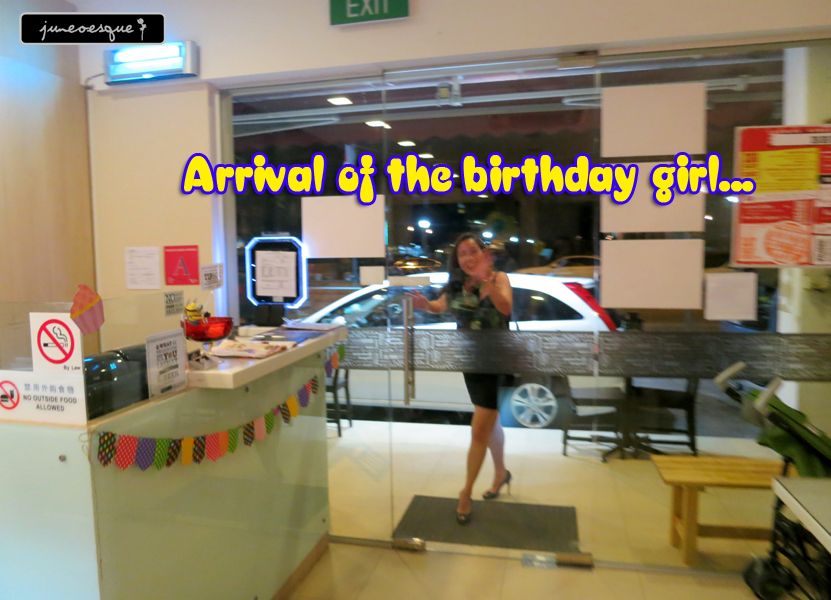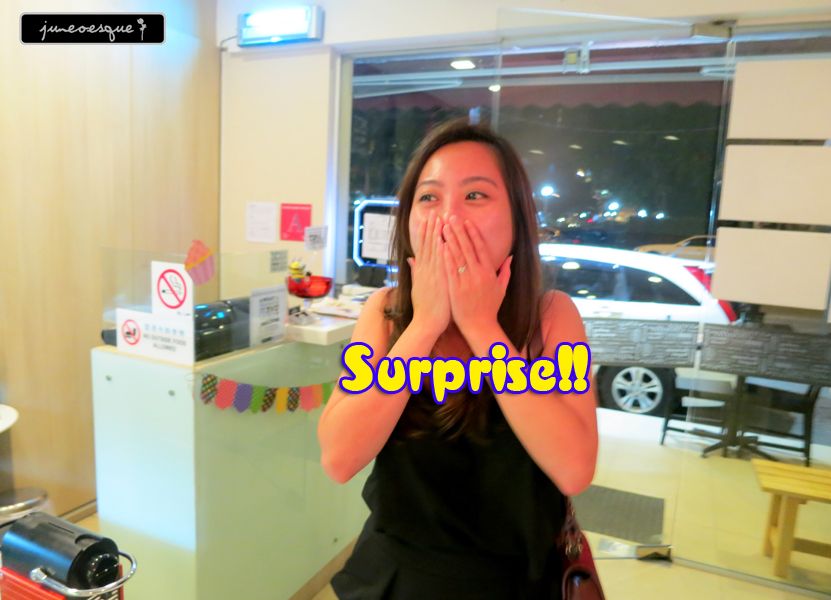 and Audrey completed the diy popup minion stand..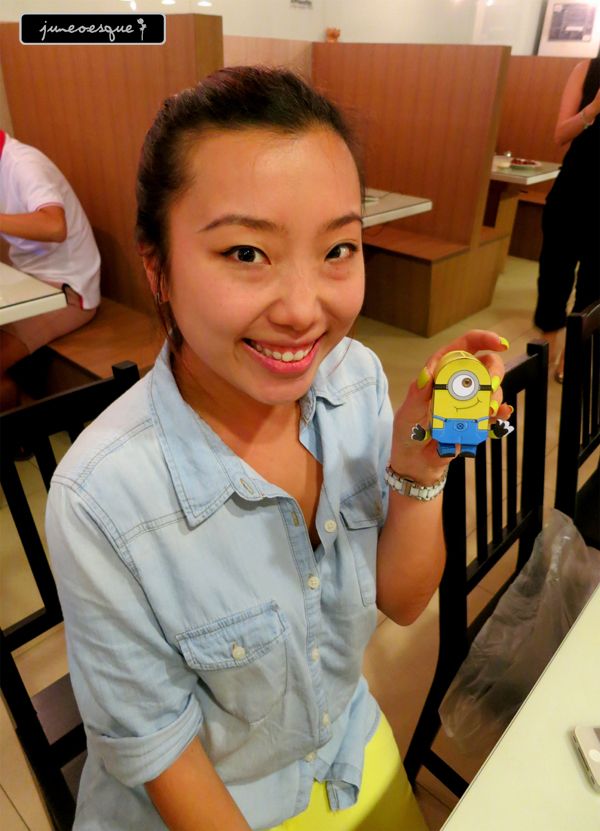 we got the birthday girl to change into her minion outfit too!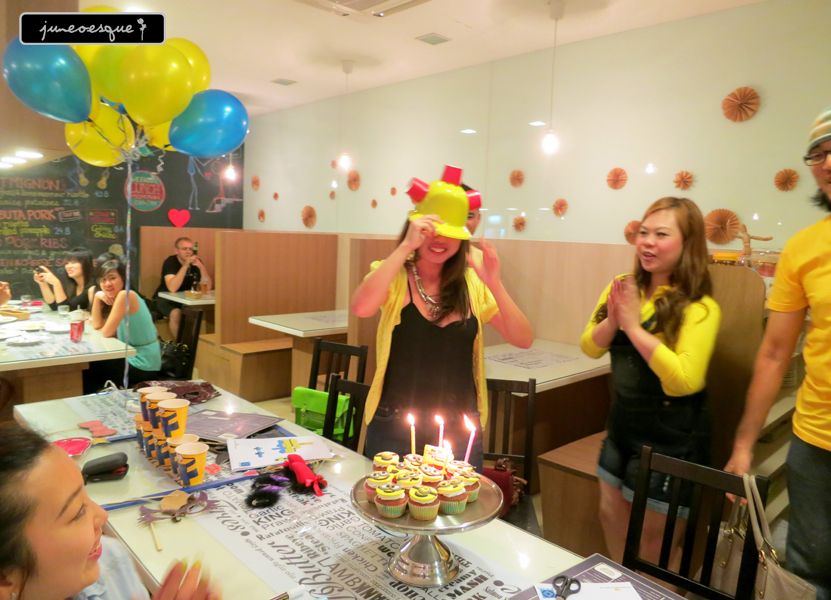 Happy birthday joanne!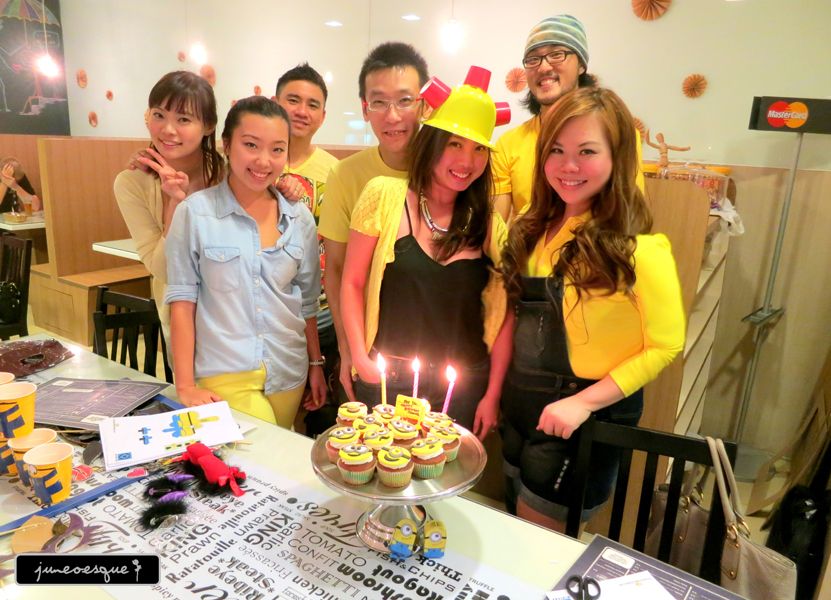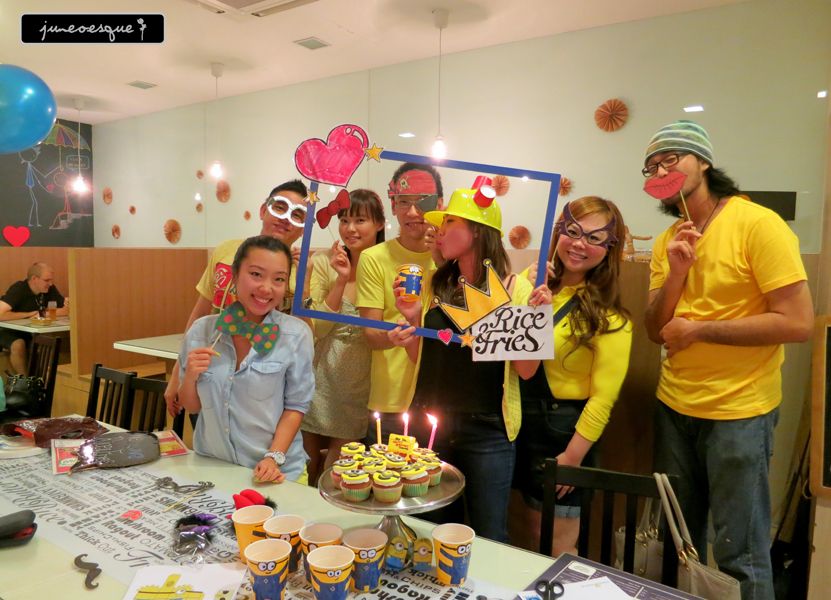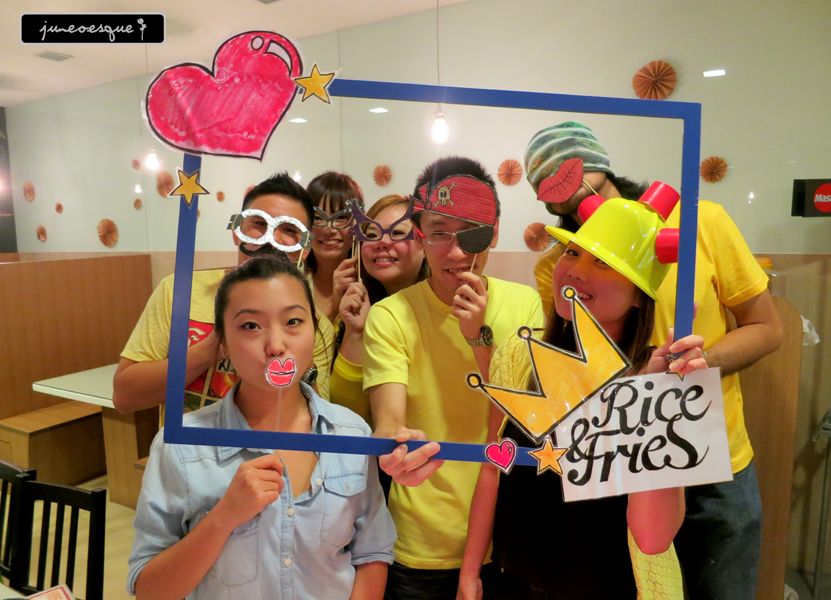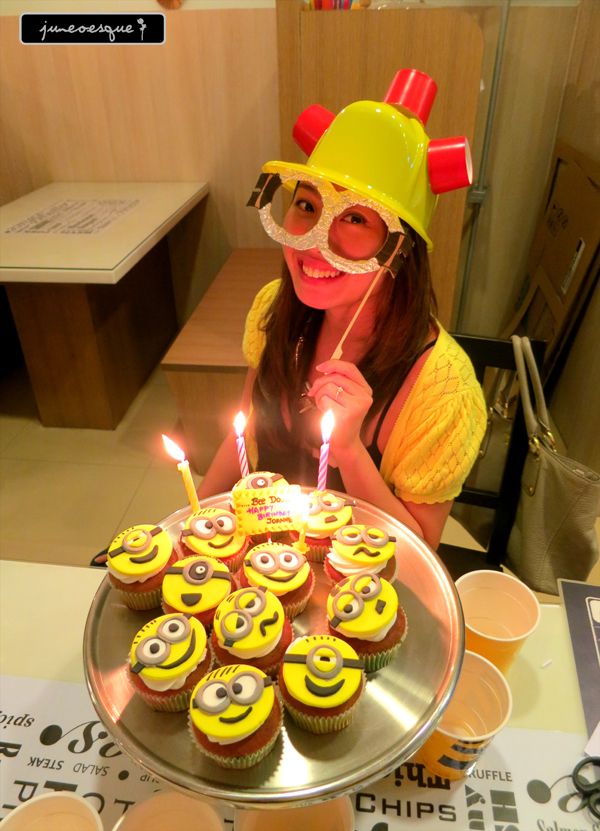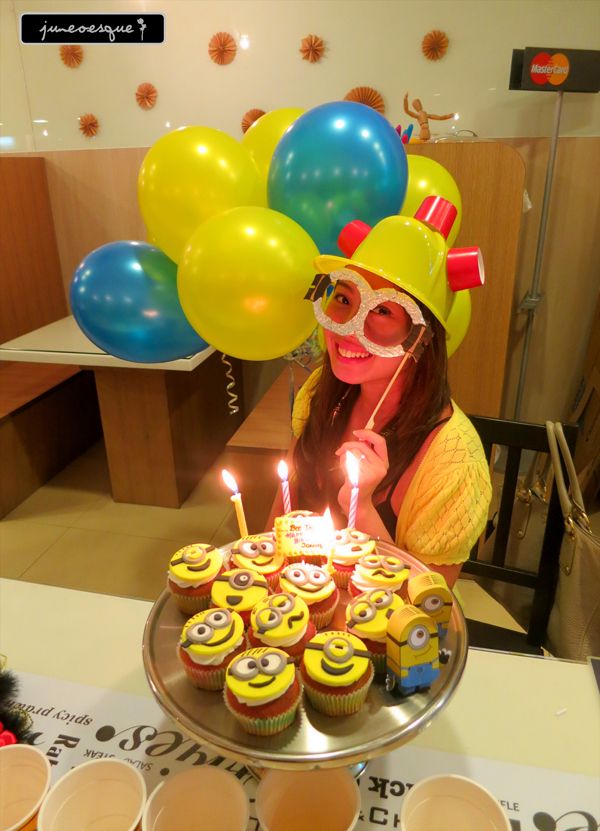 and yes, WE LOVE RICE & FRIES!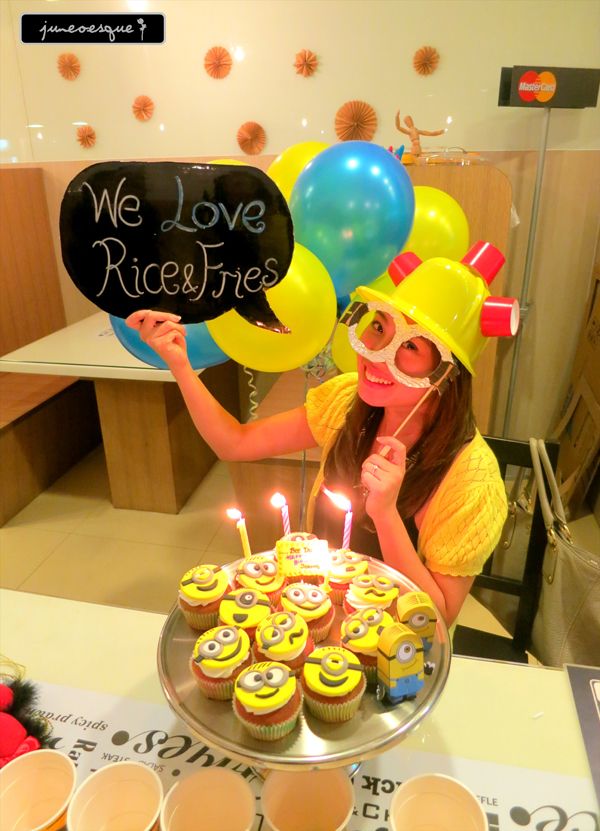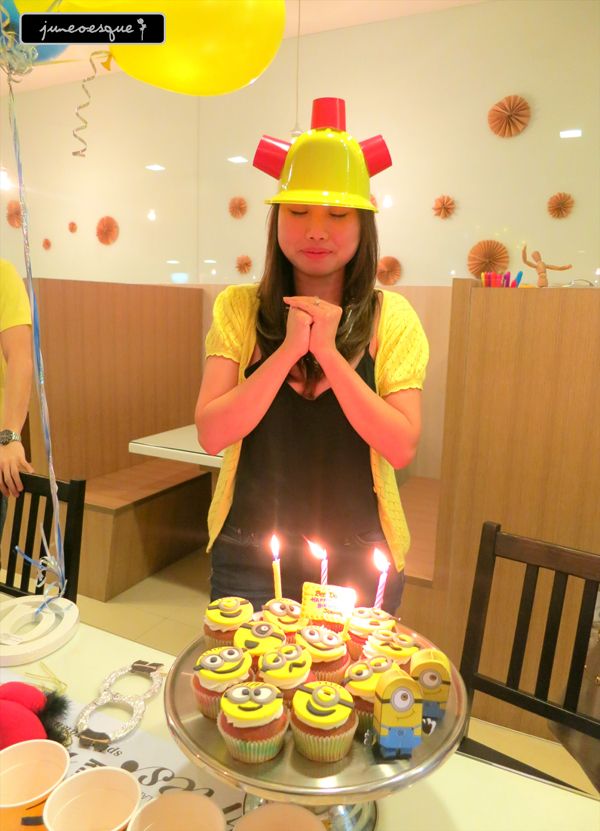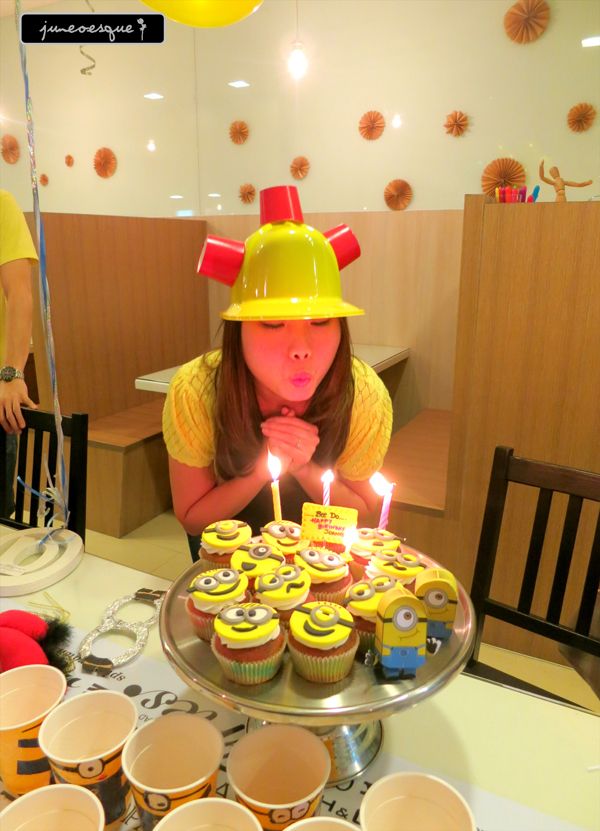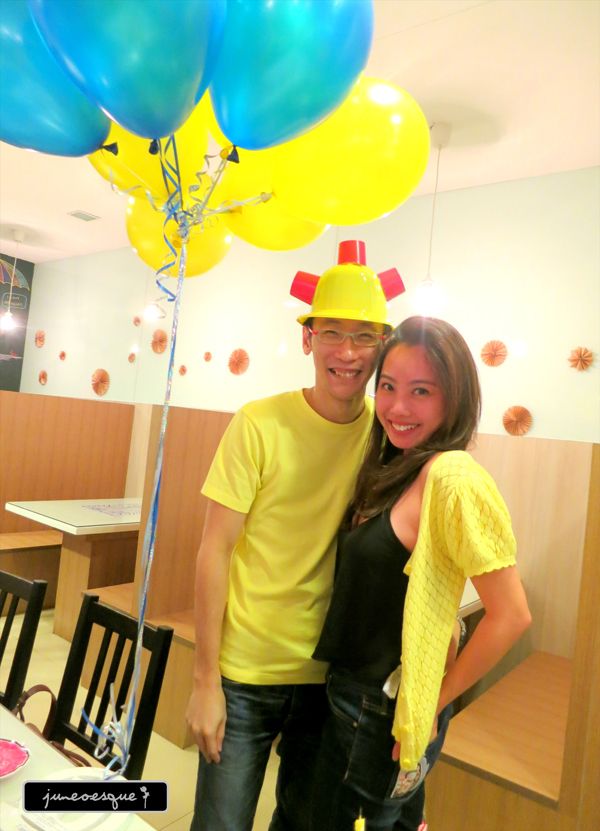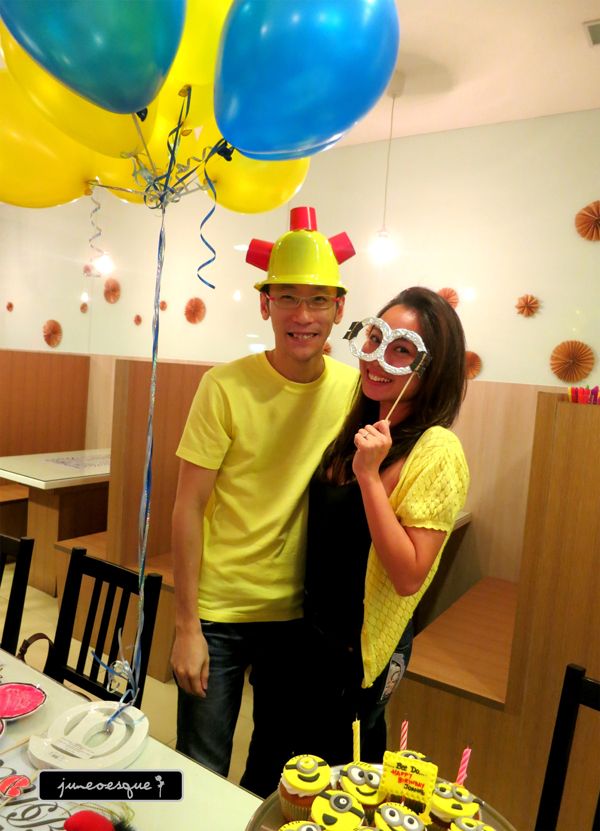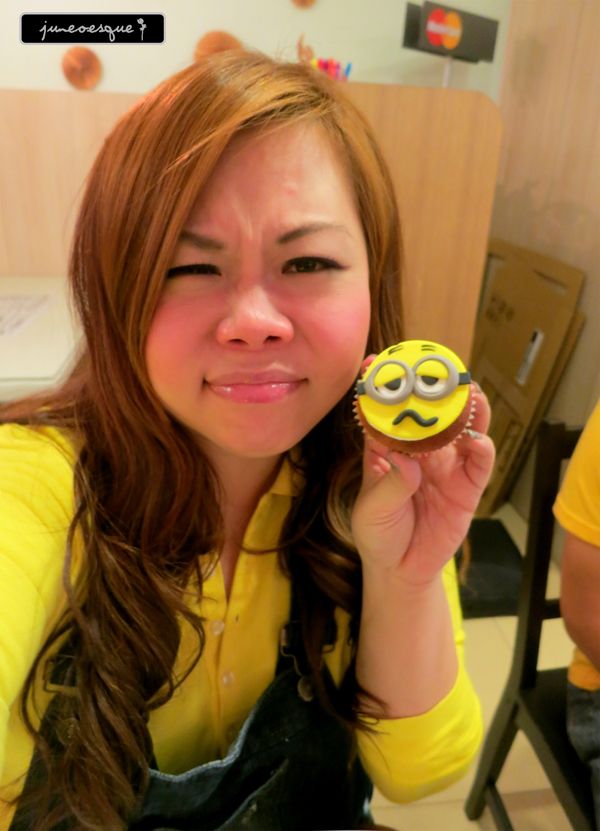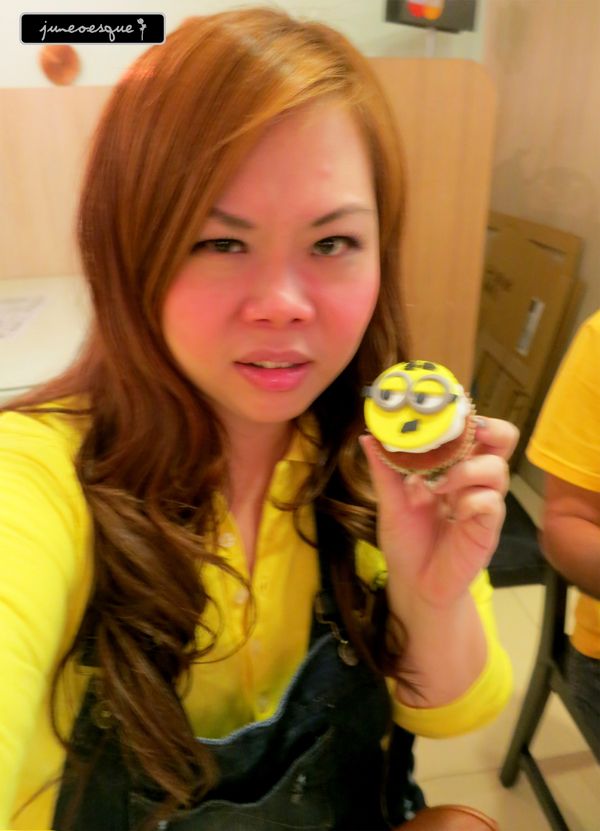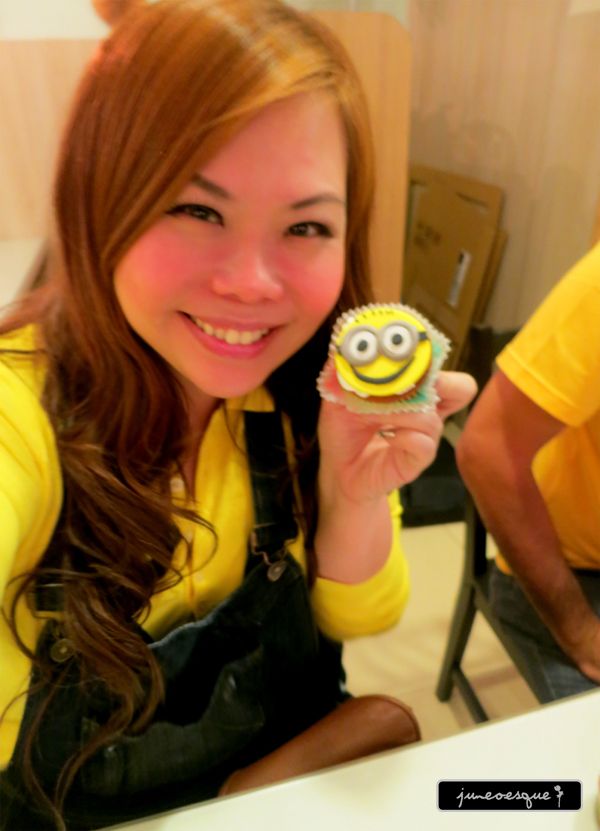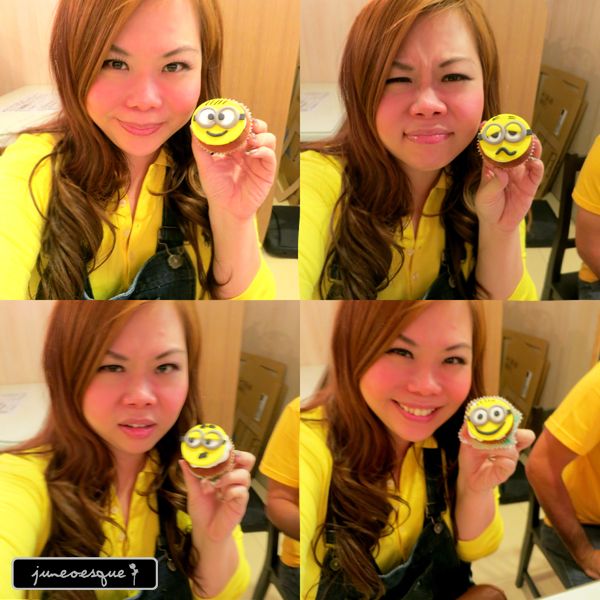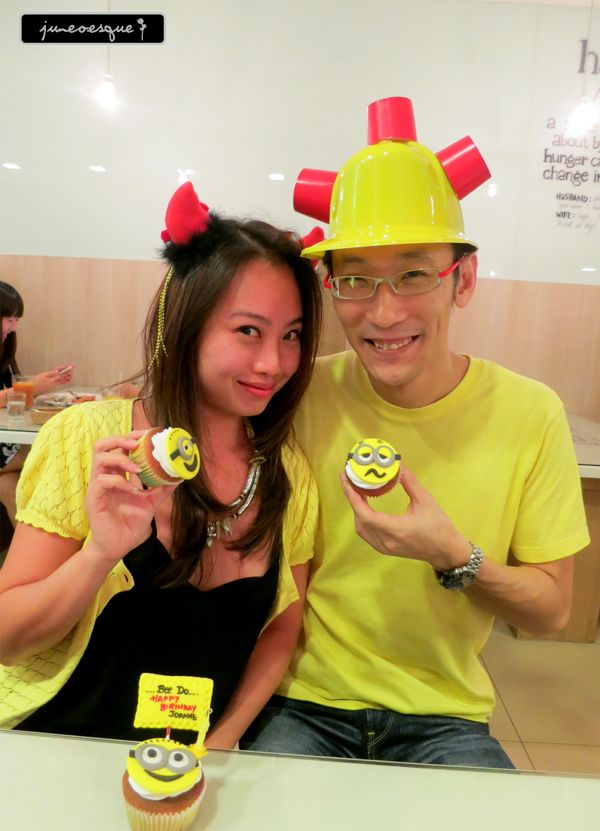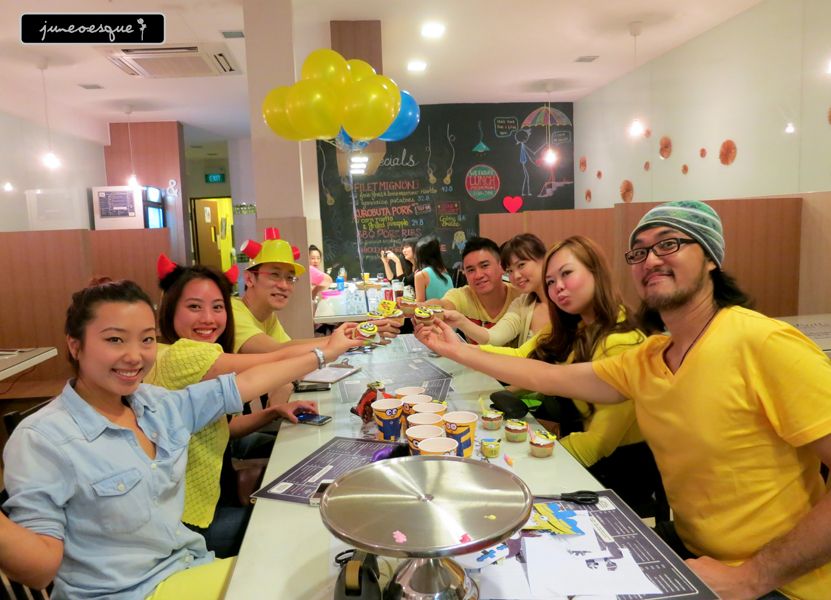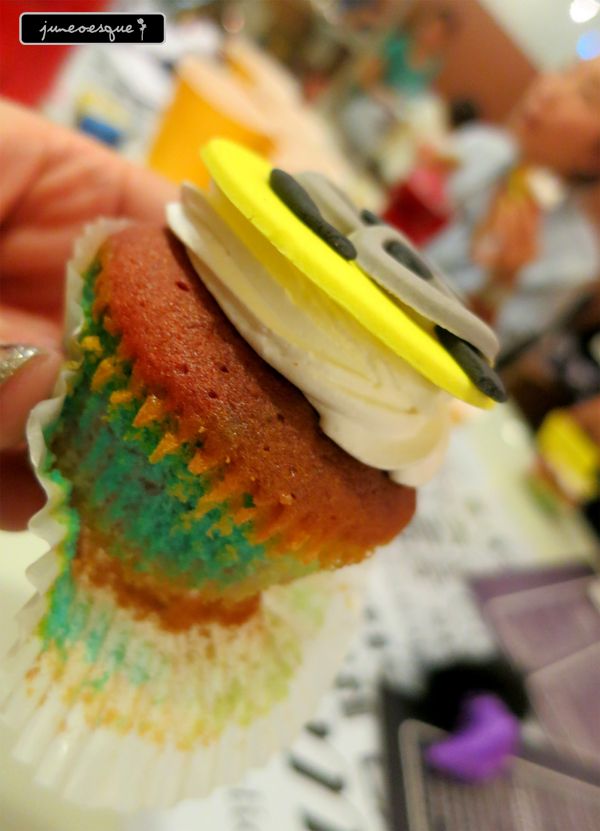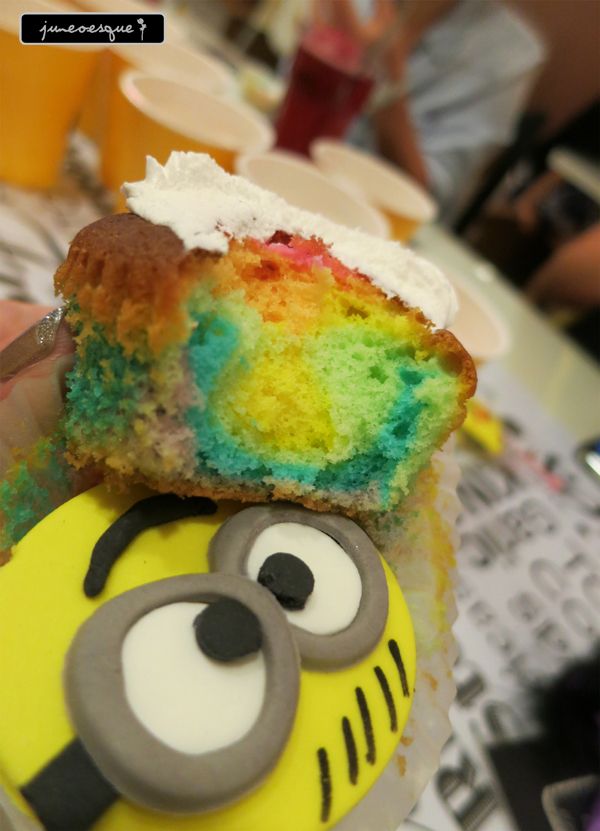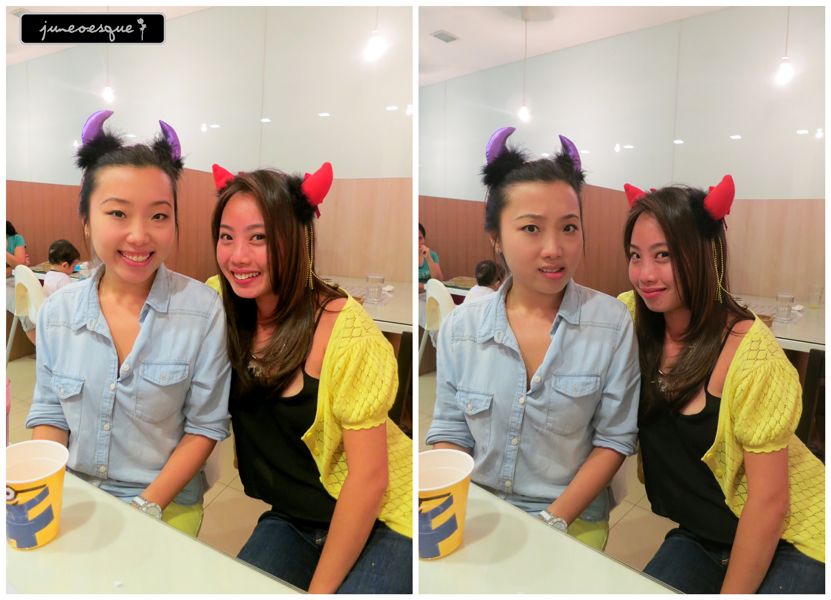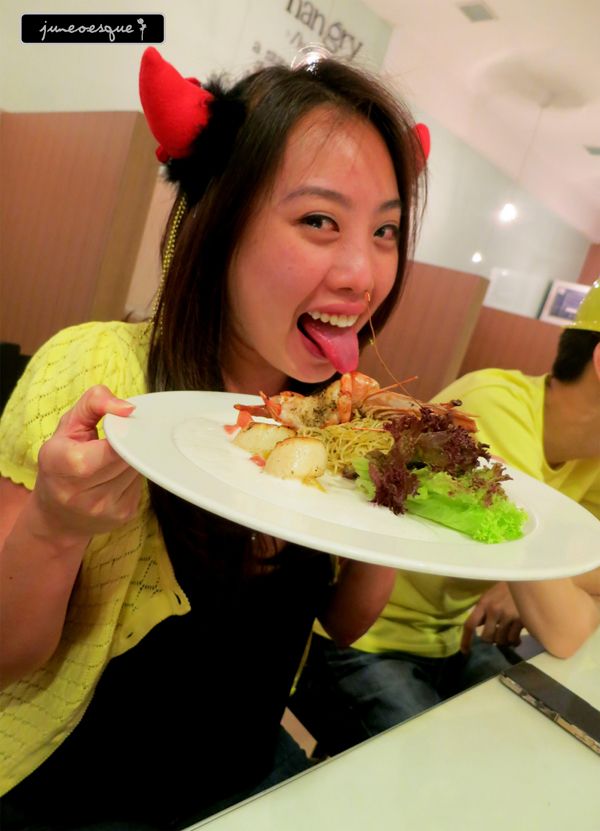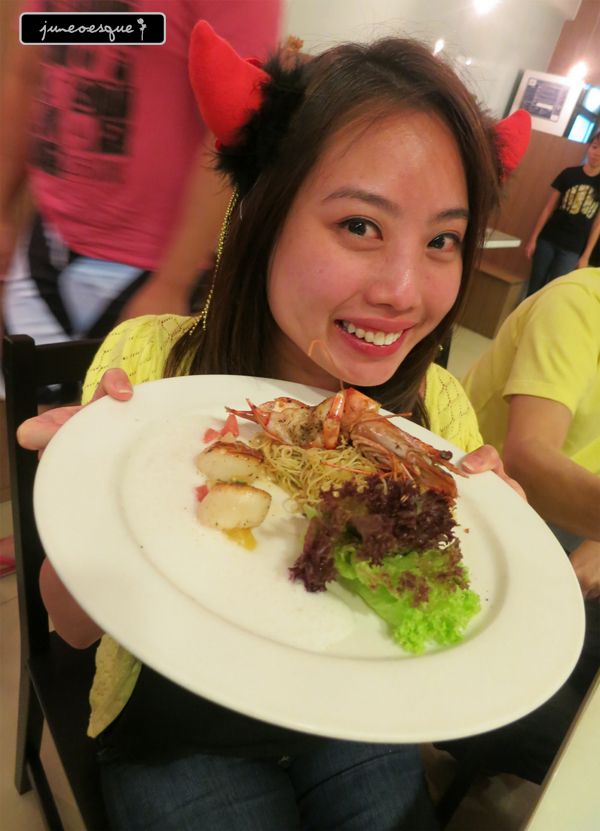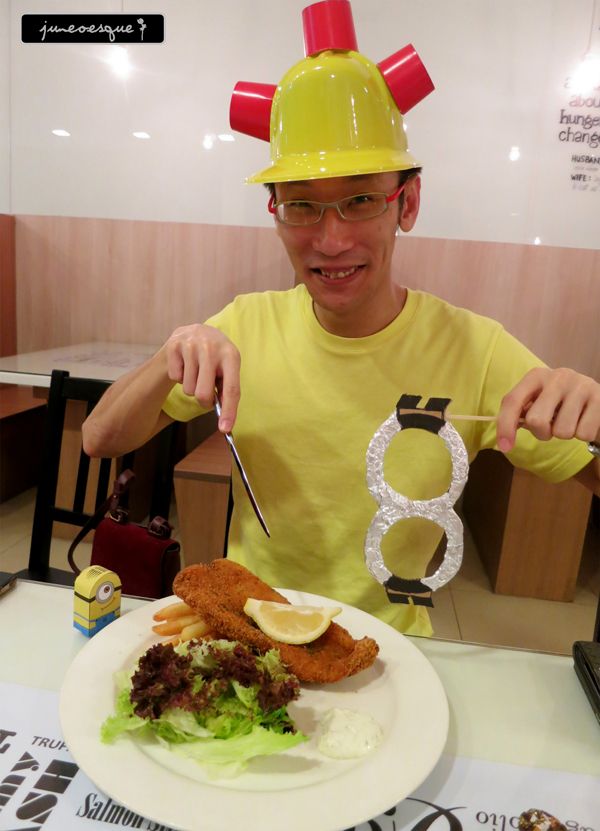 Dinner!
Joanne had the King prawn truffle angle hair pasta with scallops...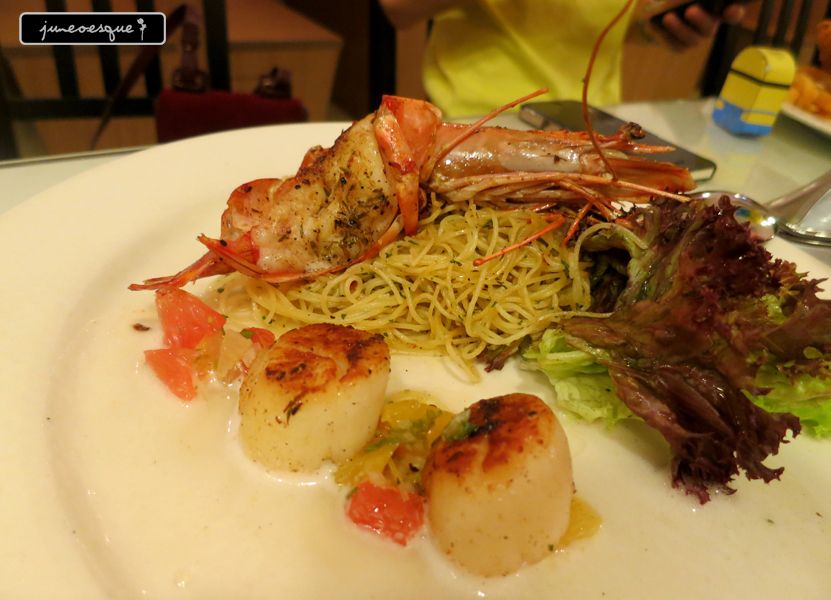 Randal had the fish and chips...
ah mah had the prawn pasta..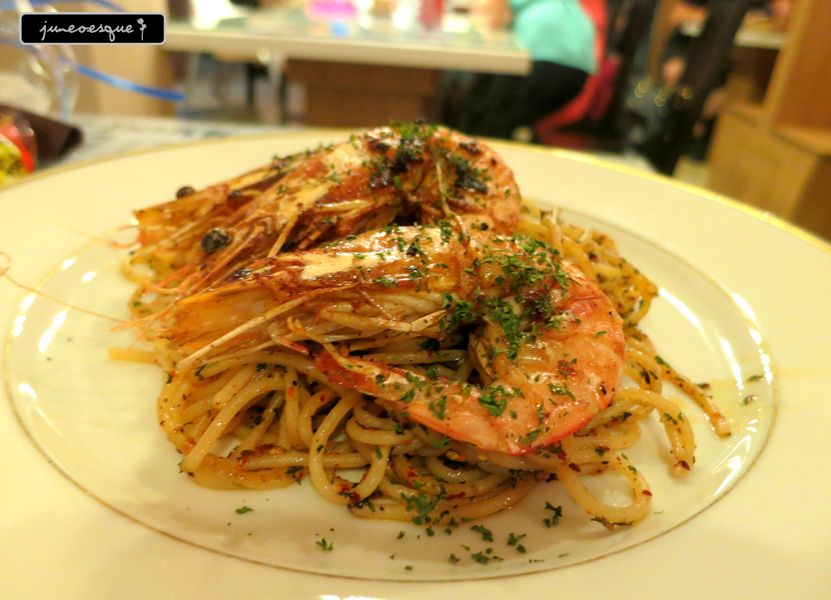 Francis had the signature lamb shank and he was very impressed by it....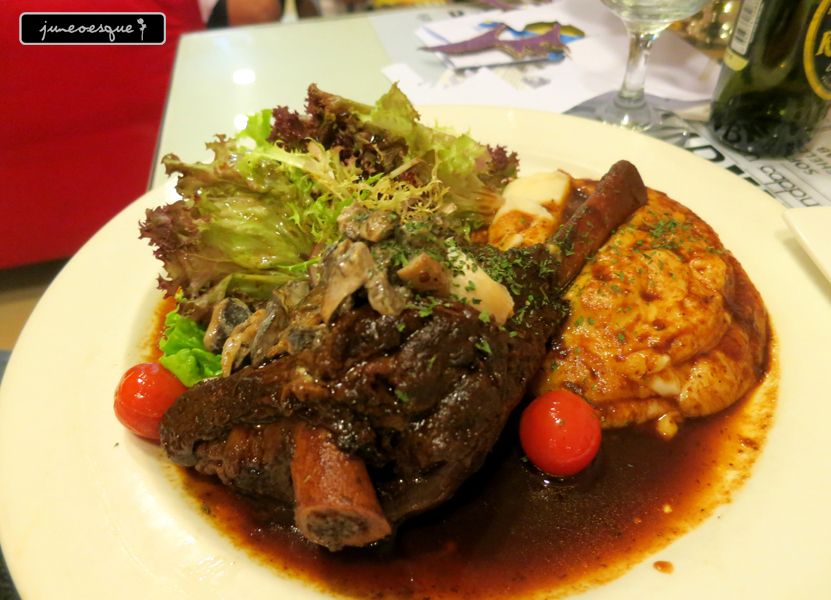 Audrey and i had to have the Filet Mignon with bone marrow risotto with foie gras.... its like a combination of everything good for ONLY $48!
and it was sooooooooo yummy! The bone marrow risotto had a slight cheese taste and was great. the foie gras was a generous portion and the filet mignon was tender and juicy. yummy!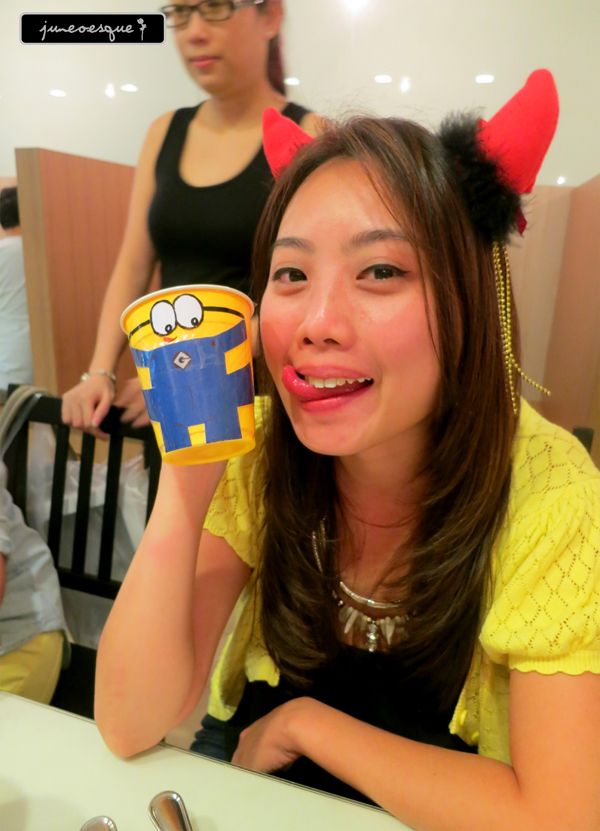 my dearest boyfriend - Charming, came over too!!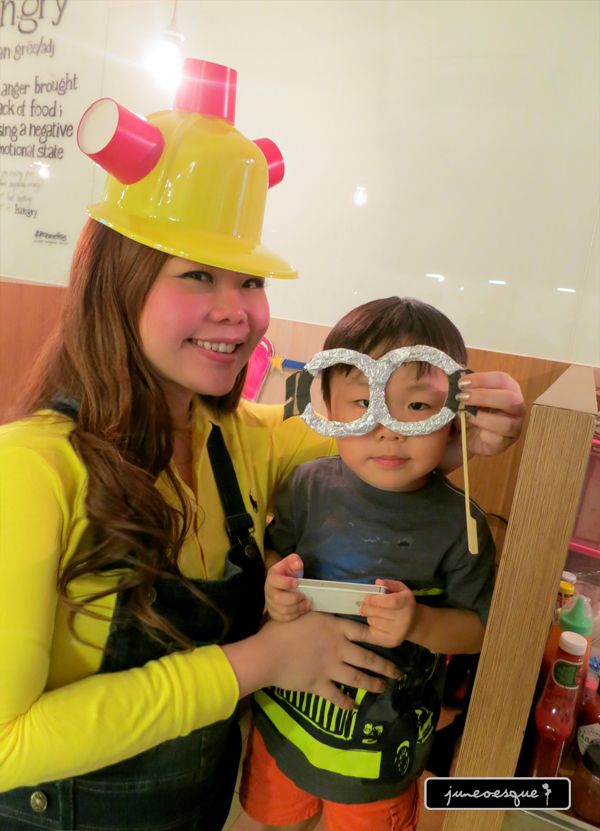 and the whole group witnessed our love! haha.. how charming would come straight to give me a big hug and urge me to sit beside him to watch his youtube videos! haha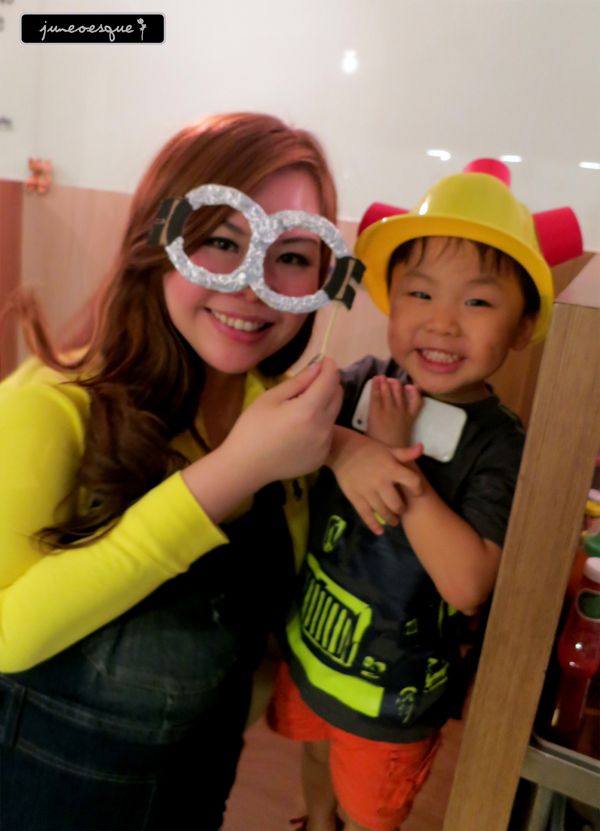 ph yea, we are so in love!
and passed him his early birthday present that xinying helped me get. thats the best thing about being in your mother-in-law's good books.. she will help you buy the present and you can get credit from your charming lover boy....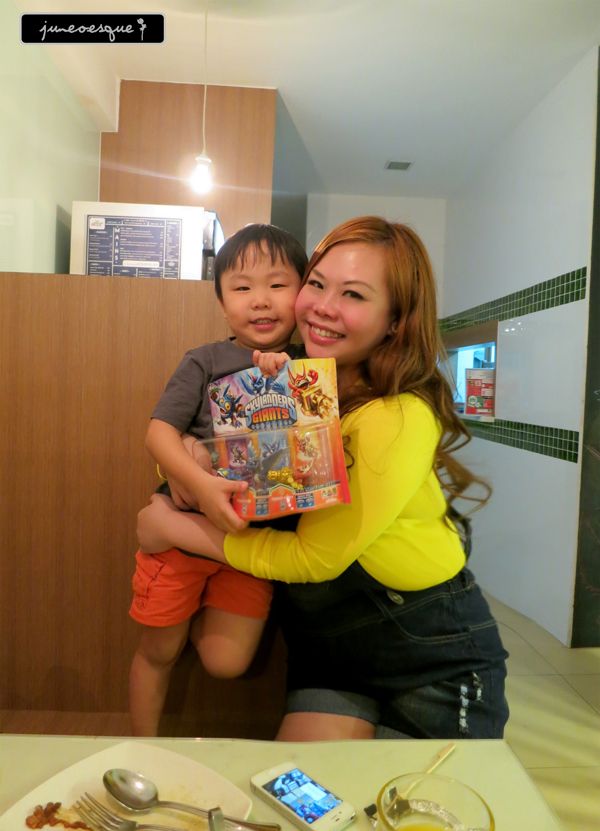 hahhaa
and dessert, Rice & Fries chef Ken is starting to play around with making desserts and today we had the honour to try their molten chocolate cake...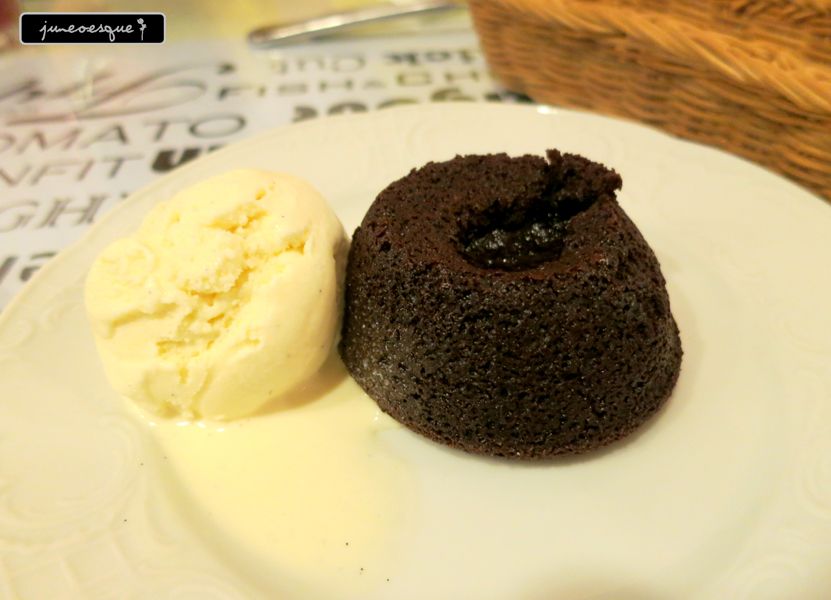 i must say i am very impressed! it is oh-so-good!
the cake is nicely textured and warm and the chocolate oozes with. the sensation of the warm cake with the ice cream is just heavenly! Good job chef ken!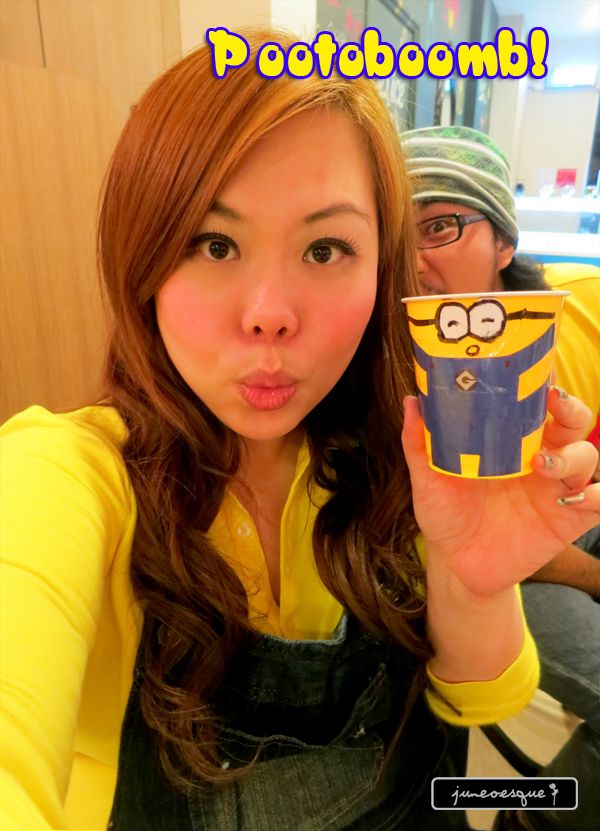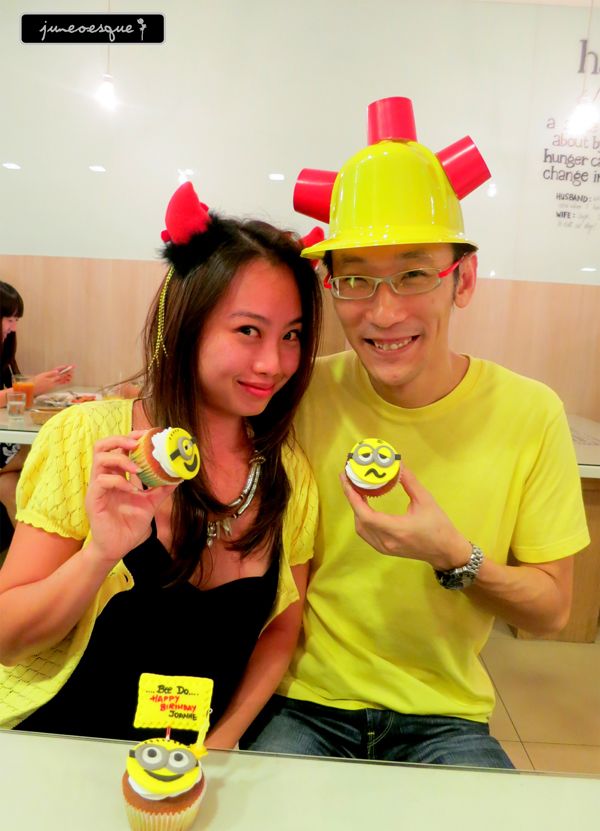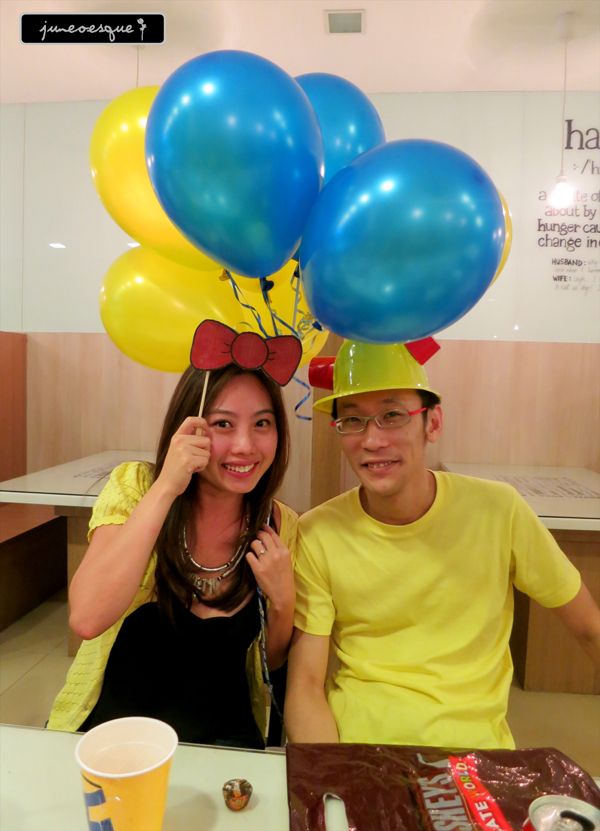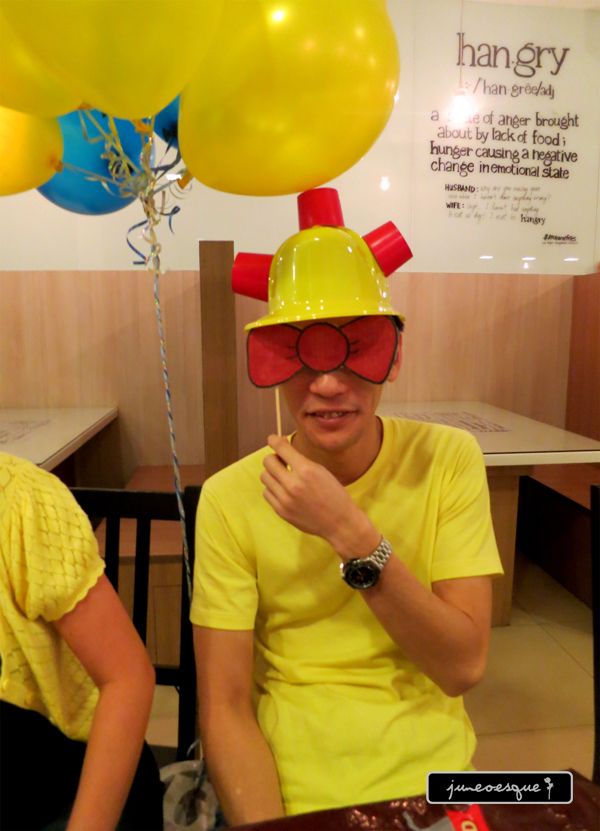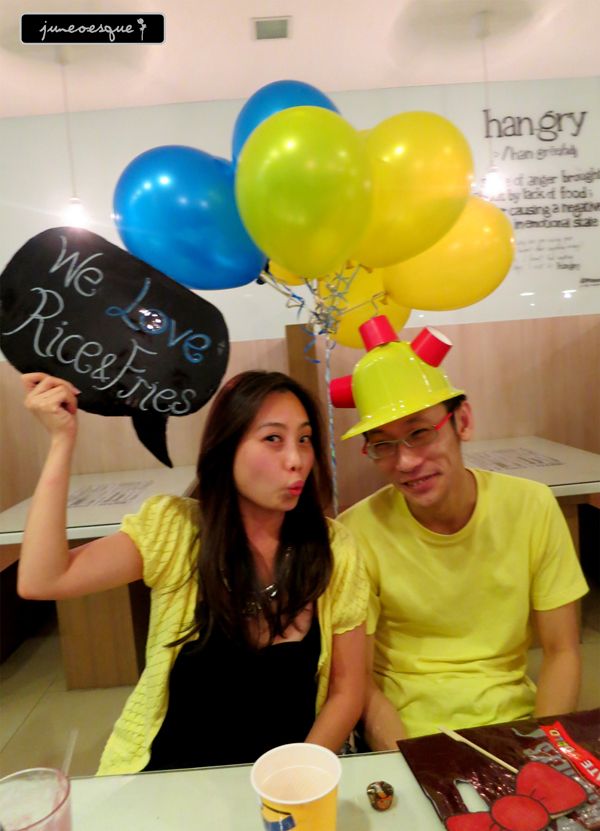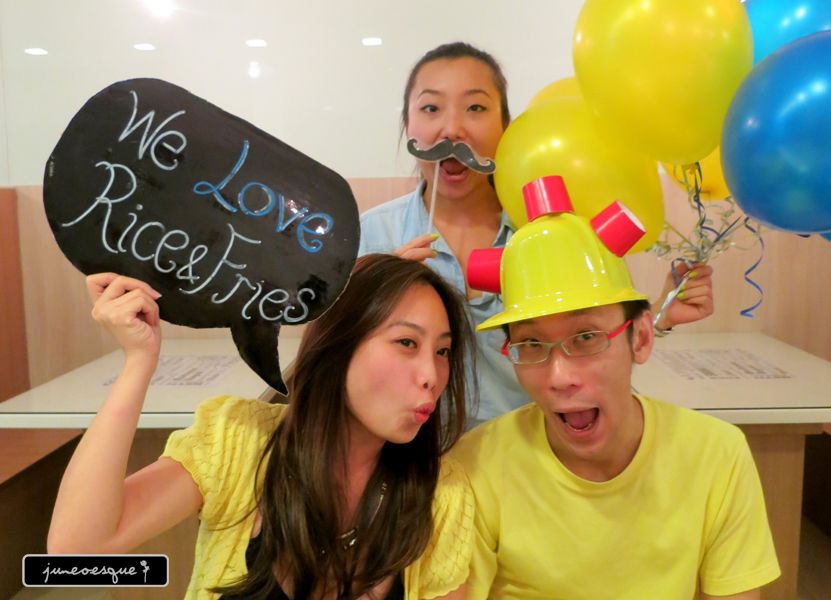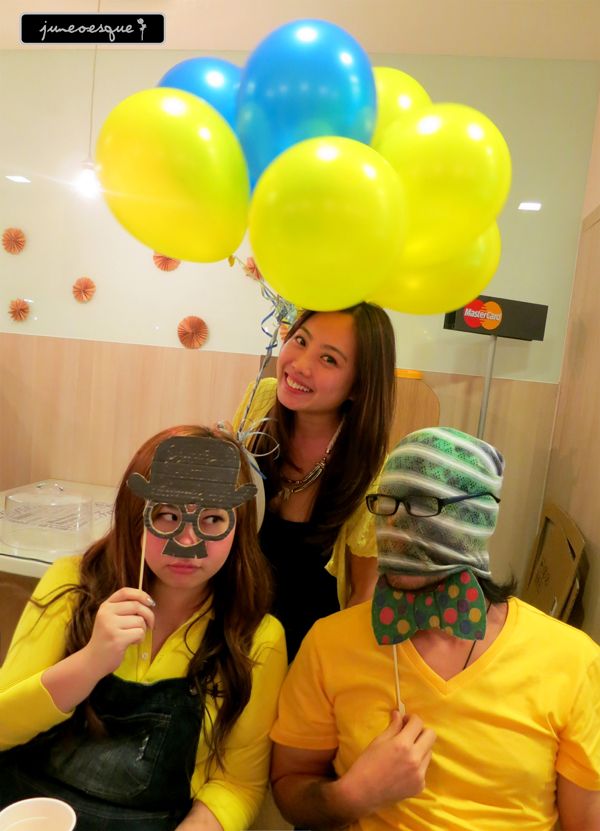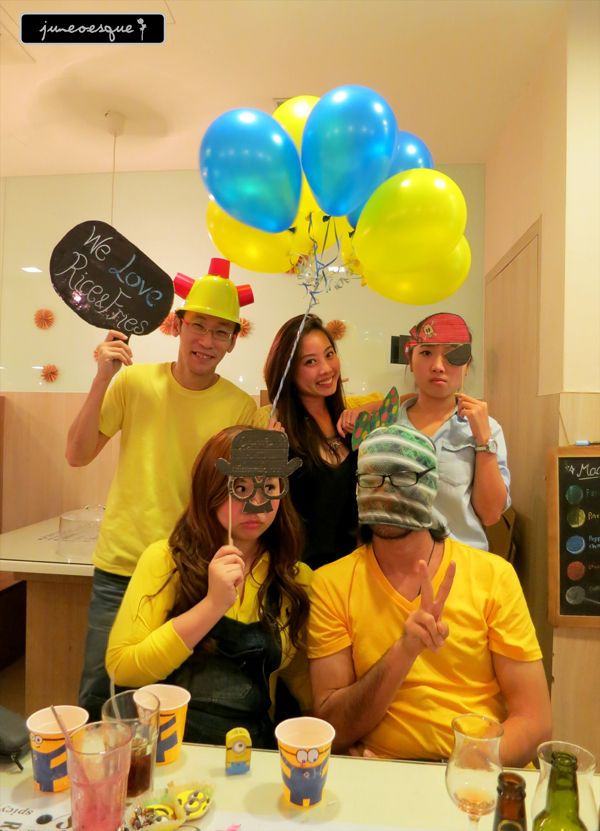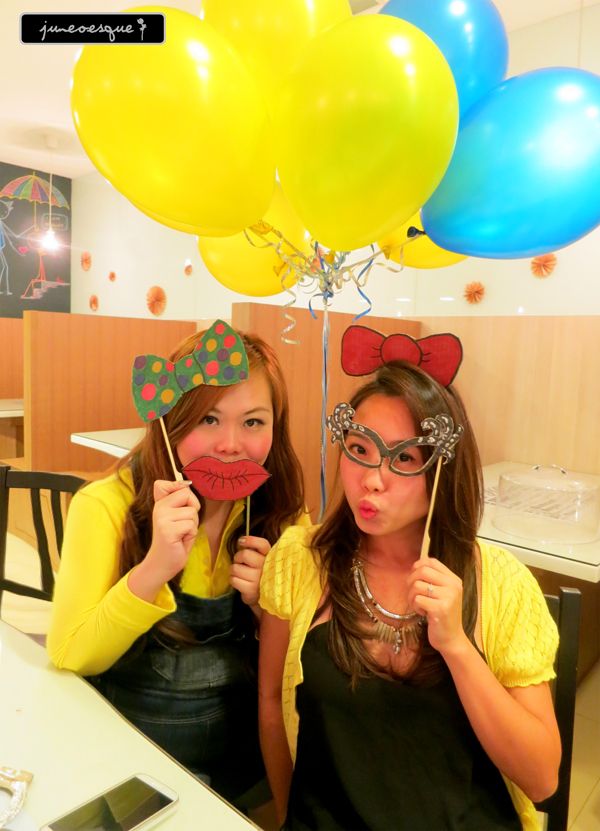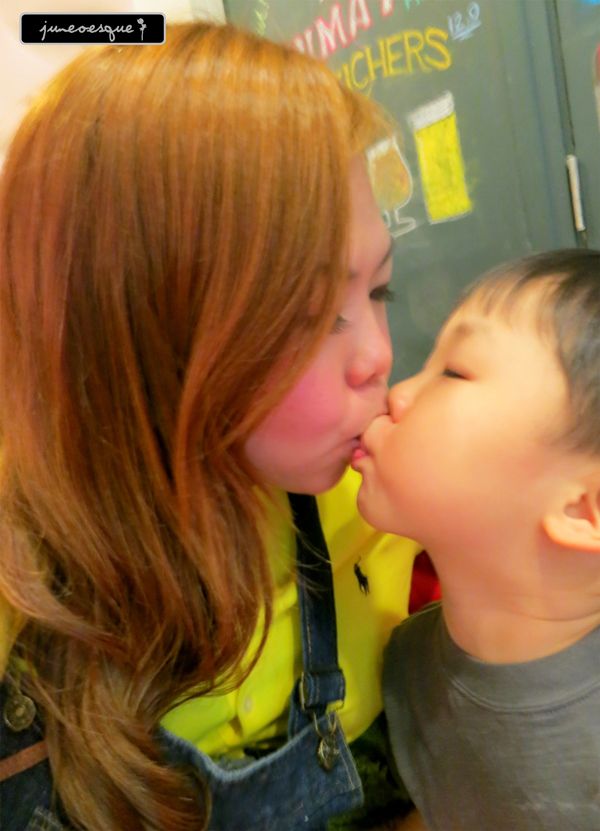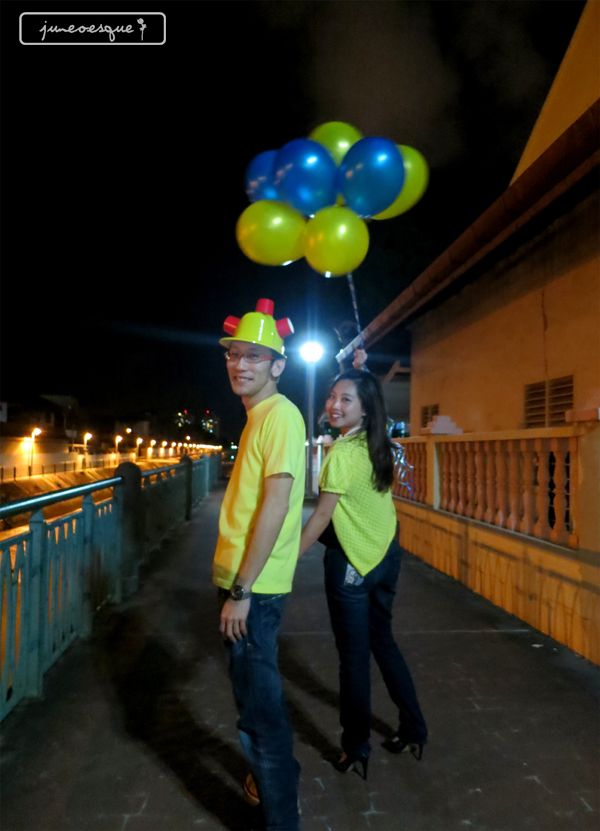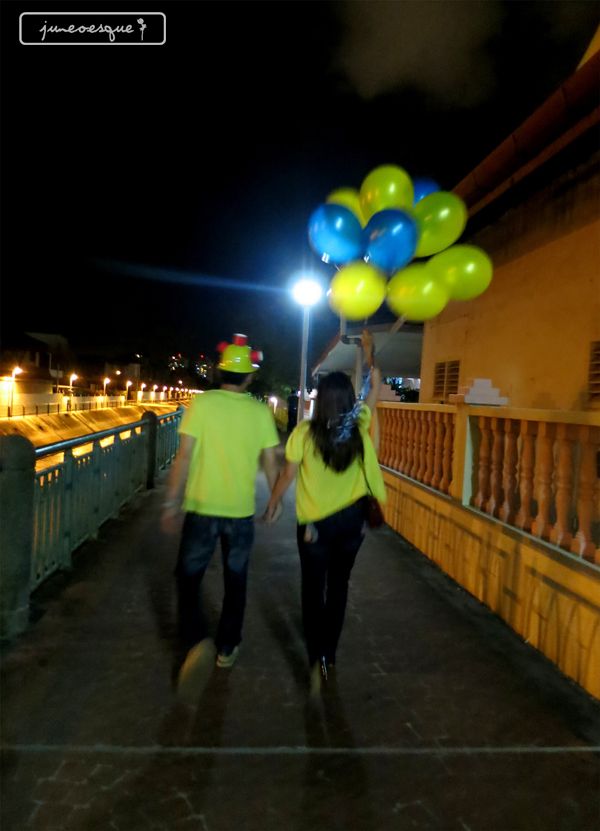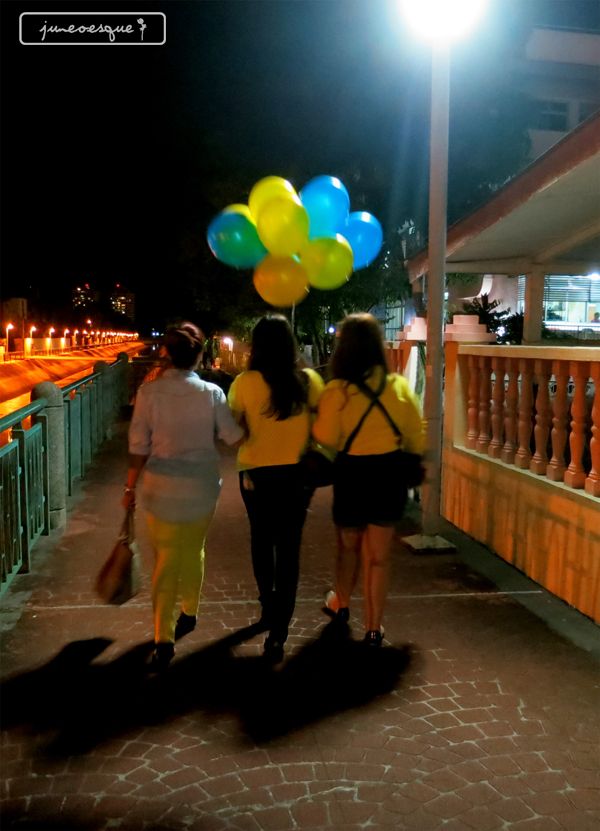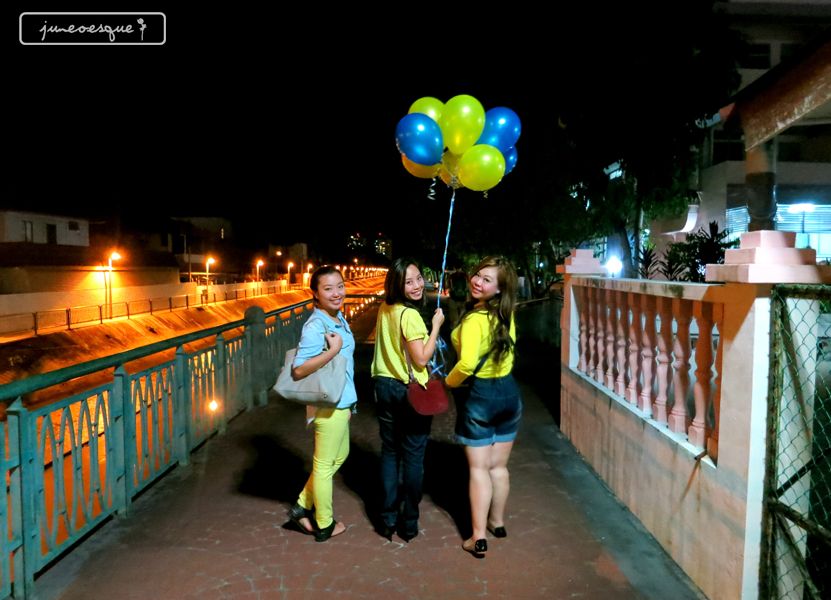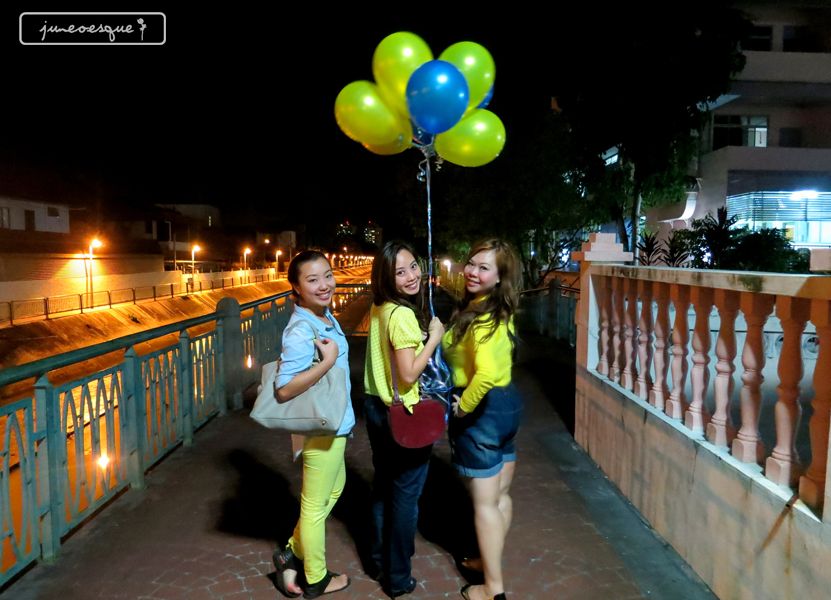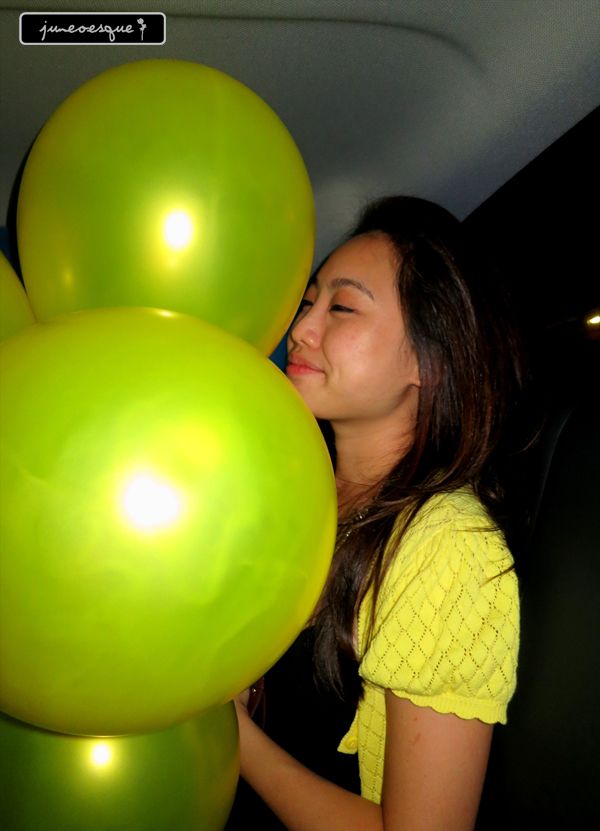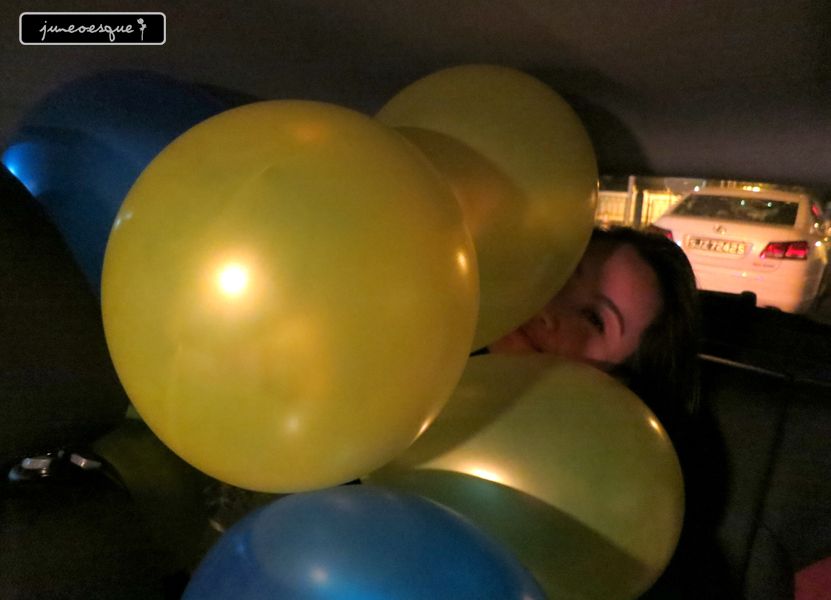 Happy birthday Joanne!
Thank cute Rice & Fries!