in case i don't remember all the emotions or interesting conversations anymore, i have decided to blog about today prior to all my other outdated entries.
also coz my 粉丝 comprain say i too long nv blog! hahahhaaha
well, for starters, i finally got down to using Niki as my poster girl! Actually i meant to take one of her near my house gate but she happily just jumped onto my bed today so i began snapping and got too lazy to bring her out for more photoshoots....
this idea sprung off after i printed this to motivate/cheer myself up at work....
now i have a personalised one with Niki!
today is our long scheduled buffet lunch date with Phyllis and Saphy! in fact, this lunch was supposed to happen like 2 weekends ago but Phyllis and myself got ill and Saphy found out that they only serve FREE FLOW FOIE GRAS for SUNDAYS.
OH GOD. HOW DO WE RESIST THAT?
and i made it a point not to be late. as i was telling the girls, even as i was blowing my hair, i animated how i was doing it gleefully in anticipation! haha...
been awhile since i felt so excited about some dining place! im guessing the last time was.... Morton's? haha
as we got there, we were blown away by the spread! Seriously, its a damn damn good buffet spread. very importantly, they really use very good quality food!
and we were so blown away that... we kept repeating saying.. "
we're coming back right?? we're sooooo coming back right?
"
and we seriously considered whether i should actually blog/facebook and let more people know about this place YET we were just hyped by the place we want to '
hao lian
'!! hahaha....
and because i promised not to give away the venue, even for the pic name, i made it a point not to name it according to the restaurant because i have been highlighted previously that my photo names would give me away!
the first section i checked out was the cheese section (although actually i also tom bang Saphy to grab the foie gras for me.. muahhaha).
I love how they have a HUGE selection of really fine quality cheese....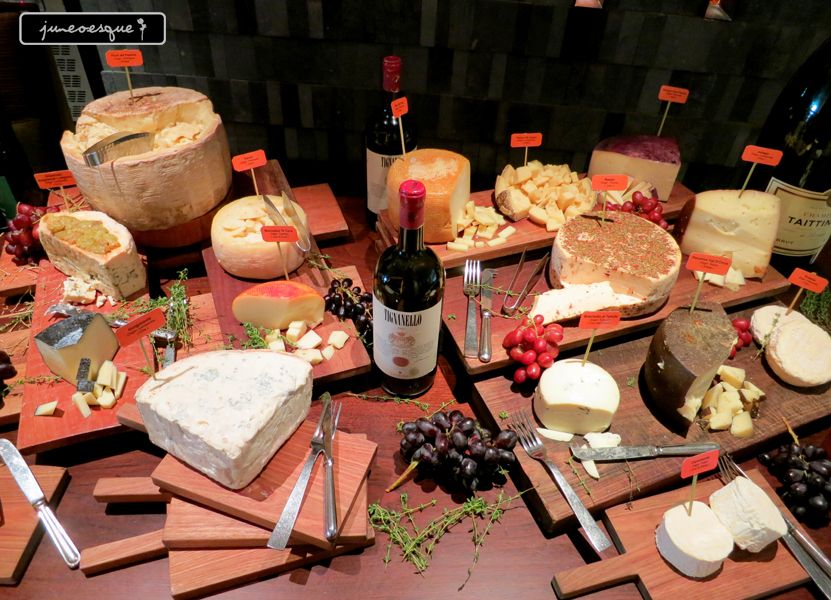 i mean seriously, look at the spread!!
i love how they are so generous!
over at the cheese section, there's also a chef cooking risotto!
TRUFFLE RISOTTO!! and IT WAS SO GOOD!! it puts many italian restaurants to shame!! its so flavoursome that at the first mouth, i totally went... "
MMmmmm mmm mMMMMM
" and needless to say, i had the this-is-heavenly expression to go with it! hahahaha
and at the same section, they also have a good spread of sauces and spreads....
also, nuts!
and i just NEED TO RAVE about how they really use quality ingredients. They don't 偷工减料like some other buffet restaurants where you get
lao hong
nuts or any other ingredients that you'd actually find to be of inferior quality! they don't provide or offer variety for the sake of it, all the items were really just GOOD!
even the seafood!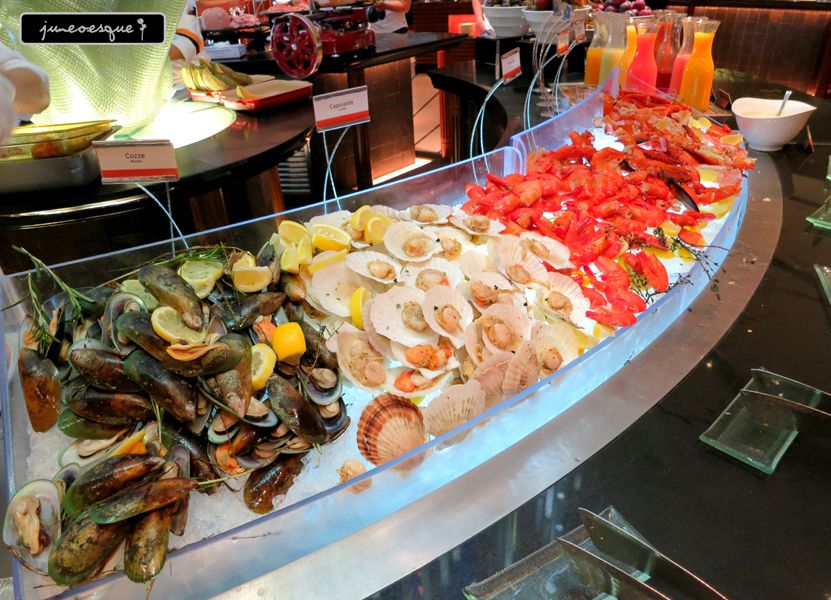 i noticed they didn't have oysters but thats totally ok with me coz i was too busy and too stuffed with the many other items!!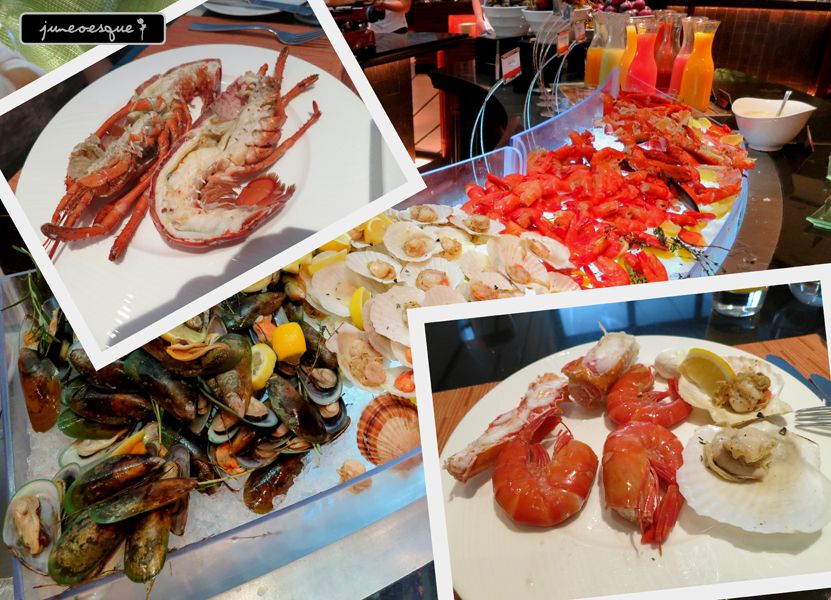 and to be really honest, i seldom eat the chilled prawns from buffets coz they always serve what i'd call whimpy prawns. But no, looking at the size of the prawns they served, i couldnt help but want to dig in! likewise for their snow crab claws! there are many restaurants offering this in their buffet spread these days but i don't know if you agree with me, they always look so tasteless and they really are quite bland.. but seriously, this one was so tasty and juicy!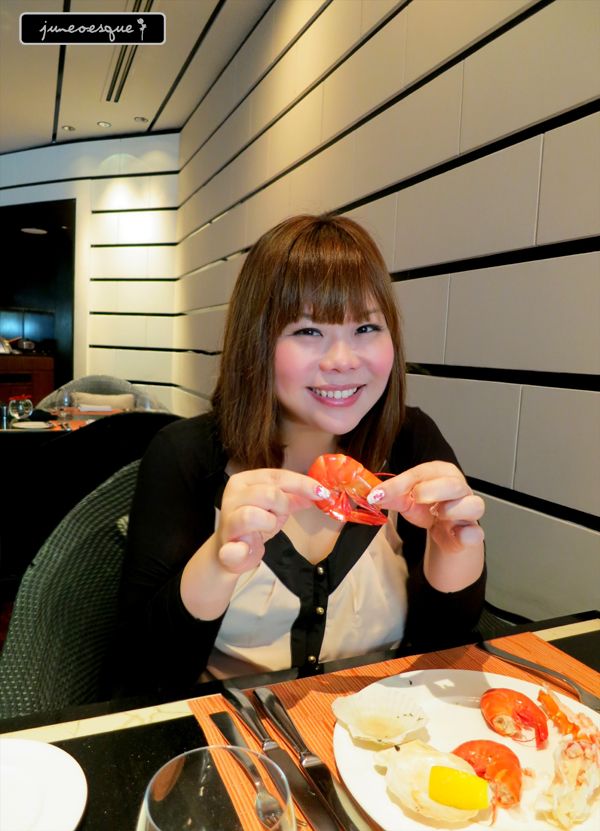 and for the italian buffalo cheese like thingy, they also have at least about 4 - 5 kinds! they were really GOOD!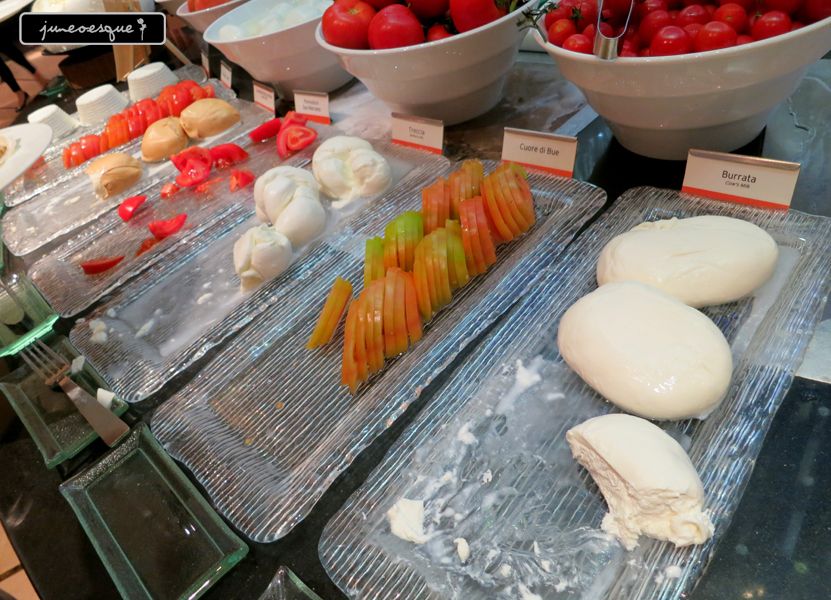 and HAM!! freshly shaved parma ham and many other fine quality ham! Not picnic ham mind you!
and for the savoury section, there is the roast pork belly and wagyu rump....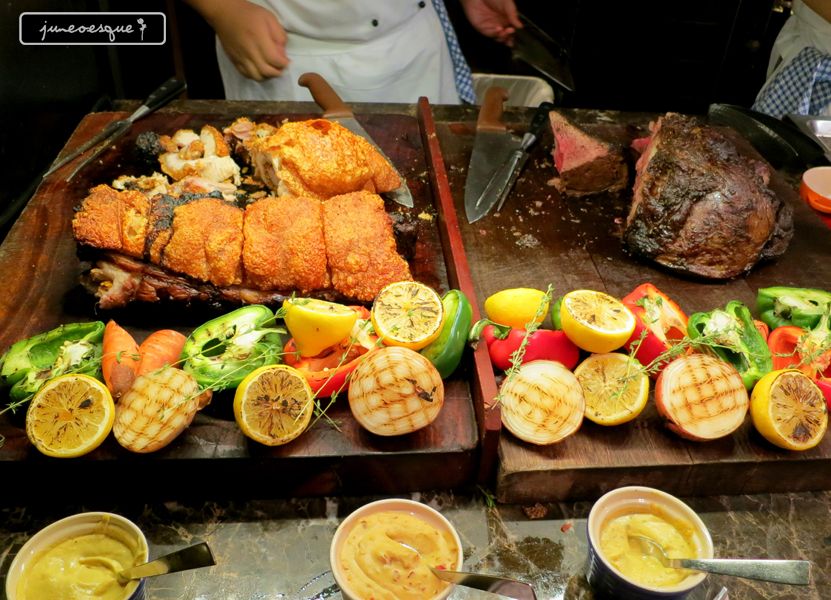 the roast pork belly is sooo good! crackling skin and tender meat! YUMMY!
the roast beef was decent too!
and some other grilled items...
AND YES!! STAR FOR TODAY!!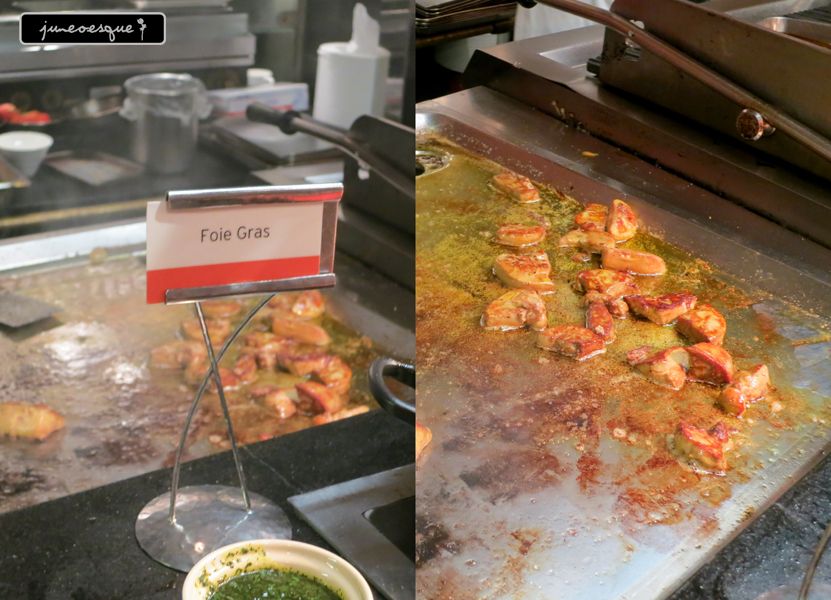 and i'm happy to say, we had.. foie gras.. we had foie gras.. WE HAD FOIE GRAS!!!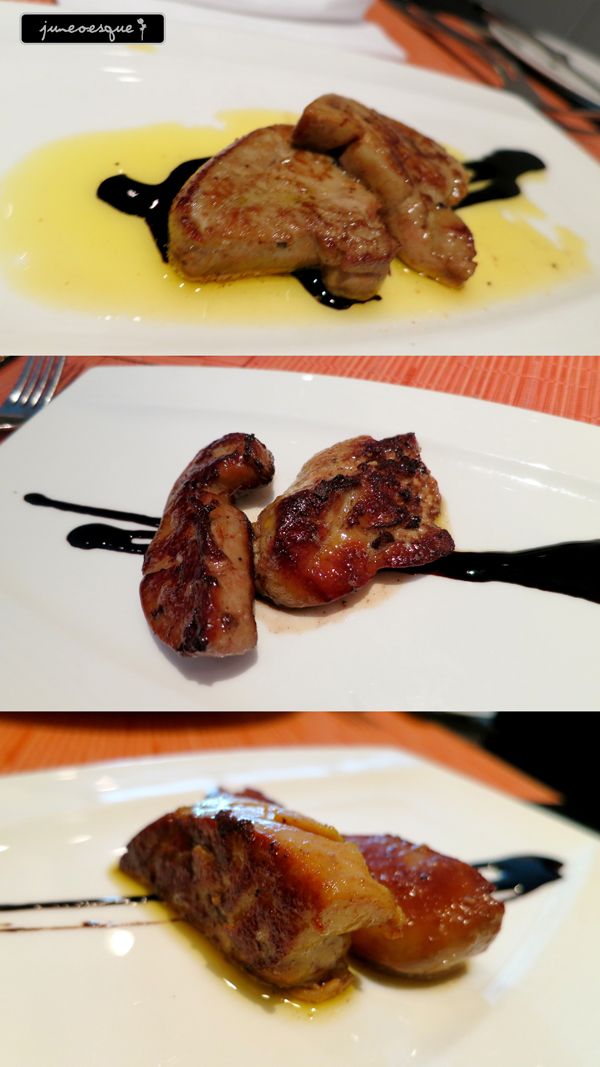 please dont come telling me health talk or about force feeding *hear no evil, see no evil, eat all evil!!!*
and this is their pasta spread....
they pretty much cover the different popular sauces... there is lagsana, truffle cream sauce, aglio olio and tomato. all of it were pretty decent. in my own view, much better than what we had at garibaldi. expect the aglio was a little too oily.
which reminds me, over the meal, saphy repeated commented on how she regretted going to Garibaldi and paying about the same amount we paid here. haha..
some of the other savoury items...
they were also good! especially like the italian pork sausage! its sooo juicy!!
they also had lobster bisque....
yummy!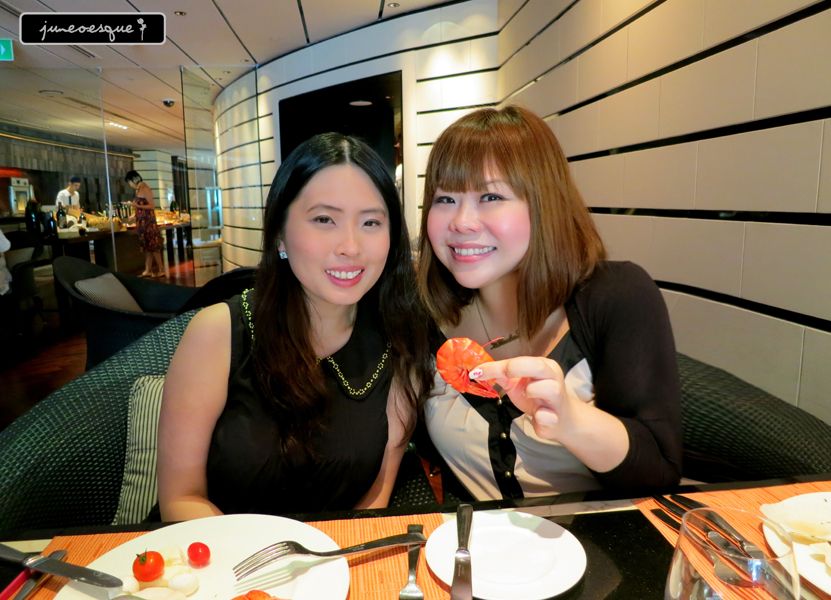 and for $88++, juices were included! they had such variety! there was orange, pineapple, pink guava, cranberry, carrot, grapefruit,....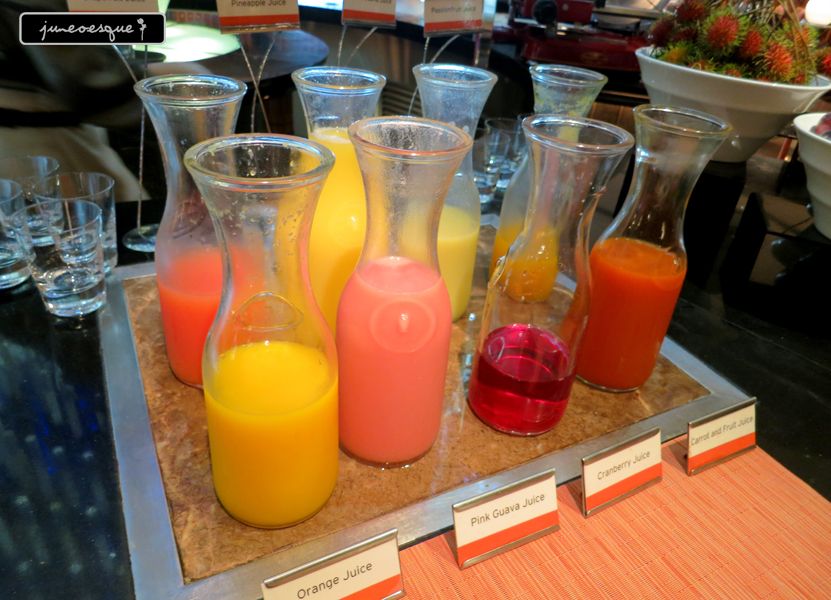 this is truly one of the best buffet i have ever had!! its soooo good!!
and dessert! tiramisu, panna cotta and some coffee smoothie thingy...
the tiramisu is soooo good!
and as i was too full, i didnt really touch the other desserts but Saphy went on and she went on raving to me about the items....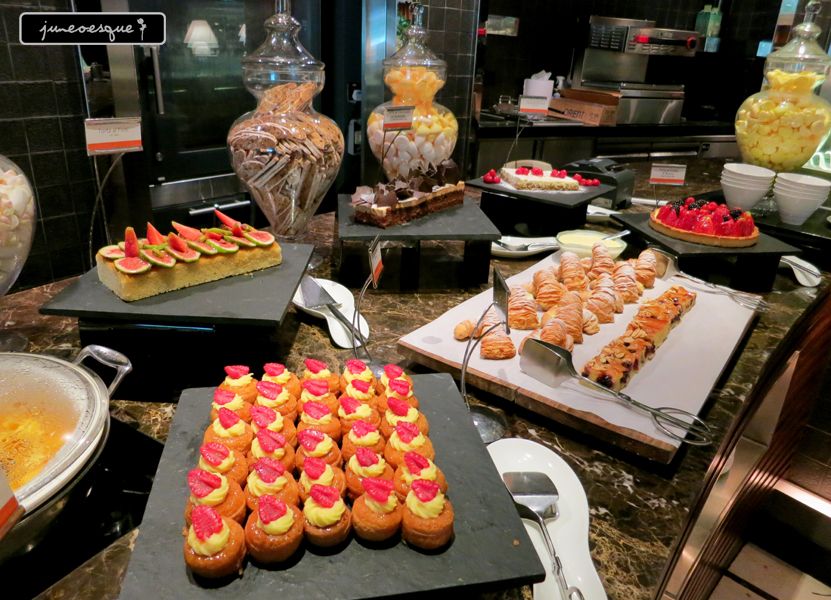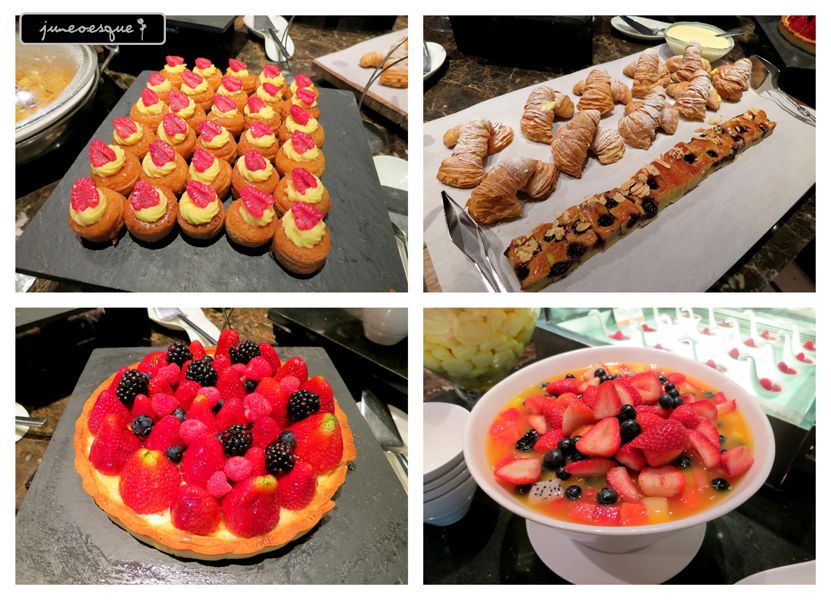 even their fruits spread feels to be of good quality!
AND!!! Coffee and tea included and its not plain normal coffee and tea, u can choose whatever u want.
saphy and phyllis had a latte...
i had a iced tea....
my buffet was $88 ++ (worked out to about $103 after all the ++) while saphy and phyllis went for the one with champagne which was around $128 or $148 i think...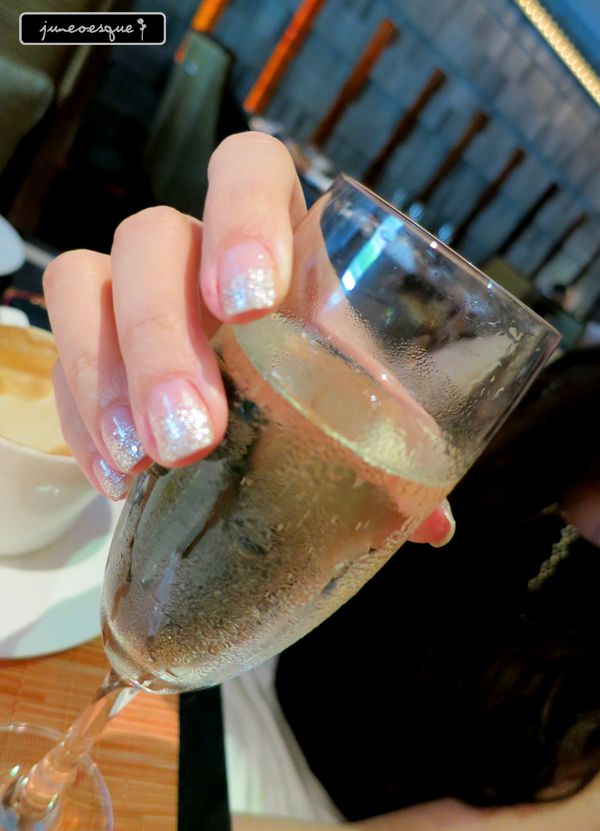 phyllis' sparkling nails with the sparkling wine!
the whole lunch was soooooo good!
the service was also really good!
over lunch, Saphy tried to psycho me about a dec hong kong trip coz Phyllis and her happened to be headed there around the same time. She also showed me her itinerary.....
wow! so detailed! been so long since i actually had an itinerary for travel!
HONG KONG! How can they tempt me with Hong Kong????
my resistance is usually so weak when it comes to Hong Kong! JJ also tempted me for an Oct trip (all paid for).. SOB!!
and then as we were talking about my weakness for Hong Kong, suddenly Saphy went... "
So how many times have you been to HK this year?
"
I paused for awhile and went.. "
erm.. 2?
"
and she was went.. "
last year even more right?
"
thats when i went into a silly grin.... "
last year 2 times, this year 2 times lo.. hur hur.. u mean i have already been there twice this year?
" =P
some final shots before leaving the restaurant...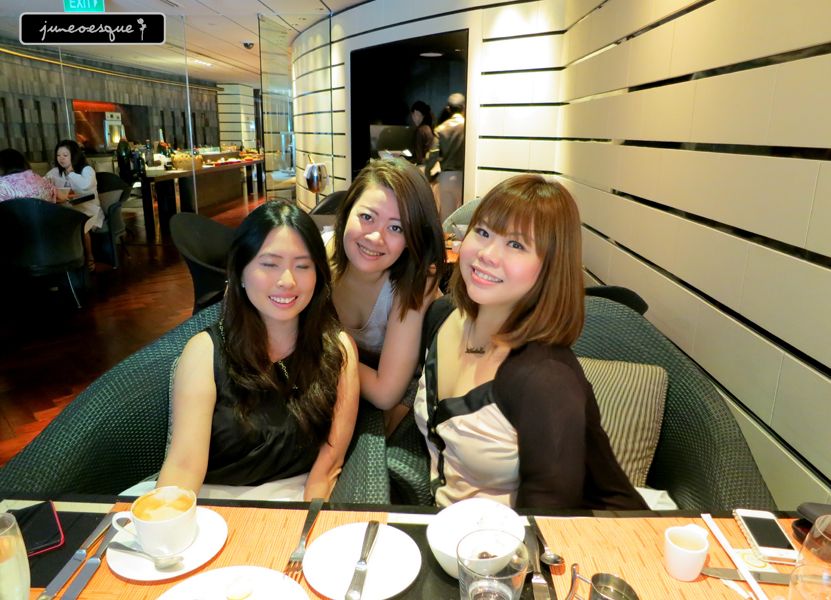 and because we didnt really have any other plans in mind, we landed ourselves on a sofa outside the restaurant and started lazing around....
i think i took a nice shot of saphy!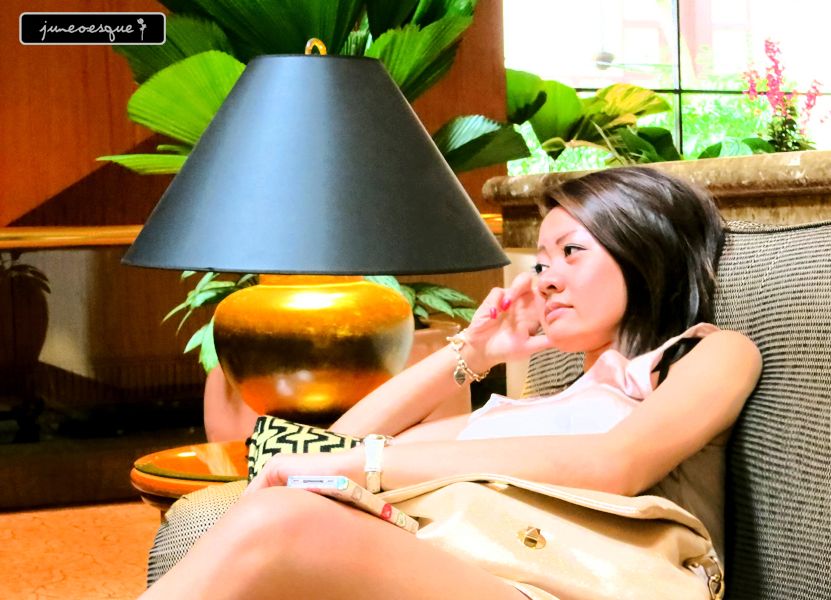 as we chatted, saphy made a funny comment.
Disclaimer: this is not meant to be rude or offensive twd any religion. U know how 'scary' social media can be these days..
Saphy was saying she went with Sharon to Sharon's religion place of worship and out of all the chanting, she could only hear.. "
matcha and katsudon
" MUAHAHHAHAHAA
cracked phyllis and me up!
its really all about FOOD! haha.. like what Saphy said, Food is a big part of her relationship! hahaha
and Phyllis shared with us how she did calculations for a basic family unit in Singapore, owning a car and a house, at least for her own in near future, she probably will need around 4k a month. that's not even including food or children!
we joked about how its either you find a partner who earns decently or you are probably better off alone (single). Or, you must love your partner enough to go into liabilities with him/her.
while there are actually quite a number of friends around me who managed to find a partner who can afford to have them not slog and concentrate on raising the kids, it has becoming seemingly impossible to not be in a dual income family.
i think i relate strongly to this topic! haha
so anyway, we sat around that comfy sofa till it was almost 6 plus where we decided we were thirsty. still mad full though.
we made a quick visit to the loo and also took pics of our buffet friendly outfits that we specially put on to cater to today's lunch....
and took a small stroll over to Tanglin Mall's Brunetti....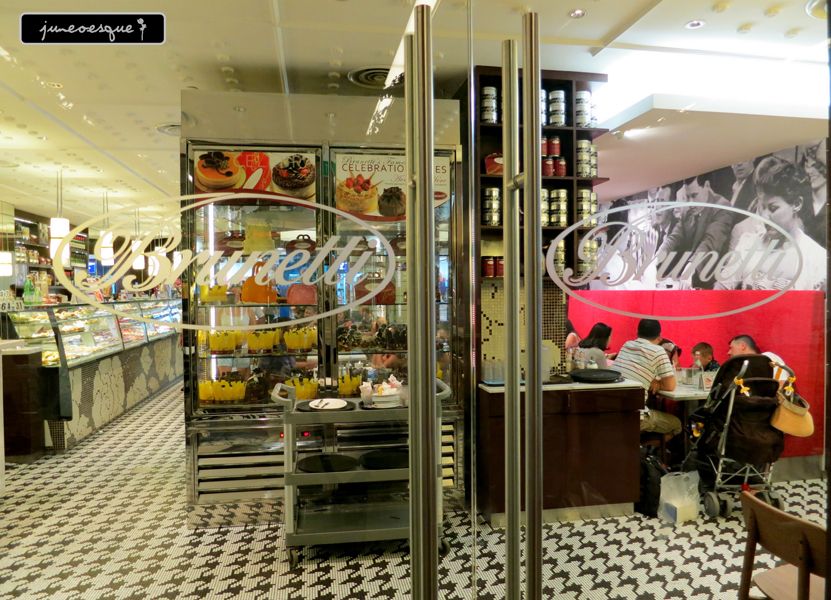 heard some raves about this cafe.
they look like they have some nice offerings...
but we were too full!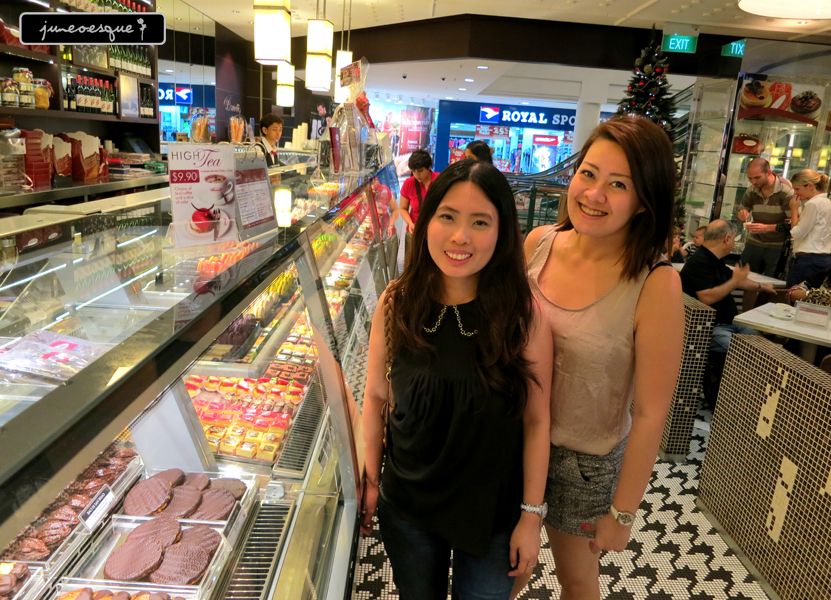 i think i took some really nice pics of Saphy today!
our drinks...
i ordered the hot chocolate which proved to be too sweet so i skipped more than half of it and went for my beloved sparkling water instead.
by around 7 plus, we did some shopping around the mall. it seems to be a good mall for christmas shopping... and yes, xmas is round the corner! shopping mode on (CONTROL, CONTROL, CONTROL).
as i stop to think, who can i spend xmas with? im guessing xmas this year will be with my beloved bed!
check out this ultra cute pic i took with an owl from iwantogohome...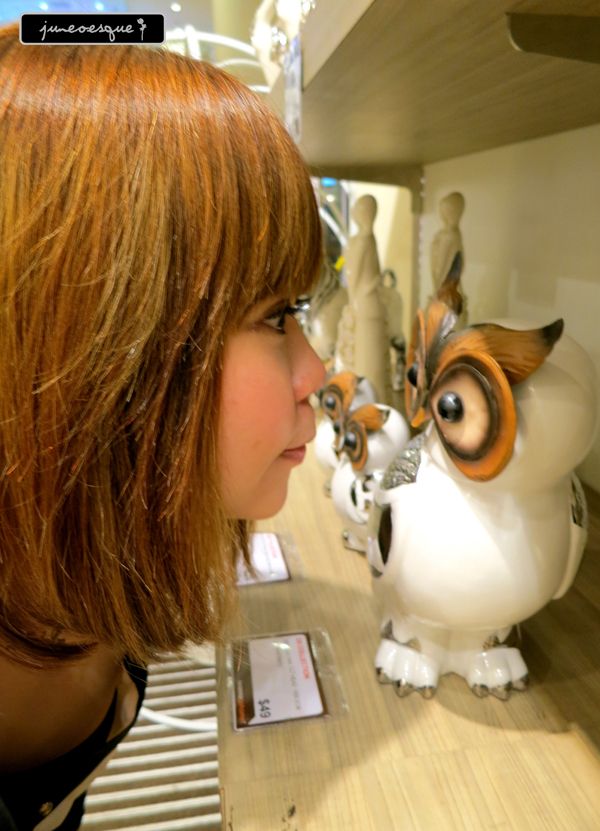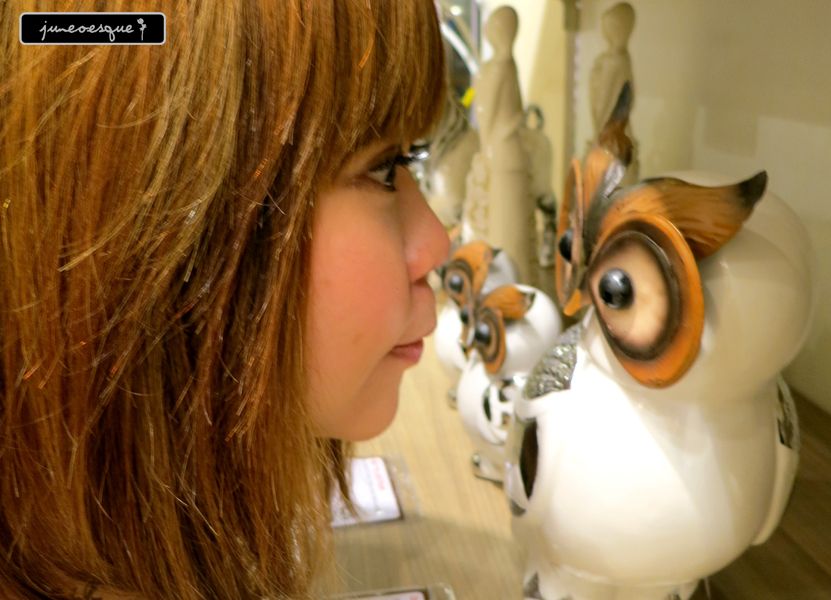 i still have work to do and its a sucky feeling. makes me feel like im still in school with uncompleted homework :(
I'm so looking forward to catching Ah Boyz To Men!