arranged to celebrate Meina's birthday today. When i first wished her and asked her on what she'd like to eat, she told me she wants Happy Crab. But Happy Crab locations are all kopitiams.... just doesnt feel like the right place to celebrate a birthday so i explored the idea of picnics in my mind.. or maybe buying the crabs to my place.. or picnics at east coast park or marina barrage...
East coast and marina barrrage were out coz they are obviously way too hot!
My place has air con but it doesnt feel right.. like so effortless!
and finally, E-Max came to mind!
i also roped in Sasa for the element of surprise. Izzy was also roped in to help with the cake collection.
so after confirming the date with Meina, i texted her and said.. "
Be at Cineleisure by 4pm on the 18th of Aug and await further instructions
"
Meina replied.. "
ooo.. i love surprises.. i can't wait
"
hahahhaa
in the morning, i texted Mr Ang of Happy Crabs to confirm i will be coming by around 2.30 pm to collect the crabs i had ordered. But to my horror, Mr Ang replied to say he is only open for dinner and not lunch! OMG,
GAN CHEONG
!! Happy Crabs are one of the STAR of my surprise for her today because its something she specifically requested for! I called Mr Ang to explain the situation and highlighted to him that in my initial order request, i had already mentioned collection time at 2.30 pm which he acknowledged. Luckily, Mr Ang was also very nice to do service recovery. He specially made his way down to his brother's outlet at 2pm to help me prepare the crabs. Although the crabs were smaller than my original order, i appreciate the effort.
Next, i headed to Cineleisure and bought some additional finger food like fries, onion rings etc because along with the change in crab location, Mr Ang also couldnt get me the fried bee hoon i ordered from him.
It was there that i managed to piece another part of this surprise. I purchased a tube of candy and explained the situation to the cute girl who agreed to help. I wrote a note with instructions for Meina to come on up to level 9 where Emax was....
meanwhile, Sasa and Izzy had arrived.
Sasa's job was to prepare balloons.... purple balloons... Meina's favourite colour...
and Izzy's job was to help me collect the customised cupckaes from Charlotte Grace...
very lovely!
thank you Charlotte Grace for agreeing to take in my orders at such last minute request. The cupcakes were yummy! these are the double chocolate ones with chocolate oozing out. Meina and the rest who tried it later all agreed that its really yummy!
We began decorating the room we booked in anticipation for the birthday girl's arrival.
the happy crab!
nicely laid out....
ta da~
Meina and Aloy were running a bit late. The funny thing is, i kept asking meina to share location to tell me where she's at.
also, actually few days earlier, Aloy was trying to fish out from me what the surprise was about. I refused to tell him and tried to confuse them further by telling him.. "
help bring extra set of attires for her to change
".. hHAHAHAHAA
When Meina and Aloy arrived, Meina texted and asked me.. "
where to meet?
"
i replied and told her.. "
text me when you reach..
"
Meina replied and told me.. "
ok.. but don't tell me after i park to drive back home hor.. i will be angry..
"
HAHAHHAHAA.. i told her, that's a nice idea!
first piece of info was to tell them.. "
There are 2 candy stores at Level 1. Go to each store to try your luck, look for Priscilla and she will give you further instructions
"
After they found the candy, they also took a pic and watsapp the pic over....
that was when i went to the lift lobby to pick them up ....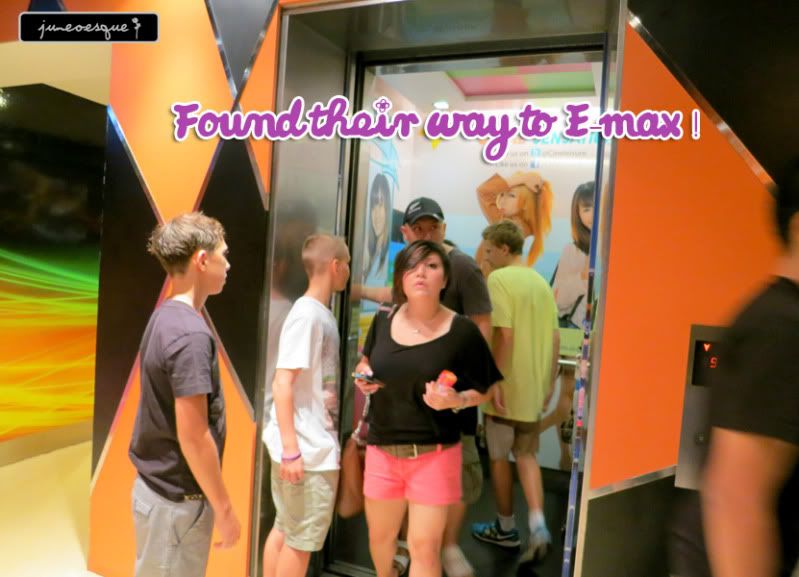 at this point, they probably thought the surprise was over.
So i led them over to the room where Izzy and Sasa had got the party poppers ready....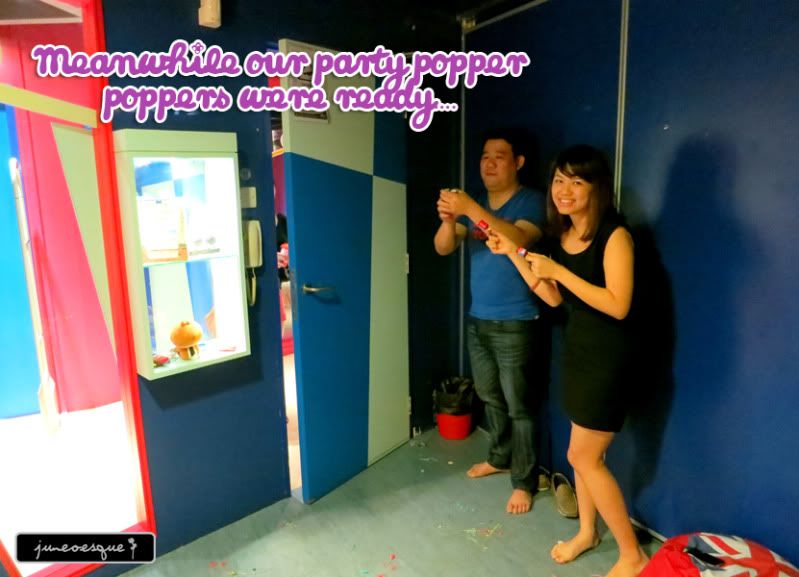 SURPRISE!!
Happy Birthday Meina!!
and i specially took the Chanel paper bag i had, to contain the plastic fork and spoons i got for the picnic and trick Meina that its her present!
haha.. well, technically its a Chanel present! its Chanel theme cupcakes!
and Meina was happy to get her Happy Crab! She said when i said to meet at Cineleisure, she was already thinking that that means no Happy Crab for her and she was wondering why i didnt want to bring her for Happy Crab! haha...
Birthday song for Meina....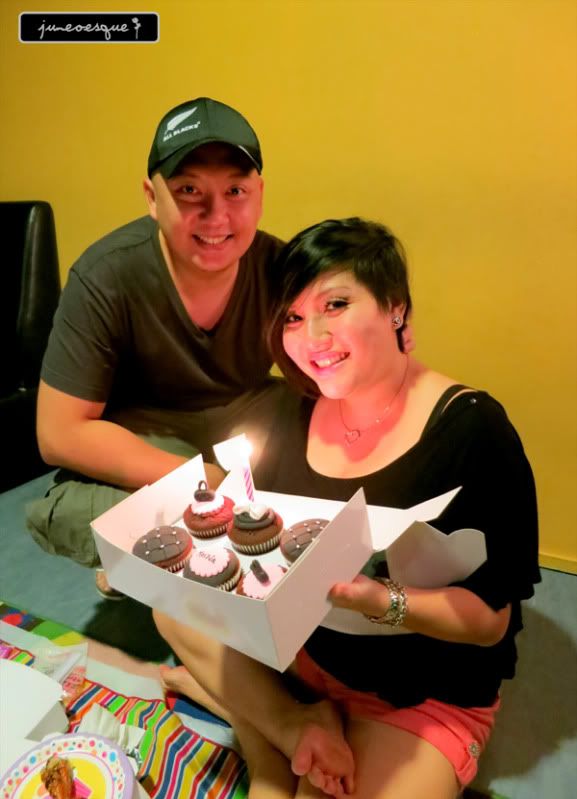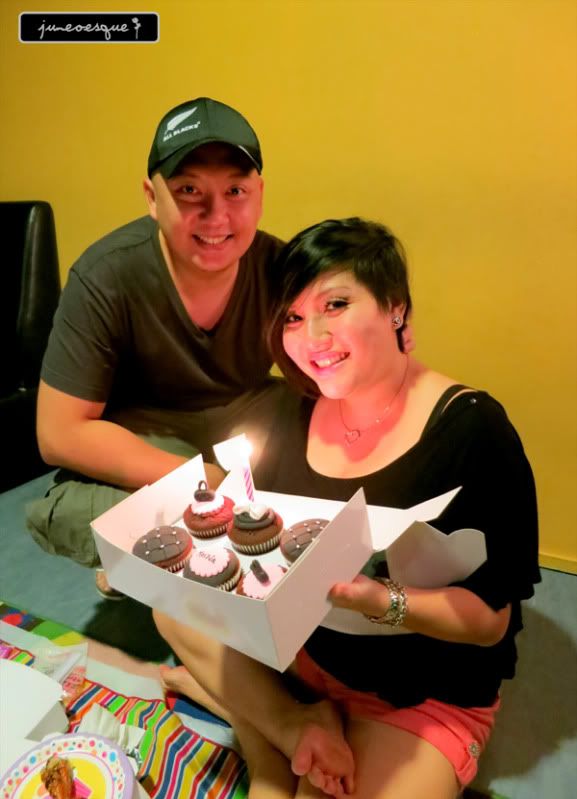 picnic time!!
our picnic probably looked so good because a group of kids walked past and couldnt stop drooling. one ang moh kid even knocked on our door to request for a cupcake! haha.. we gave him one since we had an extra one.
after all that food, it was game time! we rented a Kinect set and started off with Dance Central 2....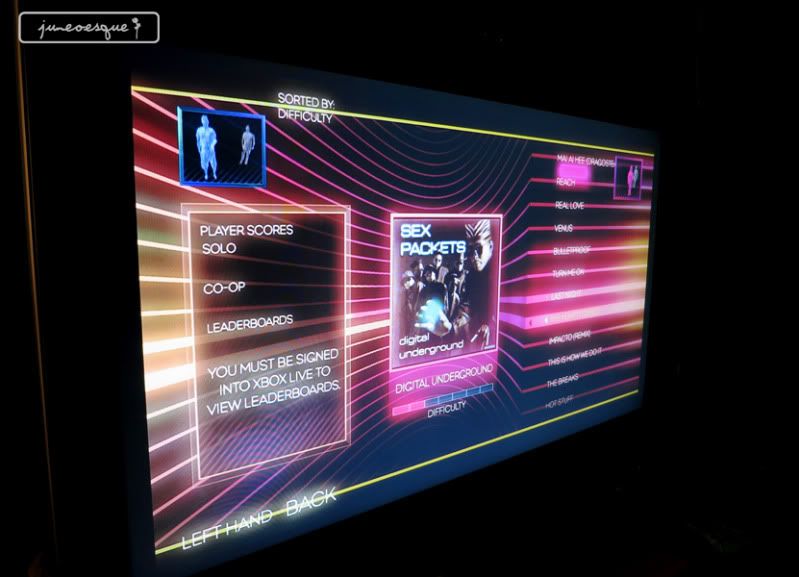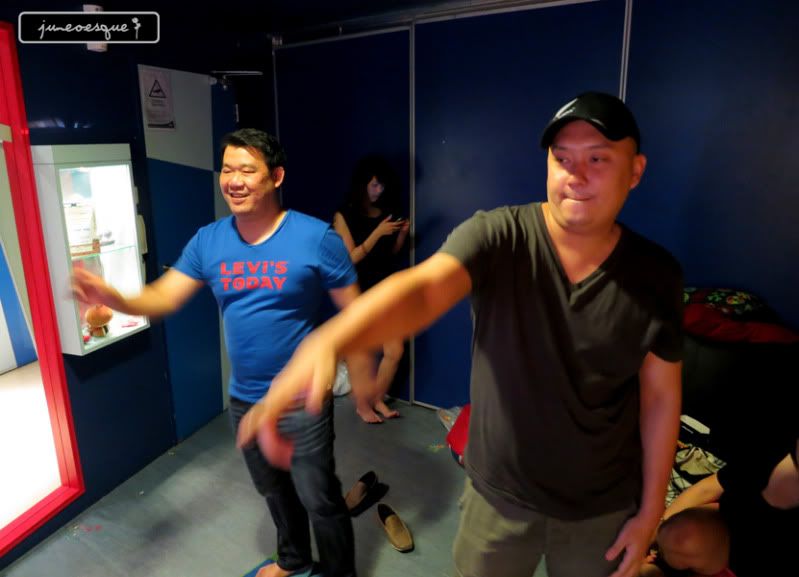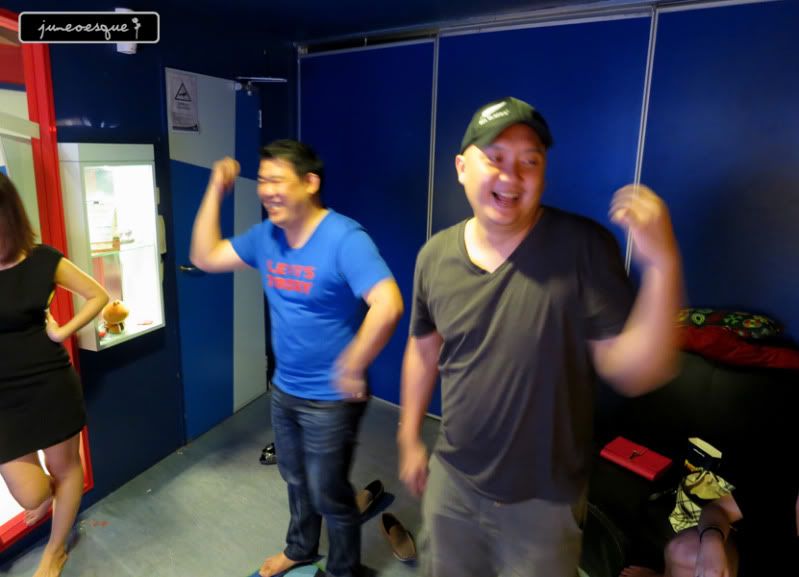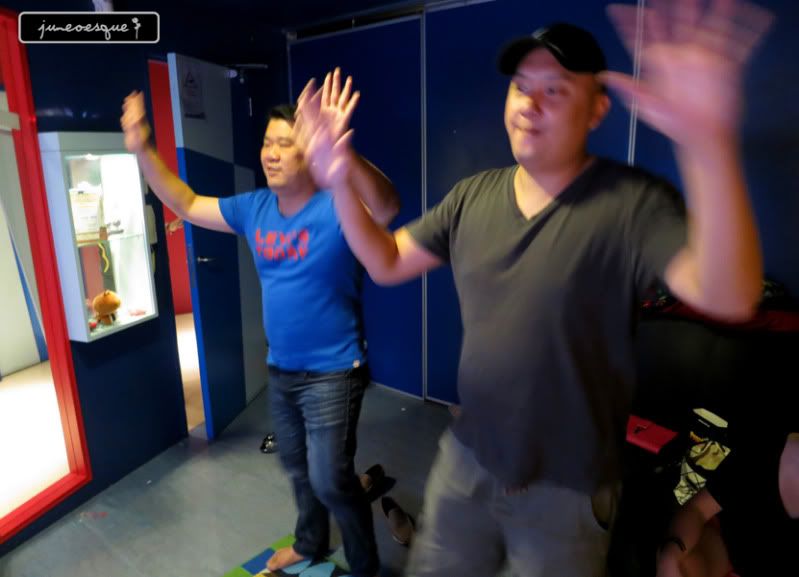 it was really loads of fun and funny actions.
after the games, we dropped Sasa off to st james for her round 2 while we headed over to Liang Court for Tanyoto. Meina saw my post on Tanyoto and wanted to check it out too.
today, we opted first for the tomato soup base and the tom yam....
i didnt try the tom yam soup base. the tomato soup is supposed to be one of their specialty. i found it not bad but i think i still prefer the clear soup.
subsequently, we also changed to the clear soup n preserved vegetable soup base (at a cost of $8.80 for a change of soup)....
i like their steamboat, yummy!