this came highly recommended by Squiddy....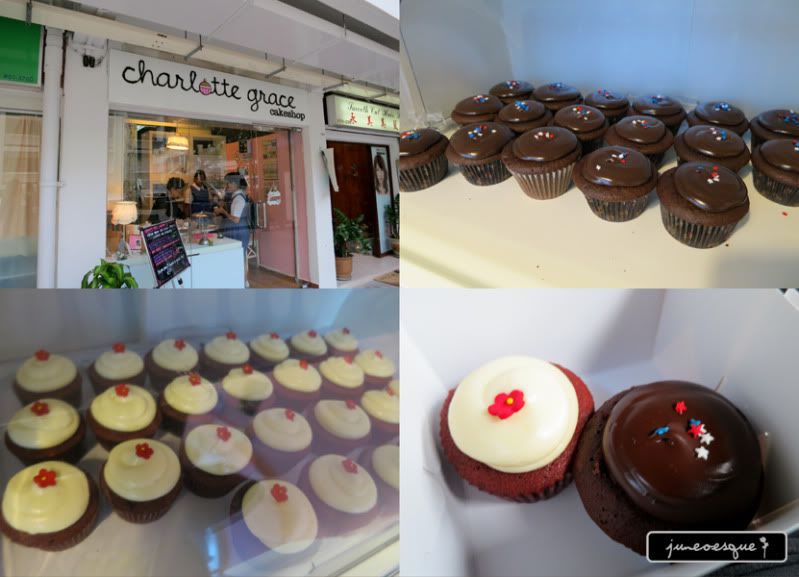 located at toa payoh lorong 4, block 85c.
because many customised cake makers are popping up these days and its really hard to judge which one is good. they all typically would seem like they are very good coz most of them are really good with making the cakes look really good. but ever so often, those that look good, don't taste good. haha
so anyway, squiddy recommended this Charlotte Grace which happened to have a new shop over to Toa Payoh. Relatively near my office so i popped by to buy two off the shelves before deciding if i should order more for a couple of future occassions.
i got the red velvet and the double chocolate.
they were SO GOOD.
i remember saying that Jones the Grocer, has the best red velvet cake ever. Truth is all other red velvet cakes i've tried are just *bleah*.
But this one, this one was so damn good! its not too sweet yet it still has that unique red velvet taste. Nice! I shared it with eveline and she liked it too!
their double chocolate is also really really good. it has thick chocolate within that oozes out. the sweetness of the chocolate is just right.
i love it!
and speaking of future events, i am organising/planning .... 2 surprise birthdays, 1 more proposal and 1 wedding. I really ought to consider a career switch!