Thursday, August 30, 2012
You are such a joy, I love you so much!
Sunday, August 26, 2012
extremely tickled by ah mah pig's statement. she shared this in our watsapp group after our eventful night at the club. she said when she got home, she gave ah gong a good hug and said to him.. " ahhhh.... 你是 'free' 的 " hahaha.. and she can hug and touch and do whatever! hahaha

and for the whole day, i was sharing my infatuation for Bong bong bong! although he is not my typical type! hahaha ... but like meina said.. " 男人都是没良心的,since u are going to get hurt eventually, might as well find a 帅的 " 真是至理名言!hahaha .. so yeah, so much for my 不太高,带点丑,眯眯眼

the girls spent a whole day excitedly chatting about the night. but nah, doubt we'll be back anytime soon. haha

and i've gotten a flu.. not sure if its coz of the super cold aircon last night.. i need a good rest!
Saturday, August 25, 2012
many of you would know by now that i have been asking for people who go Hong Kong to get me the Yung Kee century egg. i have been craving for it!
and dar dar got me some from hong kong but we've not been able to arrange to meet up. today when i woke up, i got a text from dar dar saying she has delivered my fav eggs over and...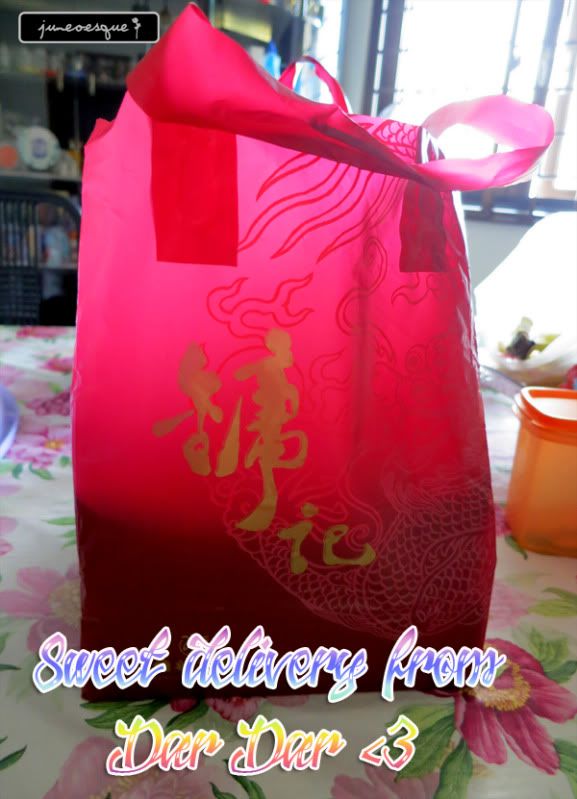 waking up to such a sweet surprise is sheer joy! thank cute dar dar!!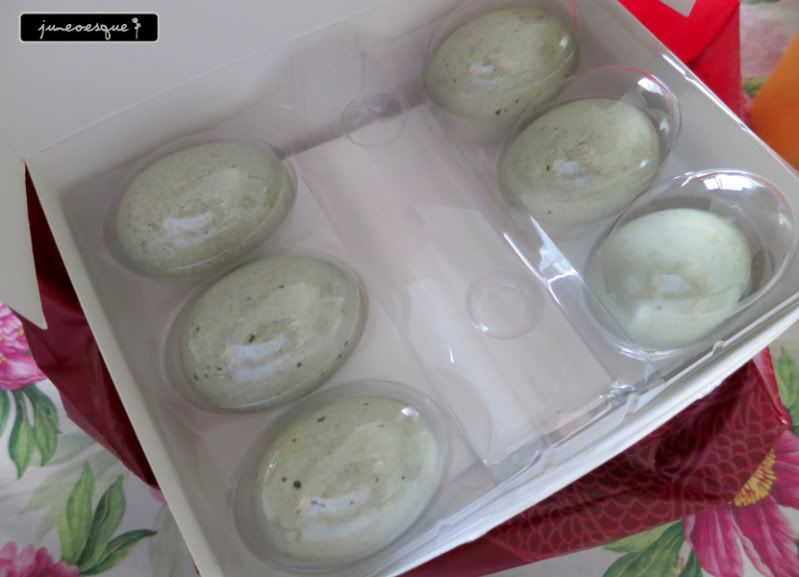 and yes! they are still watery!!
today is another big day. its the surprise birthday of Joanne's which i have been planning for about a month already! the last time we met up, joanne mentioned she is very keen to check out gigolo clubs and so i decided to plan and organise a surprise birthday party for her. i went on fb and through her husband, i gathered her sister, her best friend, two of her colleagues and our group of girlies to agree to today!
sadly, at the very last minute, both her colleagues couldnt make it. but it all still went well.
we arranged to meet around 6.30 pm over at orchard central while we told Joanne to meet at 7.30 pm. The arrangement was to tell joanne that we are meeting for a totally casual dinner with ah mah pig, lyndi and myself and surprise her with the rest of the people.
and over the past month, because of the watsapp group, this whole group of us girls seemed to have somehow become 'friends'. we gossip about everything and anything under the sun. its quite funny.
and we actually have 2 watsapp group for today. one with joanne in it and one without. Lyndi made a blunder in the watsapp group messages about a week ago when we were discussing about dress code!
but we managed to flood the watsapp group with lengthy messages and brought the attention away from Joanne.
however, of all people, i made another blunder at 6 plus. in the watsapp group with joanne inside, i said.. "
audrey and peiyi, we are in the restaurant already
"
audrey is her sister and peiyi is her best friend! hahaha
and joanne replied.. "
who is audrey and peiyi?
"
and immediately, we were like..
SIAO LIAO
!! felt like killing myself! after so long at the last minute i actually made a blunder!!! quickly, we cooked up stories and i said audrey and peiyi are my photography friends and im at marmalade pantry with them at ion etc. luckily, joanne was rushing to come meet us and didnt have time to read too much into it. haha
and actually something else thats funny is that earlier on, to get joanne to wear black today, we cooked up stories saying i bought a new camera and we shall all dress up and the theme is black so we can take photos... and today, in our watsapp group, joanne commented to say ya she noticed the pics i took yesterday, colours different. hahahahhaa.. i nv change camera
lo
!!! haha
anyway, over at the restaurant, ah mah doing last min wrappings....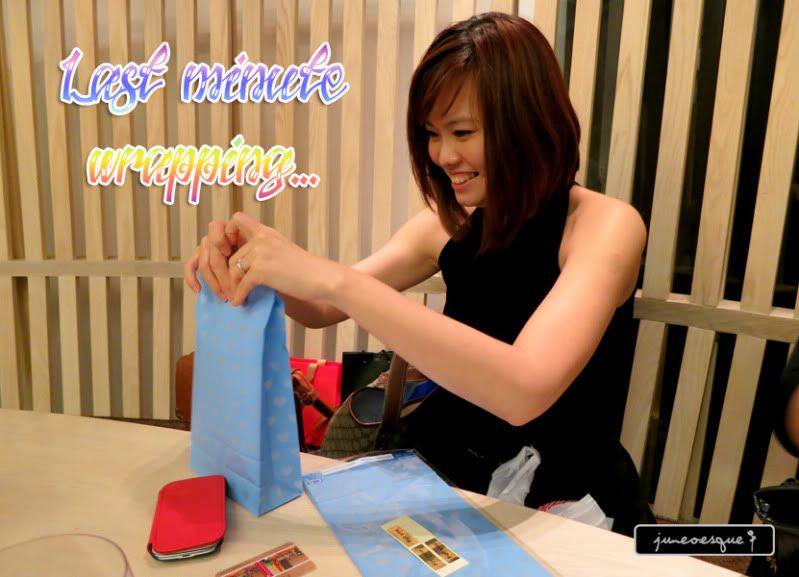 ah mah and daphne said they were hungry so they ordered some roast pork skewers ....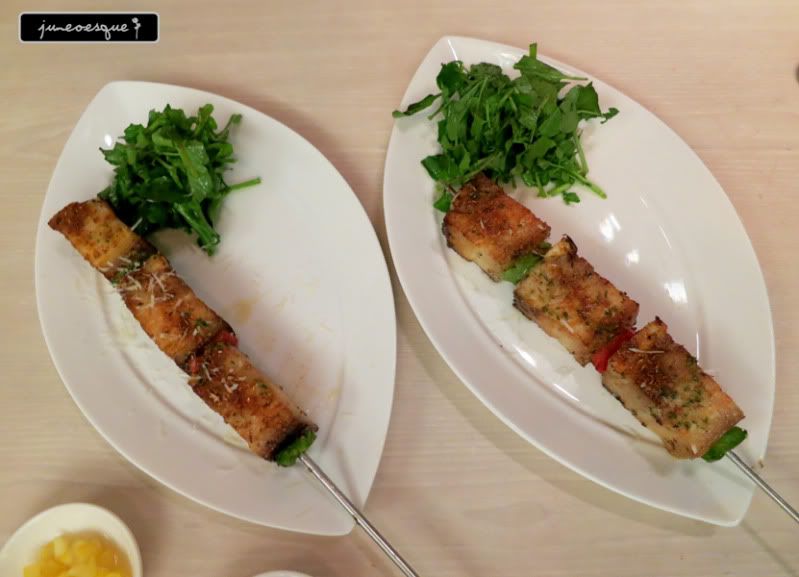 they said it used to be very good but not as good now. i didnt find it very good. skin not crispy enough, meat not bouncy enough...
and as we were seated around, the servers came over and asked whether we could take pictures with them for their turkish promotion...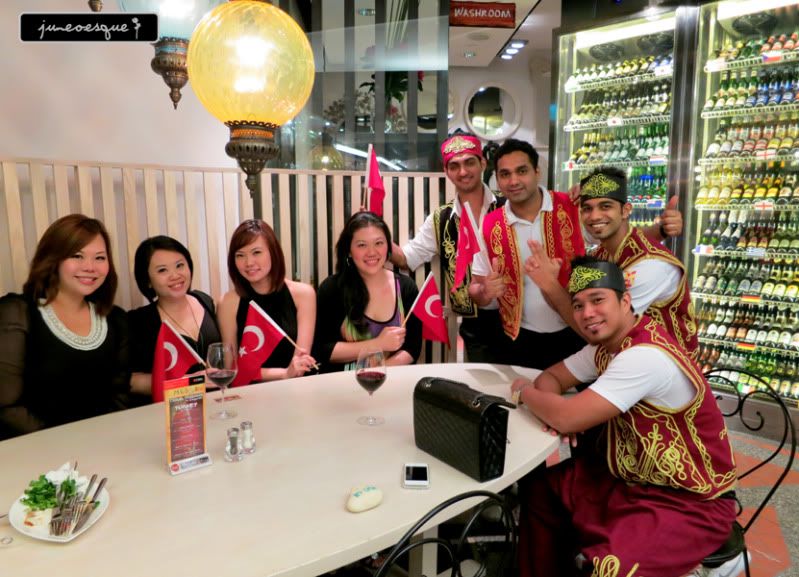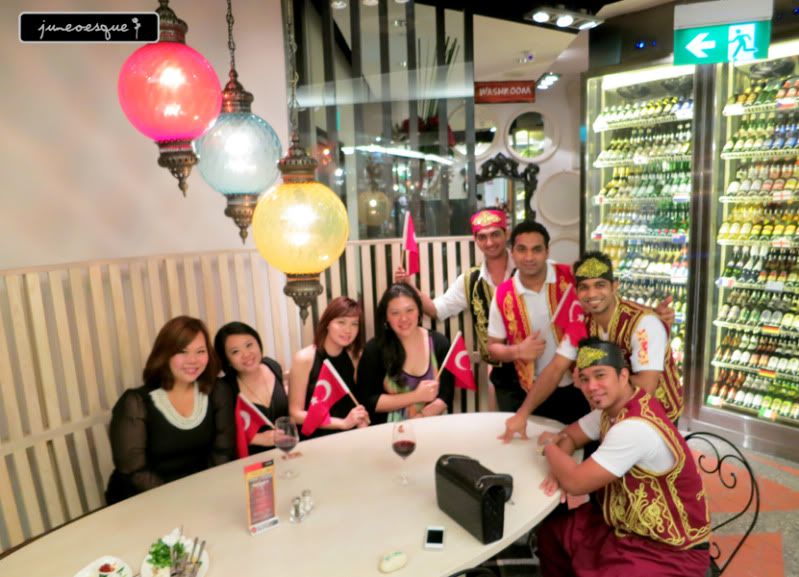 and by around 6.45pm, the cake i ordered for Joanne has arrived.
when we decided on this birthday celebration, i thought its a great opportunity to order that rainbow cake i've been dying to try. and since no one has ever been kind enough to surprise me with a WOW customised cake, i end up being the one to order them to WOW people while i get to savour them too (muahahaha).
so i researched online to look for rainbow cake makers. there is one particularly popular one.. but seems so popular that doesnt seem to have slots and doesnt do delivery and i read some not so positive reviews so i googled further and found this:
http://www.facebook.com/lapetitehomebakery
their website is over here:
http://notrehistoirearcen.blogspot.sg/
and the contact person is also called June. Her number is 90114485.
She is one very warm lady. Ordering from her was a breeze. She made everything very easy and comfortable.
as we opened the box, all the girls wowed at the colourful sprinklers and everyone was excited to be able to dig into the cake later....
while waiting, everyone helped to place the candles on the cake....
we decided to put XX small candles instead of using the big ones...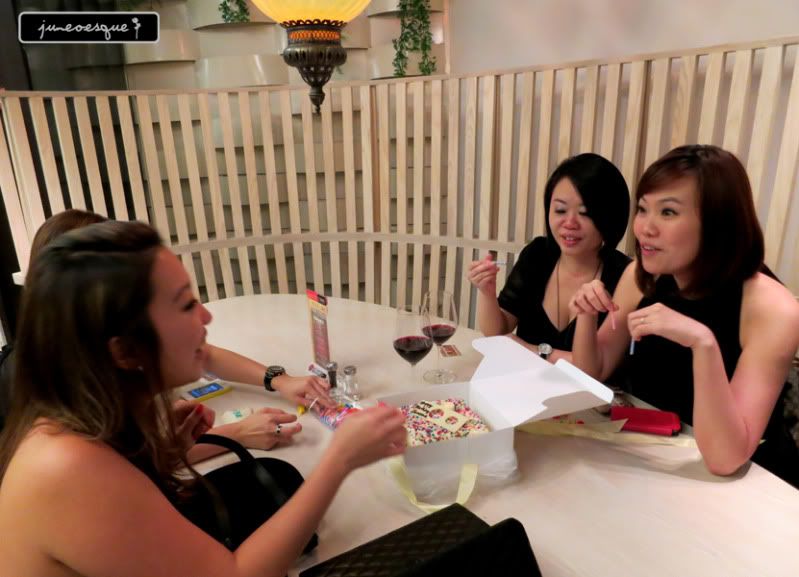 ta da~
everyone began excitedly taking pics of the photos but reminding each other NOT to check in or tag on fb yet! hahaha....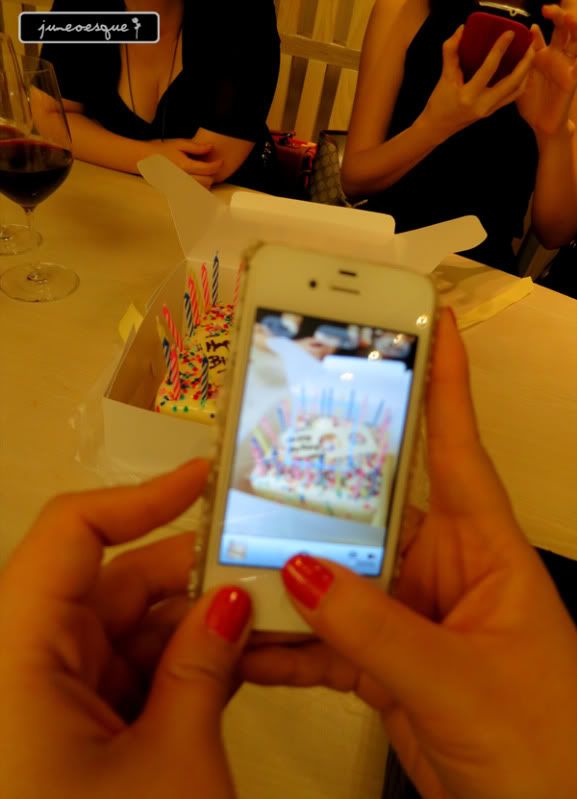 and when joanne said she was here, ah mah pig went to bring her in...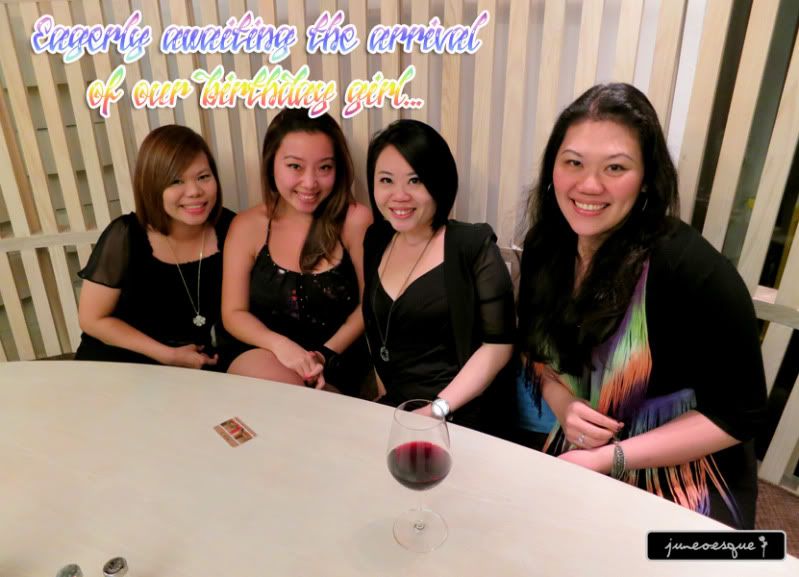 so pretty!!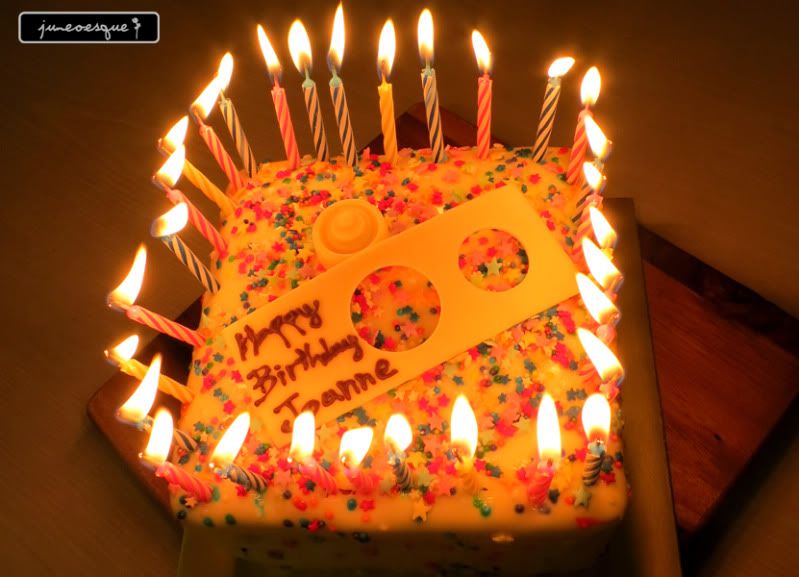 they took awhile and we were all excited (and worried) because the little candles were melting melting!! we even joked about having to tell joanne "
there used to be candles there
" hahahhaa
and here she arrives!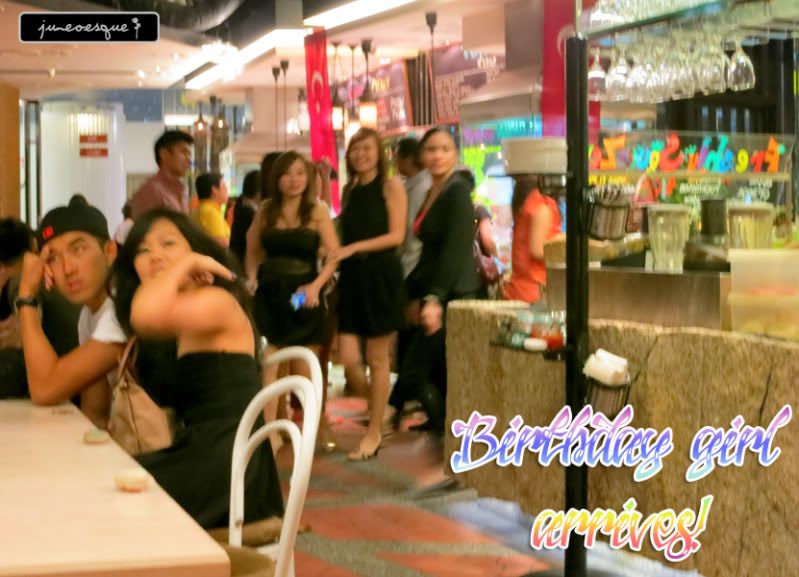 SURPRISE!!!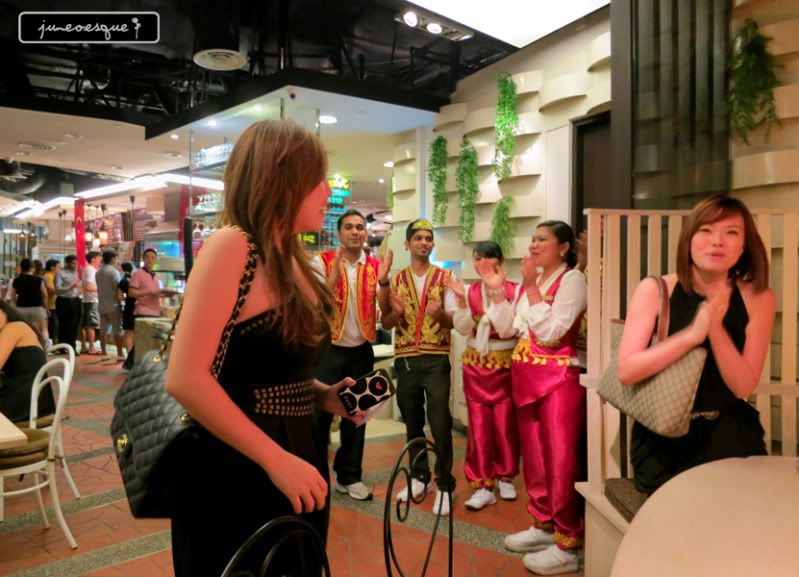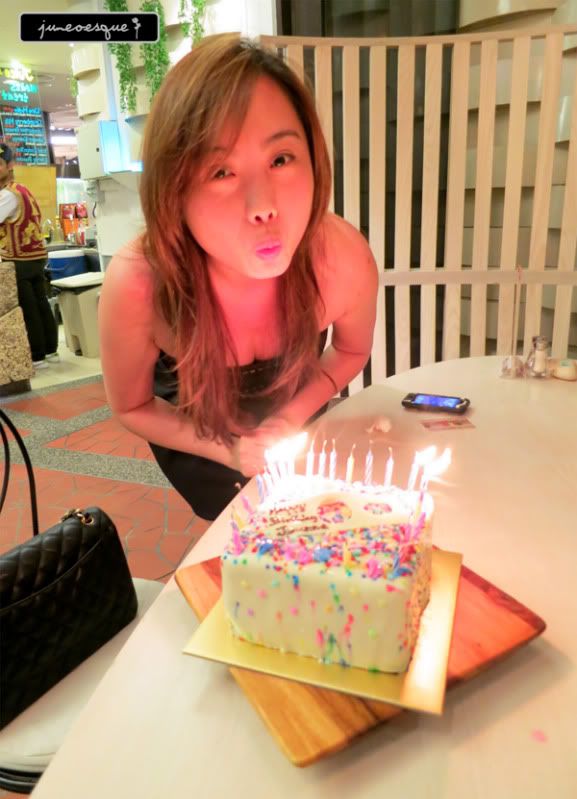 group photo!
Audrey gave Joanne her tiara...
and joanne got lots of presents!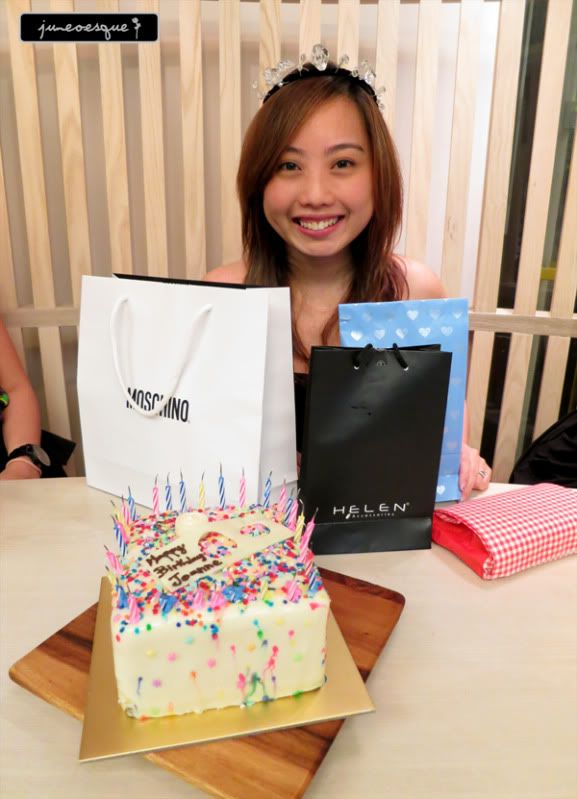 time to cut the cake!
oooo and check out the rainbow layers!!!!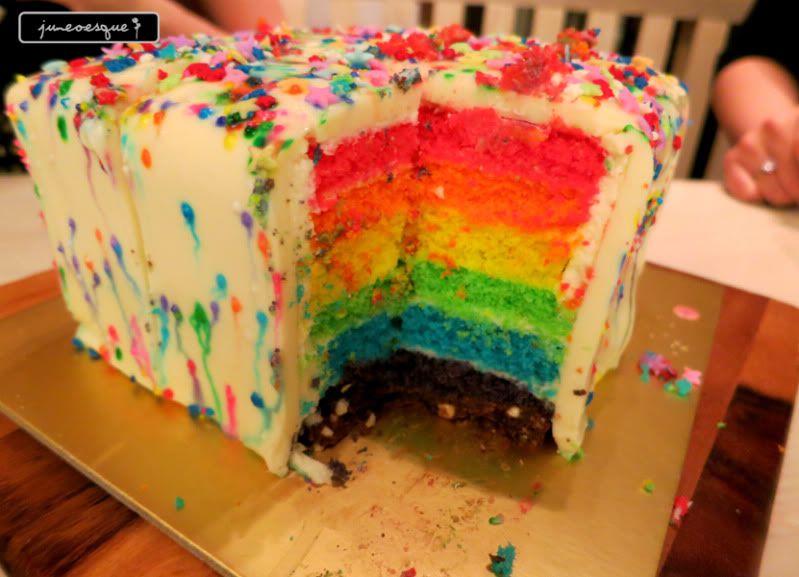 excited everyone!!
and you know how usually everyone will siam the cake, not this one! everyone wanted a piece of it! The cake is awesome! the bottom part is a layer of crispy chocolate, some nuts. YUMMY! the outer white layer is a layer of pudding like thingy. not too sweet, also very yummy. the colourful layers were a little like butter cake. overall it was really good! we loved it!
and although after the cake, most of us were kind of full, i urged everyone to order or Medzs will not let me hold surprise birthday parties here anymore! hahaha.. truth is, Medzs has been very kind. Not just this time round, the previous round for Lydia's birthday surprise as well. They are very accomodating, very friendly and helpful servers and they even sang along with us to help make the celebrations even more special. thank you Medzs!
i ordered the usual good old garlic mashed potato that i like....
and ah mah pig say i seem to like mashed potatoes. yes i do!
and of coz, how to miss their good salt crust roasted beef...
the girls agreed that this is good steak! the tasty salted crust... oooo...
and theres the meat platter that lyndi ordered...
the sausage was good! didnt really try the rest.
rosti with parma ham!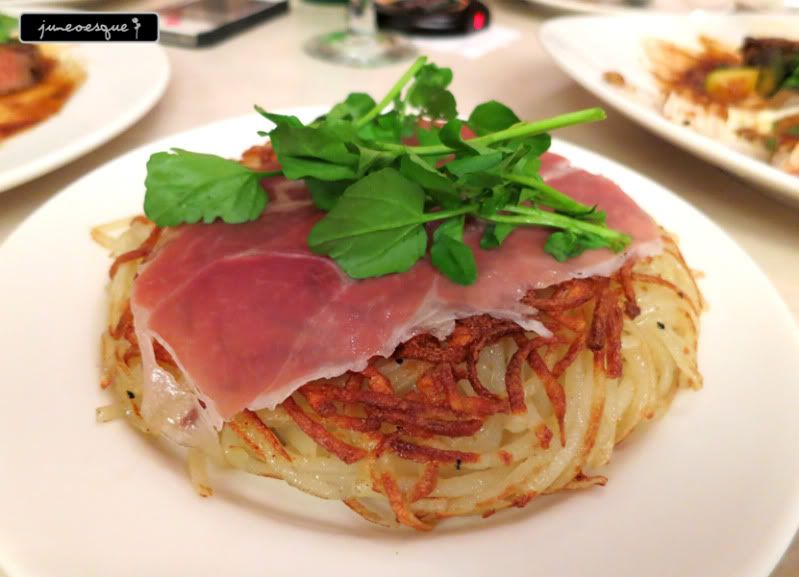 yums. i like rosti!
joanne's salmon skewers which i didnt try but the rest said its good...
roast pork paella i think...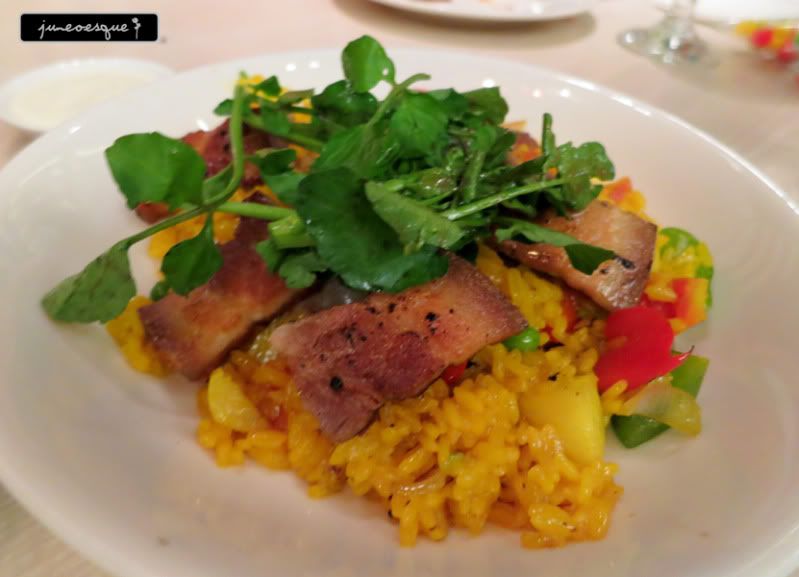 turkish chicken and cheese that took very long to arrive...
and after dinner, we were ready for round 2!
took some pics by the entrace of Medzs....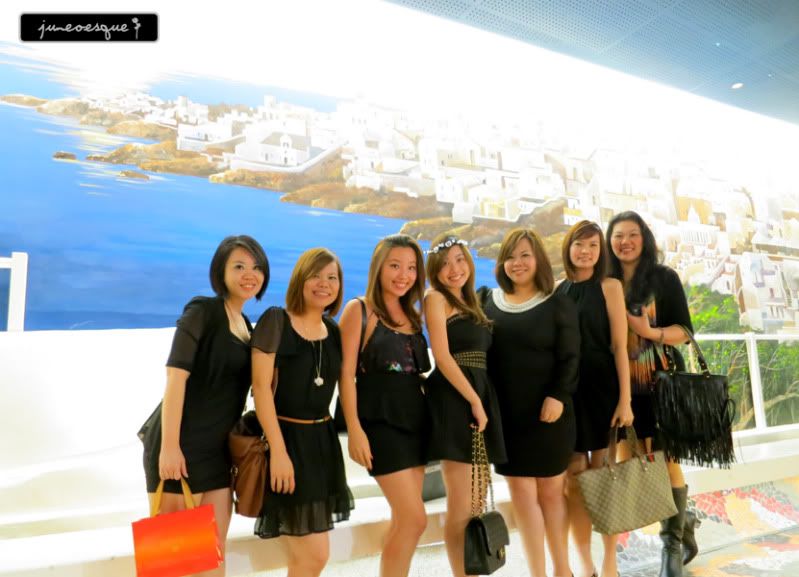 and this is where our round 2 is!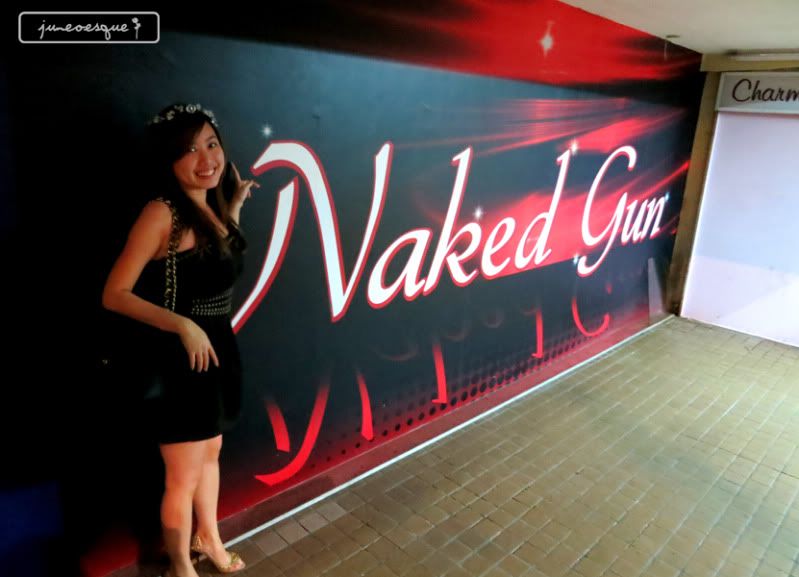 and if u havent guessed already, yes! its a gigolo club! joanne has been very keen to check it out after the conversations during our last dinner. Lyndi went to one with Eric previously and she has been raving about how fun it was.
so actually between that dinner and today, Joanne has actually tried to
jio
us and her colleagues and audrey and peiyi about going but everyone just blows her off with either lack of interest or try to sound really too busy to commit a date or try to push it off to september. den we'd print screen the conversations and luff about it in our group watsapp! hahahahhaa
so im glad, finally we can make her wish come true tonight!
we were really early (like 9.30?) and the guys were busy getting ready so we girls had to entertain ourselves...
and den when finally the guys were ready, the mama san brought around like 20 - 30 guys over to our table and told us to choose! we were all too stunned and shocked! hahaha... seriously, duno whether to smile at them or not!! so pressurising!
anyway, joanne took her pick and chose the one she found to be most handsome...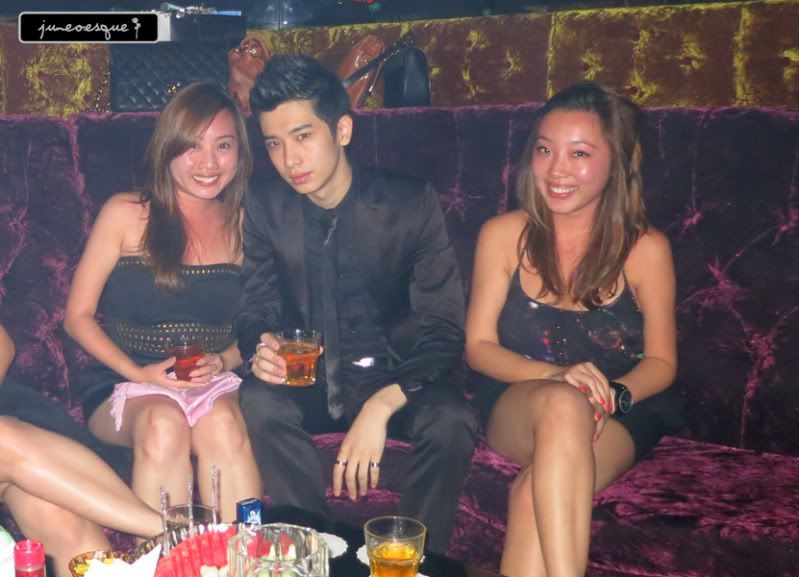 Lyndi's pick!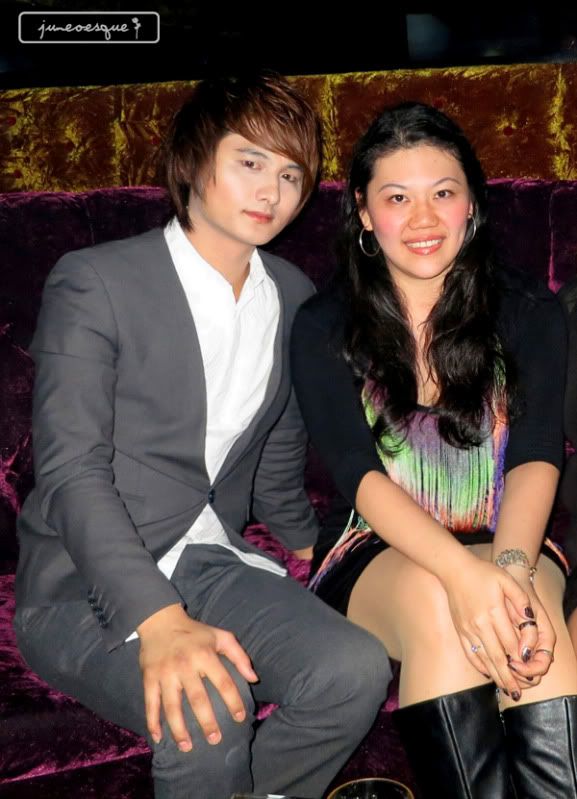 and for the rest of us, i randomly picked a few and we just sat around...
this guy was quite nice to us for the whole night, he even went to get joanne a balloon....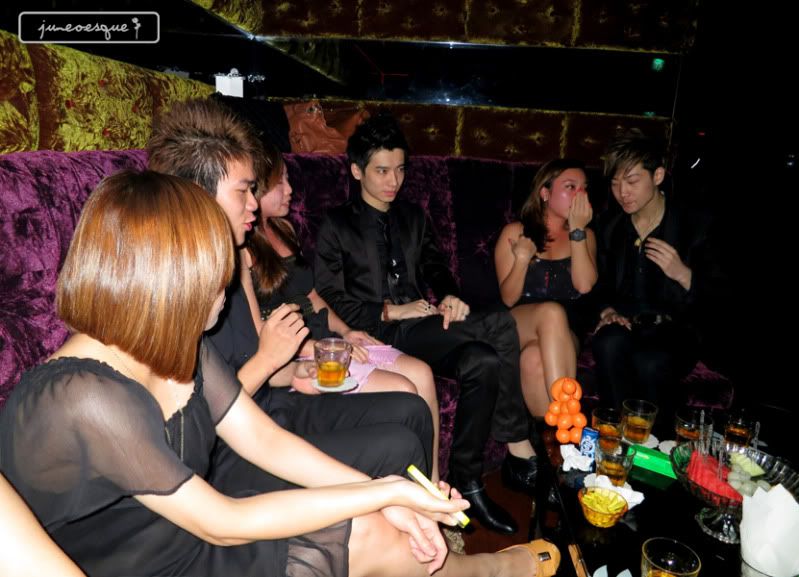 joanne and her type!
sausage fair!!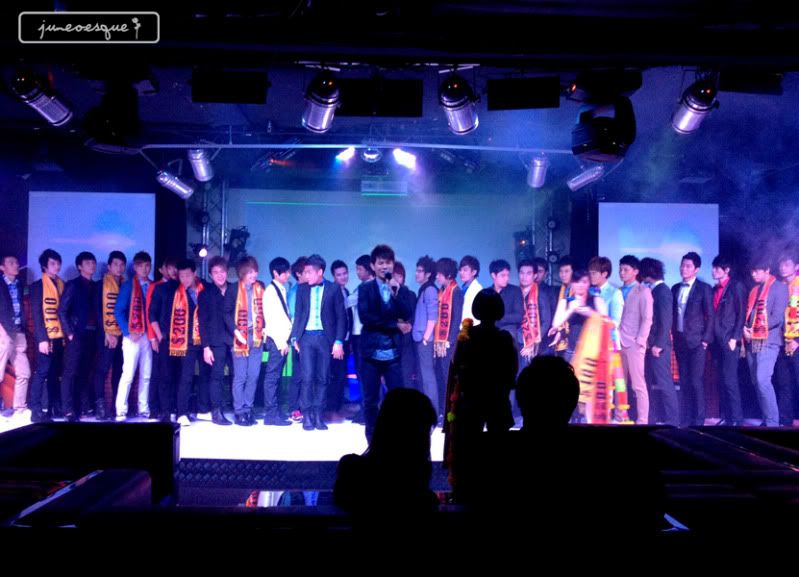 these are koreans!
very handsome koreans!
i like this one!!
called Bong! charming!
seriously, the guys here are much better looking than Giorgio when we went to celebrate my 30th birthday. But the guys here arent as entertaining as when we were in Giorgio. but overall, more handsome! haha
im glad joanne had a great time and a dream come true celebration!
and she has a very fun loving hubby Randall who is aware of this surprise! No cheating has been involved in this celebration! haha