i had a wonderful day. this is usually the case if im meeting Joey and Ishan!
the day started with me heading over to Far East Plaza to fix my nails. I just HAD TO change the colours. I don't like the nail colours i chose previously.. they make me feel old! I opted for the cheapest option which is just to change the colours coz i am finding it
sheong
to keep up with nail works. I ended up gel nails (CRY)... i have always known i dont like gel work coz its costly to upkeep and it dries the skin when you soak off and oh yes, even soak off is costly. but..... that colour is just SO NICE!!
i promised myself, only this once! next time round, esp after i start work, i probably wont have time to do my nails anyway.
Izzy was also free so he came over to meet up with me and we had lunch at Eatz.
for some weird reason, i actually had cravings for laksa. i dont usually have such cravings....
their laksa is very awesome in my view! haha i love their tau pok and they have this thing made of tao kee and some fish cake inside i think. damn good!
izzy was having cravings for satay bee hoon ....
i think it was decent. i like my laksa better!
he accompanied me to shop around till it was time to meet joey and shan. i also went to get dad a fathers' day gift. for years its always been just meal treats until recently i bought mum a dress (for no occassion) and mummy
hiam
this
hiam
that and dad joked and commented that .. "
如果 June 姐姐买给我,我会感动到流泪
" hahaha.. so i surprised him! i left the present in his room while he was asleep coz i reached home really late tonight. he woke up next morning wearing it for his fathers' day lunch the next day.
izzy and i also dropped by wisma and had drinks at Coffee by Dao.
their pandan roll is crazy awesome!
the center is coconut with real coconut bits. really good!
by dinner time, i headed over to Tras Street to meet up with Joey and Shan....
Shan texted me a few days back saying.. "
Hey babe! Your birthday dinner plans have been made! It's at 66 Tras Street, a french bistro :)
"
that was really sweet! i like such initiative and arrangements! and its a french place! i like the sound of it already!
Brasserie Gavroche...
i love their decor. as soon as u walk in, you'd feel like u've been transported over to Paris. As soon as we left after dinner, Joey said to me "
welcome back to Singapore
"... haha
what was also very french was the attitude of the staff. instead of a proper sofa table for 4 seater, he actually made our table to be half sofa and half chair (not sure if you can get the idea from the pictures below) and another table for 2 on the inside ...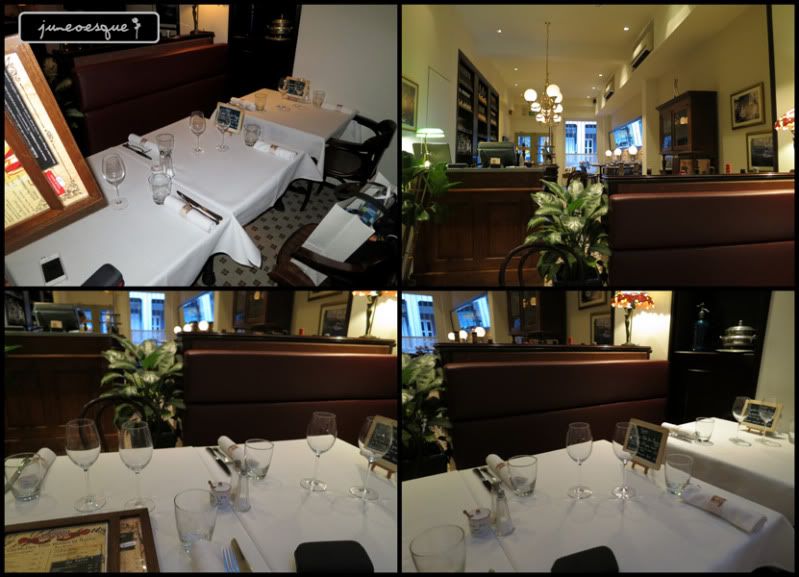 totally weird in my view! even when i tried to tell it to him, he insists this is right. He feels that this saves him space which is silly coz the gap for the tables are the same.
and the silliest part was that when the table of 2 person came, they didnt want the seat coz it was all cramped inside so actually throughout our dinner, no one occupied the two seater inside.
oh well.
we were first served the complimentary cheese bread thingy...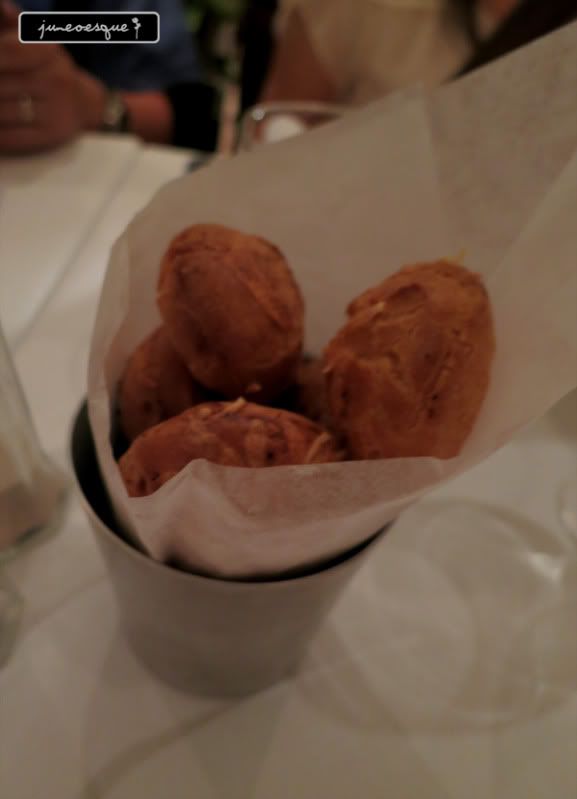 dont really know what this is called but its damn nice! its like salty profiteroles! really good!
and while waiting for our food, we exchanged presents! today shouldnt be just my birthday celebration. it should be OUR birthday celebration!
Presents!
Joey got tea from me...
shan got perfume and nail colour stickers so she can paste her own french nails...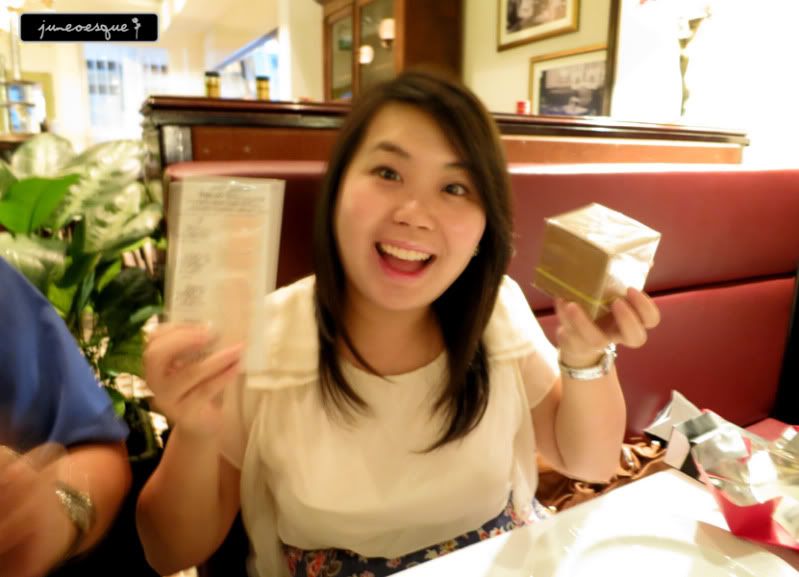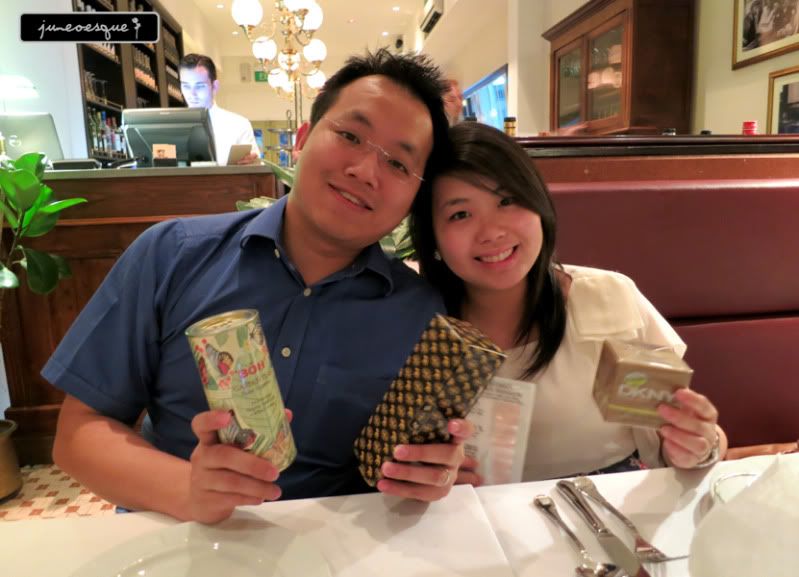 and they got me shower gel and moisturisor which shan raved about it her in cute sweet voice about it being 100% natural and something which she did lose me somewhere where i was mesmerised in her cuteness! haha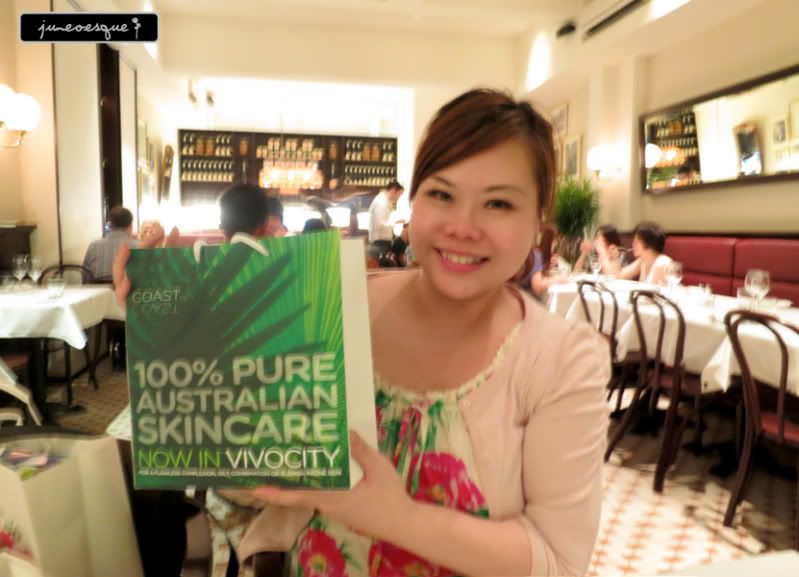 Joey calls this the 'bag' pics...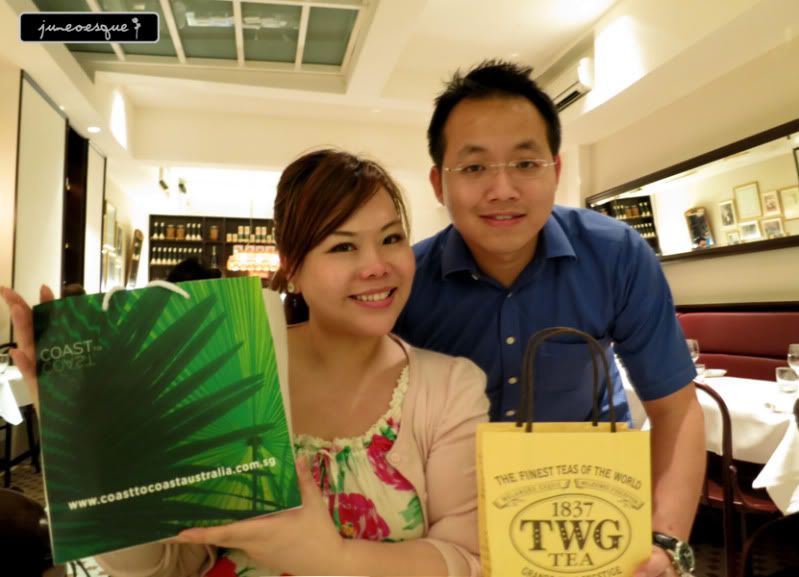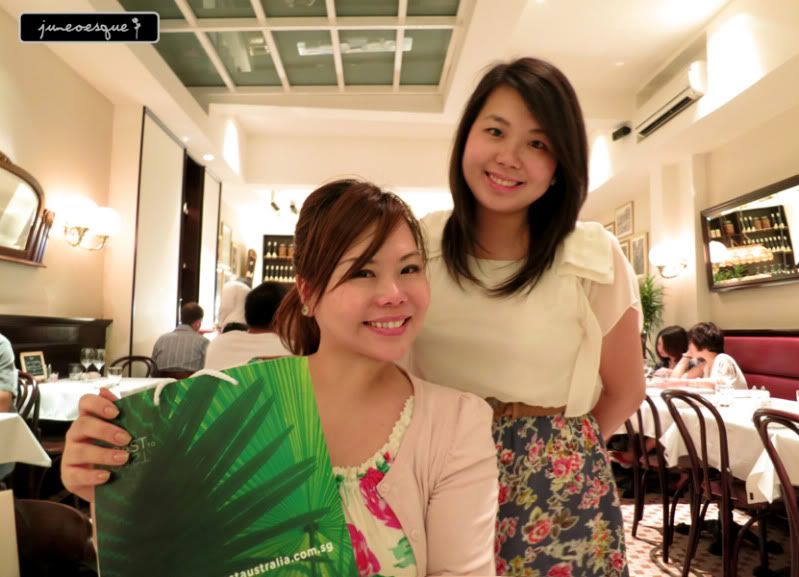 and our food arrived!
the bone marrow....
the bone marrow here is not bad but i think the one from Le Bistro Parisien was much better and bigger in serving.
onion soup...
their onion was really good! delish is the word!
spinach with garlic...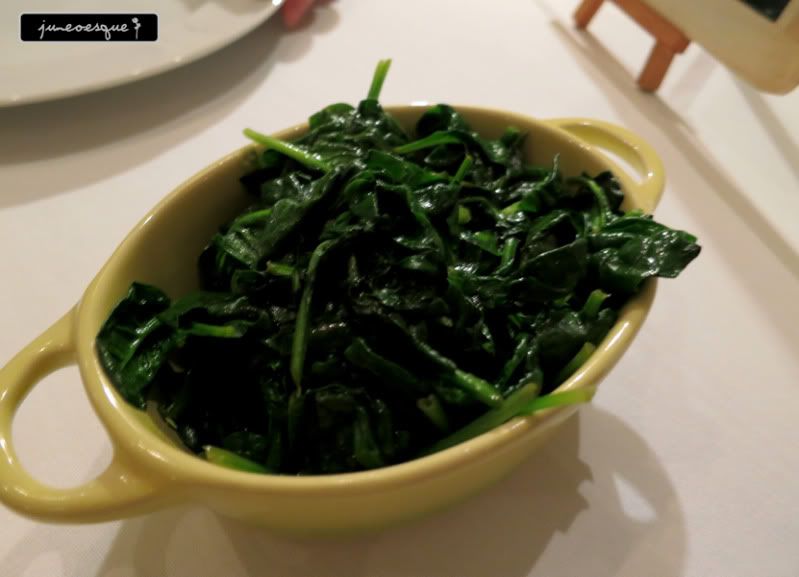 the spinach had a very chinese taste due to the garlic. i was hoping it would be like the creamy spinach from db bistro but it turned out done differently.
their butter was served in a very cute container thou...
we had the quail stuffed with foie gras...
the potatoes were AWESOME!! damnnn yummy!!
the mushrooms too!
the quail was soooo small but when i had at one point had the bones inside as well, the bones were cracking fragrant.
and then there was the steak...
at first i wasnt wowed by the steak. but when i dipped it in the sauce, it was amazing. the sauce was damn good!
joey and shan said this is called the Bearnaise sauce which is very hard to make. they said this one tastes very smiliar to the one they tried in Paris. damn good!
they treated me for the meal, thank cute!
we arranged to head back to their place for board games after dinner!
as we got to their place, shan should me an array of strawberry cakes they got for me for my birthday!
this is such a sweeeeeeeeeeeeet surprise! they are just this pair of really sweet people! i am soooo thankful to have met them on my Perth trip!
we decided to put the cakes for later and began our monopoly deal first when Shan's brother arrived home. He was staying with them for awhile coz only their place had aircon in all the rooms. haha.. yes, sg's weather is just mad hot!
monopoly deal time!!
we played a couple of rounds and decided to do the cakes at around 10 pm. Joanne and Randal were invited up to join us as well.
there were 4 different types of strawberry cakes namely the Sakura, the strawberry hill, the strawberry cake and the strawberry souffle...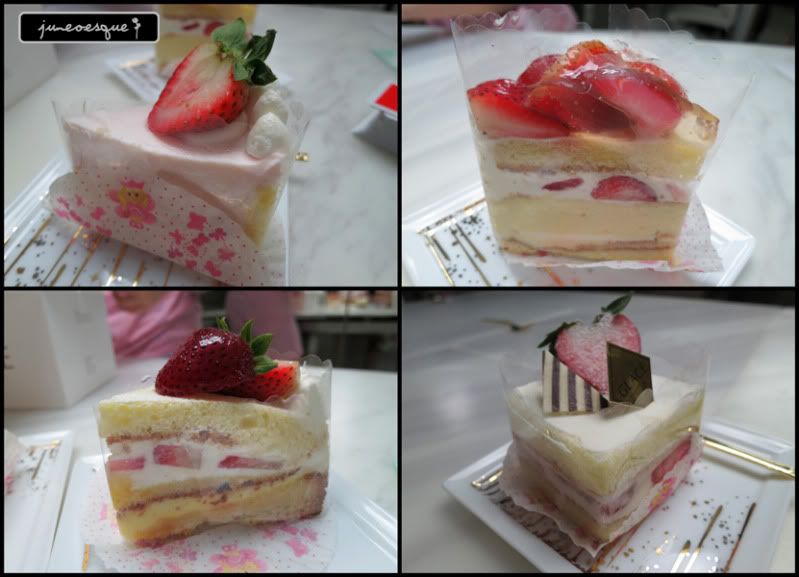 trying to figure out which is which!
thank you my sweet friends!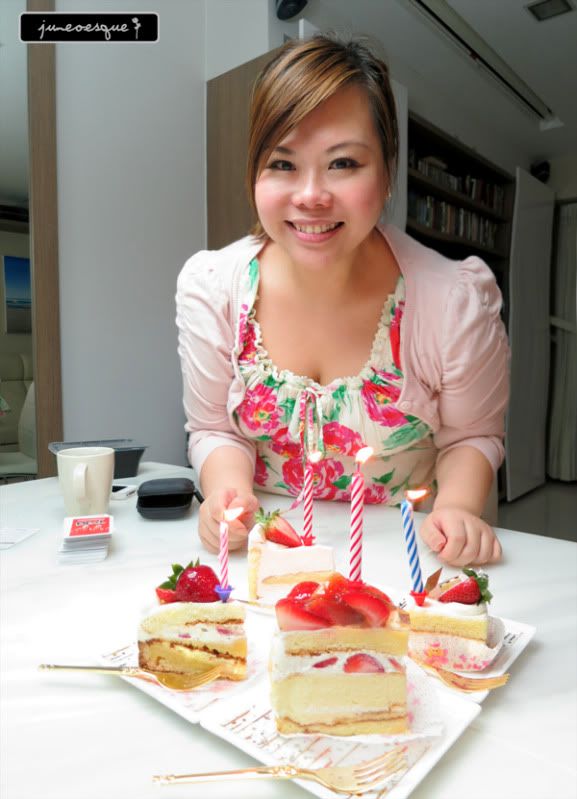 such a pretty sight!
the cakes were all pretty good. i particularly liked the souffle and the strawberry shortcake.
i heard someone u need to blow off all candles in one go. this is probably my happiest 'blowing' of my 3 big plus 1 small candles for this year!
and yes, i really said that! hahaha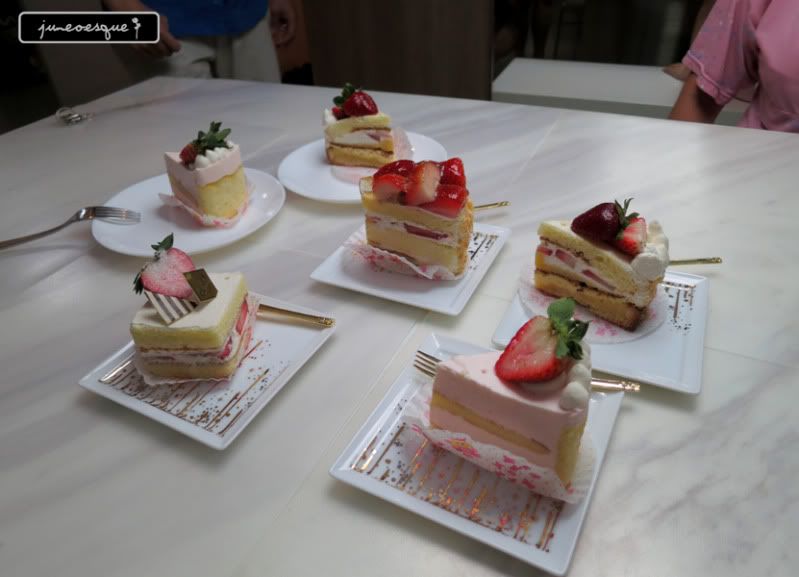 after the cakes, we went on to another game called munchkins which was quite fun!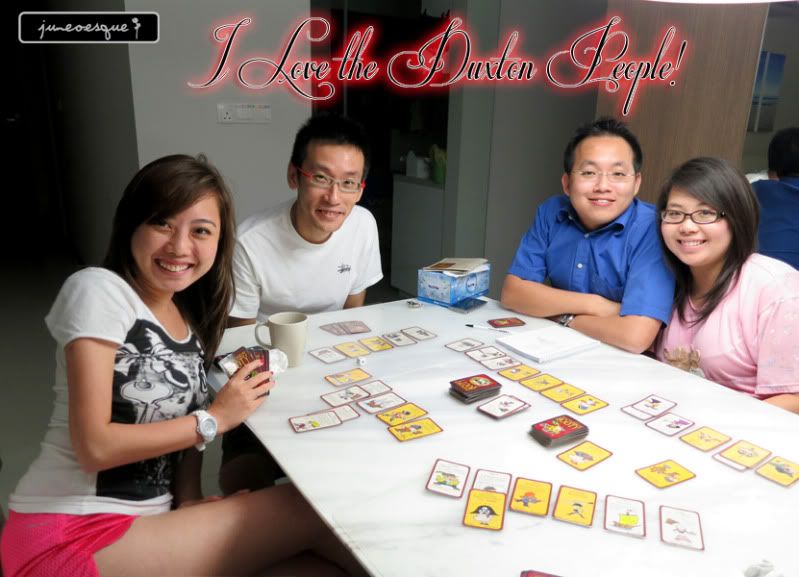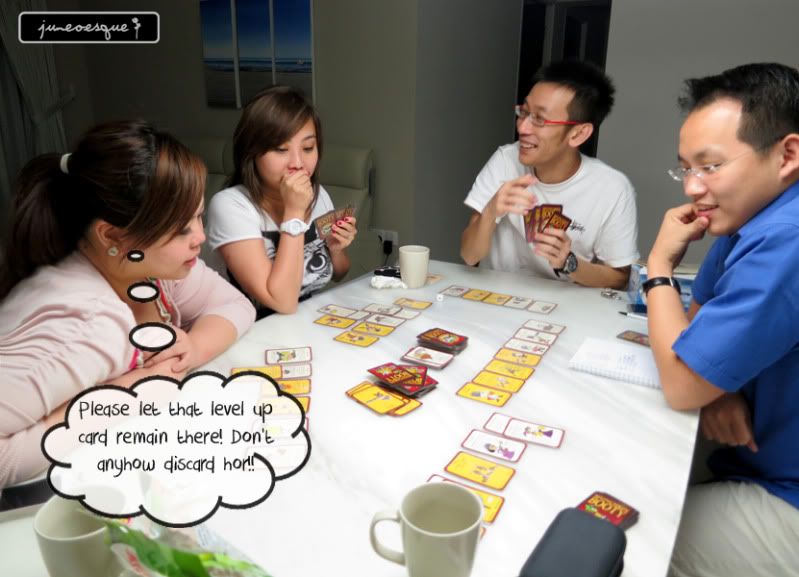 it was really a night of fun and laughter and i really love the duxton people. They are just soooooo nice folks!
I'm really blessed to know such nice people!