fathers' day lunch today is over Hangoga at MBS because Huiying wanted to watch the Harry Potter exhibition so we had preplanned the tickets to be bought for today. Jiamiao and Izzy also wanted to catch it so we all arranged to go for it today.
izzy joined for lunch. loh gong zai was supposed to join too but he had his own fathers' day lunch.
and seeing we had to be at MBS in the noon, i googled for a decent place for our fathers' day lunch which hopefully isn't too crowded or overly expensive yet good food.
so far i read a couple of blogs which seemed to give pretty decent reviews of their food. but night before joey and shan kind of warned me about their food being not so good (and they were right)...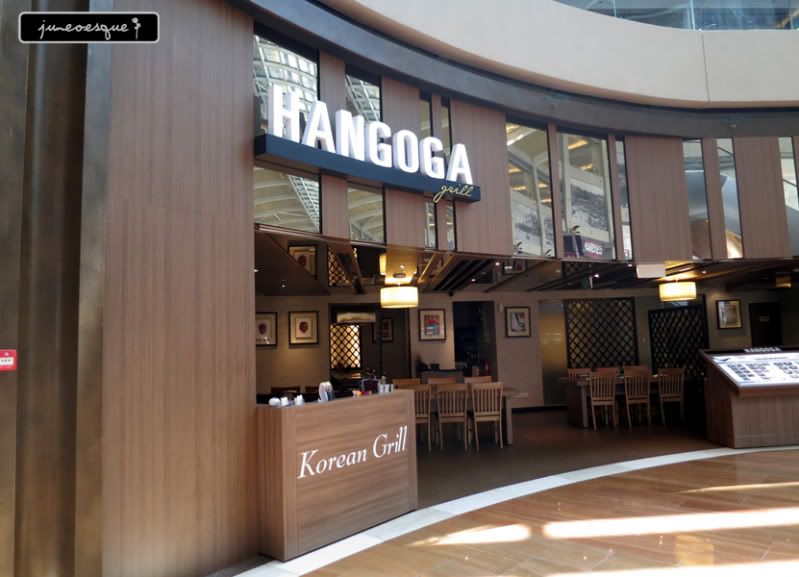 it was indeed quite a quiet restaurant which my dad joked and said.. "
no queue means not nice
" hahahhaa
they had only 4 small side dishes ...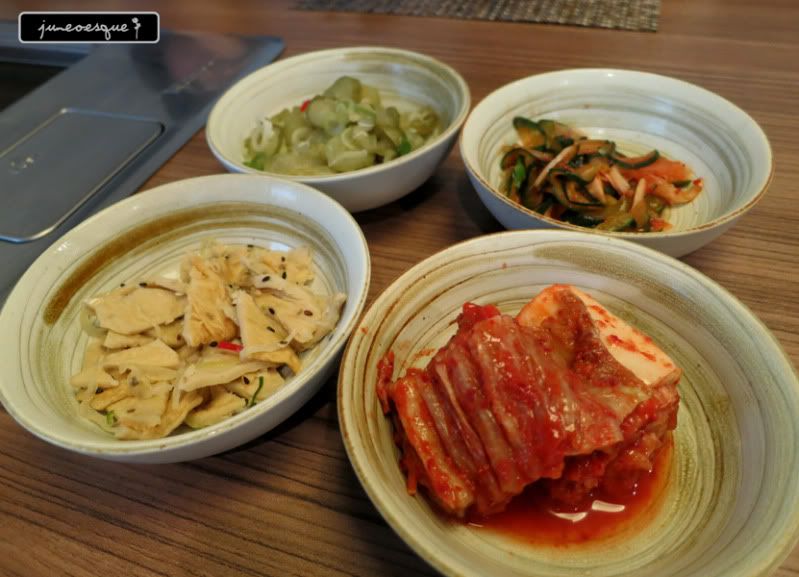 which honestly, other than the usual kim chi (which their kim chi was decent), the rest was really quite boring.
also ordered their kim chi soup, beef rib soup, ginseng chicken soup and bimbimbab...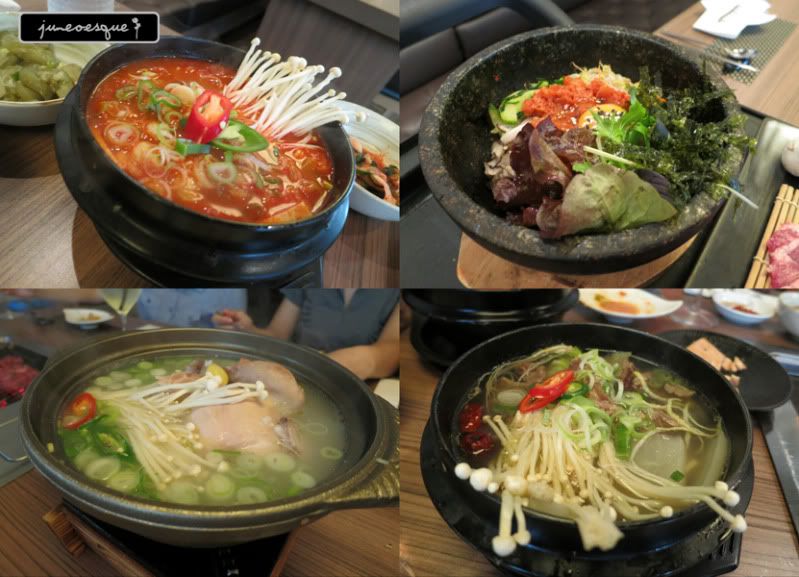 the kimchi soup was not spicy, mum and izzy said it taste more like minestrone soup.
the ginseng chicken soup taste like chicken soup. could not taste any traces of ginseng. very disappointing.
the beef rib soup was still ok. the rib was nice, soup base was normal.
the bimbimbab was also boring.
korean pancakes....
decent.
BBQ items...
the manager was nice to BBQ the food for us. he had already told us the meat were all not marinated. the meats were really quite expensive ranging from $38 to around $48. they turned out edible but not exactly nice.
mummy mixing the rice for us...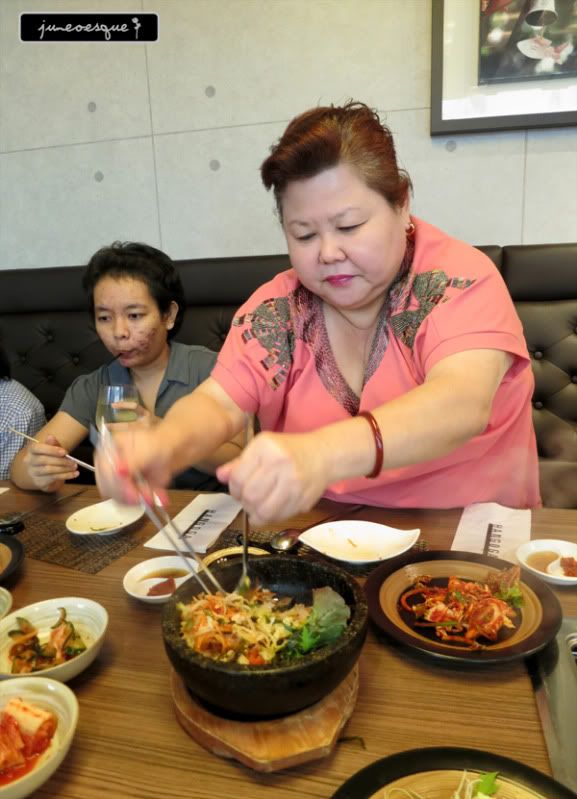 table picture!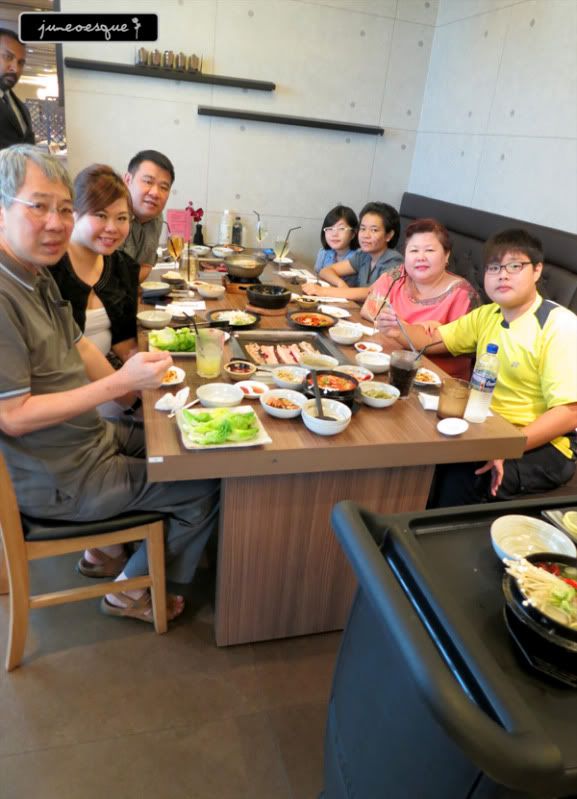 the whole meal came up to around $300 plus. terribly expensive for not good food. makes me miss manna even more.
after lunch, we headed over to Cold Rock for ice cream. what a joke, they only had 4 flavours left. we shared a couple of waffles and it was time for Izzy, Huiying and myself to head to join Jiamiao and Dean for the exhibition.
deanie and jiamiao wore couple tee
lo
! hahaha
jiamiao's friend gin joined us as well...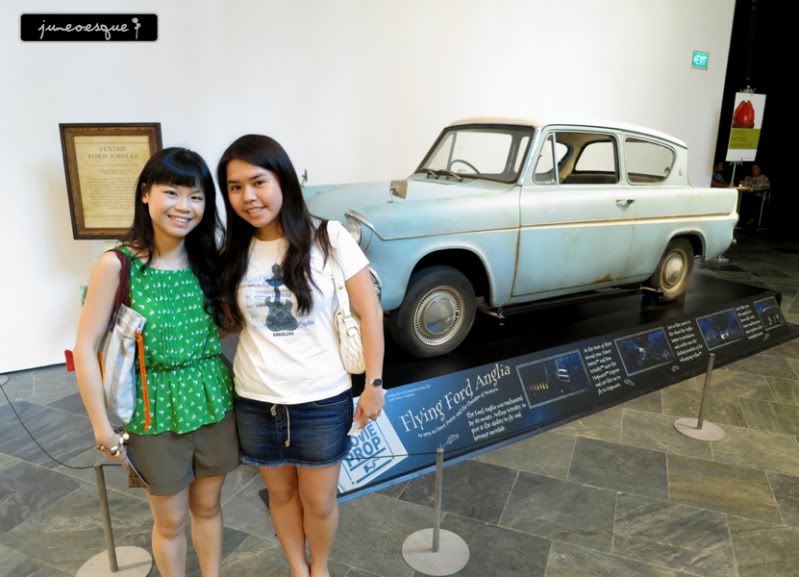 we opted for the tickets with audio guide... terrible waste of money!!!
initially deanie didnt know, he was still playing around with it saying its surround sound....
the harry potter exhibition is much poorly organised than the titantic one. queues were long and staffs were young punks who were rude. the exhibition is also not worth going coz they merely show costumes and nothing much more. threats were given on the 'no photography' restriction instead of the titanic one where they merely just inform. deanie said.. "
i understand why they are soooo strict... coz if pictures can be taken, people will not even want to attend this exhibition
"... which i raise both hands to agree!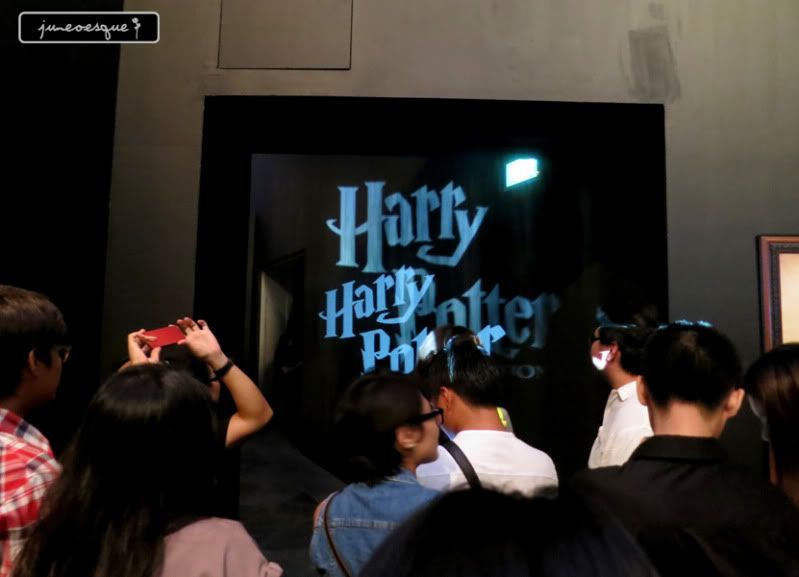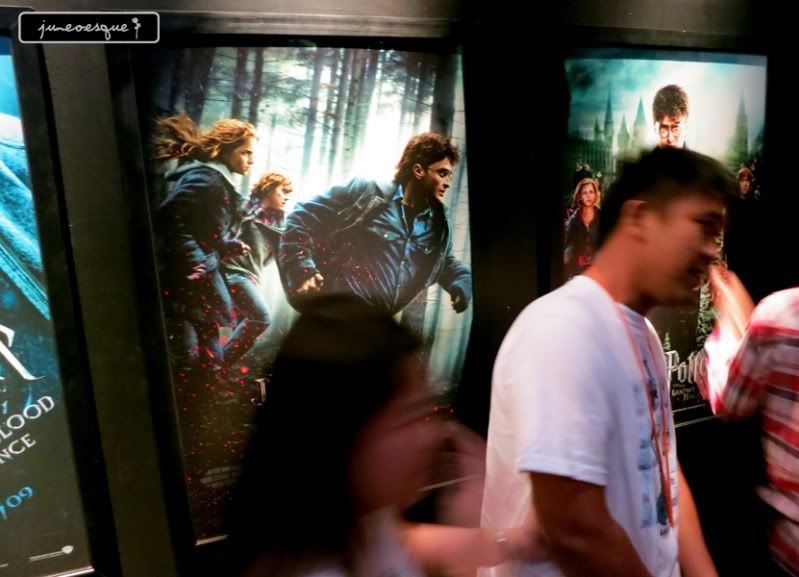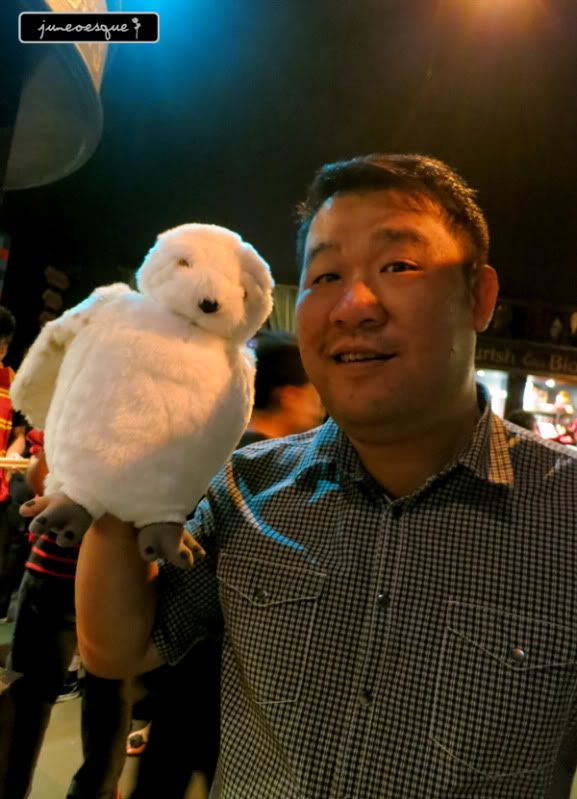 huiying said she liked a wand at the store so seeing she's been a very good girl, i bought it for her $75!! (CRY) they guys all laughed at me for spending $75 to buy a stick!
loh gong zai came to pick us up and loh gong zai upon knowing, asked if her stick has 开光already! hahaha
we headed over to MBFC for dinner. while waiting for andy and michelle to join us, we sat down at starbucks for drinks first and loh gong zai was
siao kian
-ing huiying and appearing fascinated over her fone cover!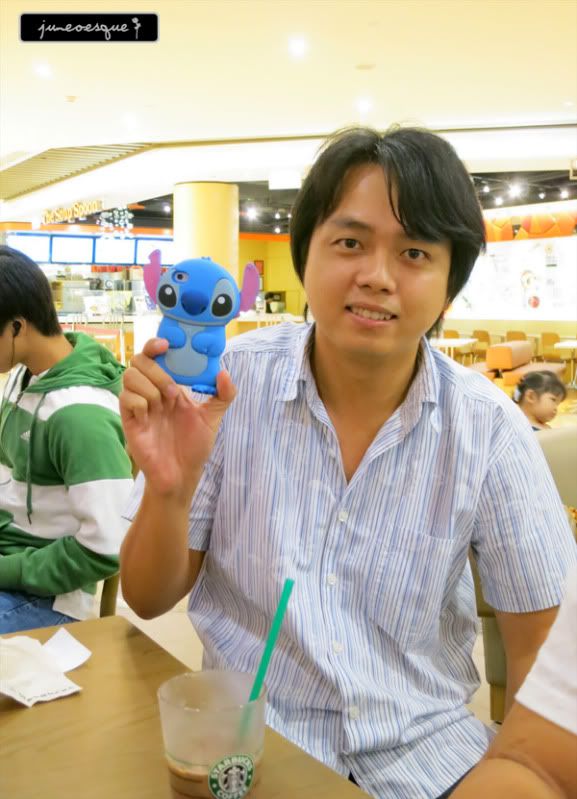 dinner was at Yomenya Goemon....
they had a salad bar which is different from their other outlets (actually kaizhi already told me before i came over.. kaizhi said she loves that they offer lychee)....
one serving per person. i like their lychee, cheery tomatoes and edamae!
Izzy and myself are missing the cold pasta we had the last time but sadly, the servers told us that they dont serve the chilled pasta in this outlet because not many people order it and coz this outlet has the pizza option.
(SO PLEASE, IF YOU GO TO YOMENYA GOEMON, TRY THE CHILLED PASTA! IT'S REALLY GOOD!! I PROMISE! DO THAT OR I WILL BE VERY UPSET IF THEY DISCONTINUE THE ITEM... THANK CUTE!)
also, i think the service of the staffs were really good. very funny bunch who answered our funny questions like.. "
is this nice?
", "
which one is nicer?
"
jiamiao had the cream soup hokkaido pasta...
which smells soooo good when it arrived. its pretty good!
Huiying's prawn and scallop cream sauced pasta...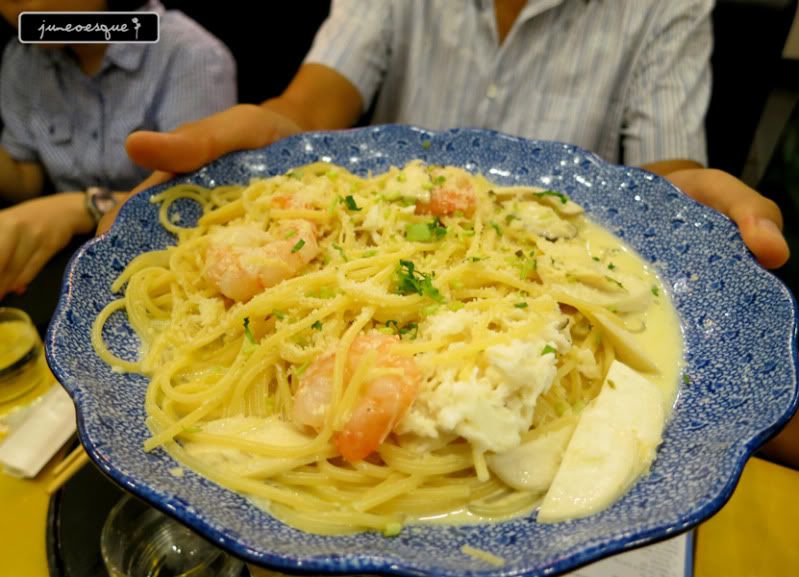 which again, when it arrived, the cheese smell was so powerful, it makes me want to drool! haha
deanie's mushroom cream sauce pasta....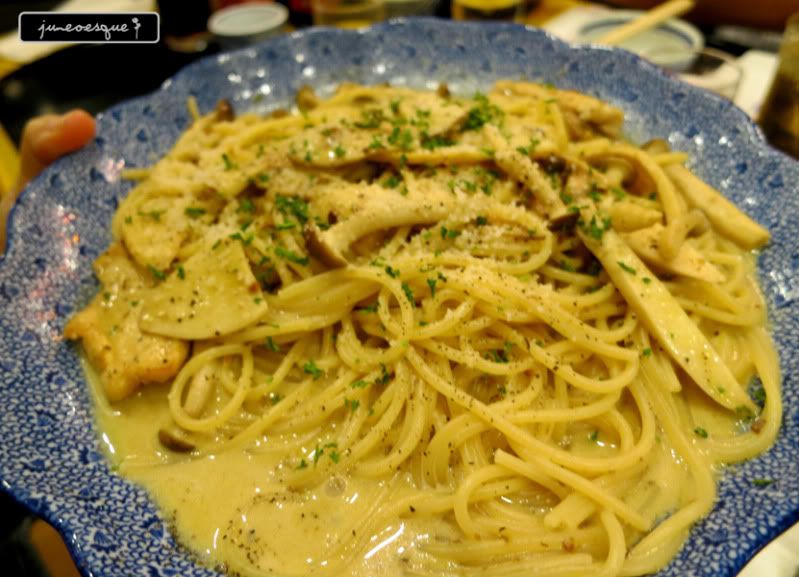 loh gong zai's mentaiko pasta which is supposed to be the more japanese style of pasta...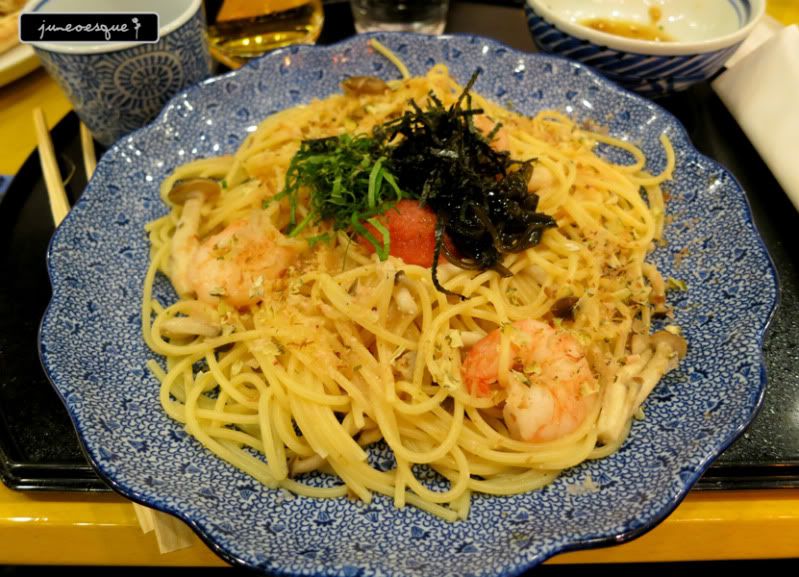 its really nice. the mentaiko was good!
izzy and andy went for the half half set....
carbonara with aglio!
also yummy!!
i had the avocado and prawn pasta..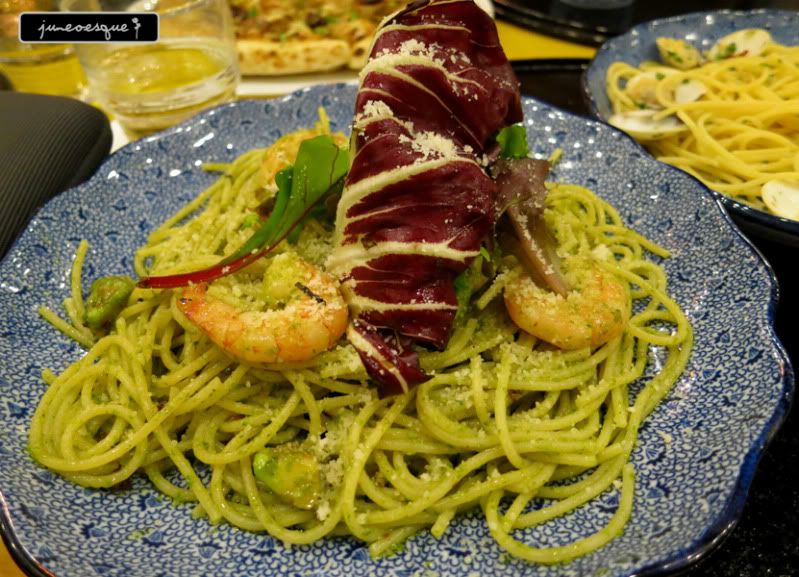 was a little oily towards the end but overall still good.
we also shared some pizza.
roast duck and smoked chicken with 5 cheese...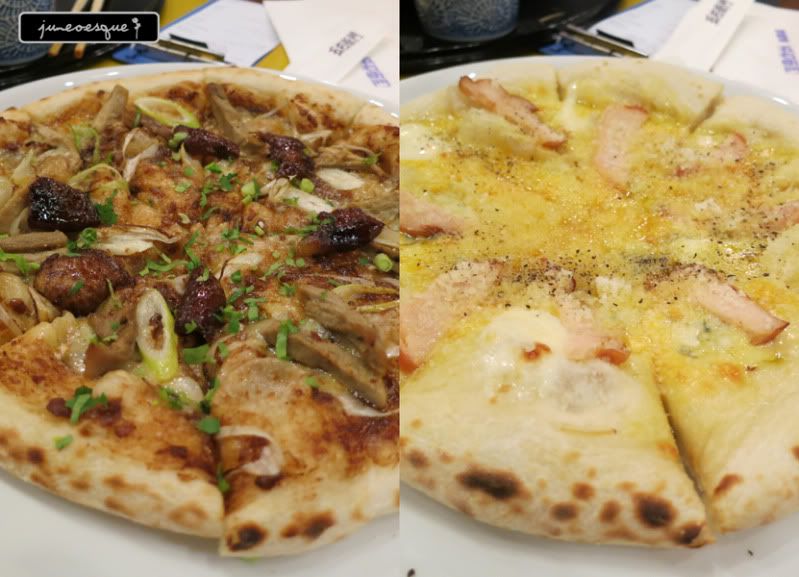 some liked the roast duck better (me), some liked the smoked chicken one. generally i actually like the crust coz its very soft!
and for dessert, i opted for the cheese cake...
andy with his little princess...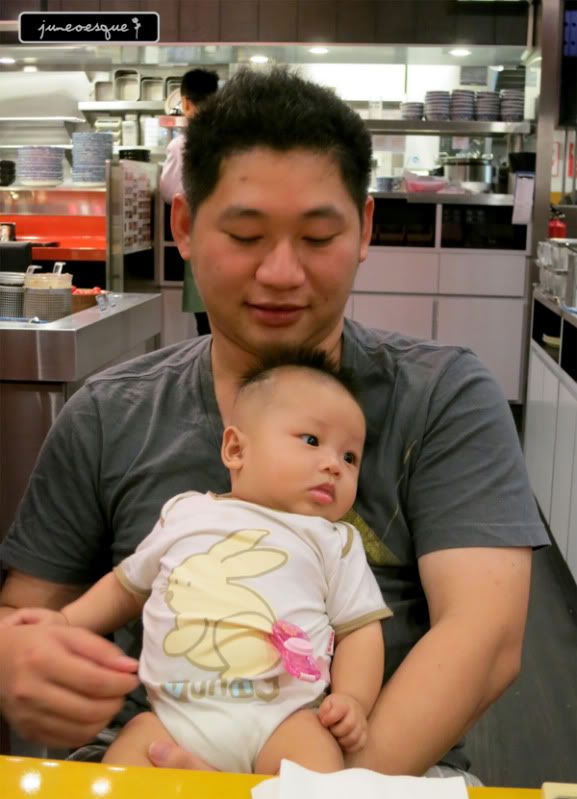 loh gong zai
siao kian
alyssa...
and it was hilarious coz some parts of the conversations somehow included R21 topics!! and my cousin was there!! hahaha...
after we got home, huiying was showing my parents the wand she got....
and we tried to use it on Niki!!
family time warms the heart.