They were having a fruits party while giving out the award. there was gonna be durian! i was joking wif my bosses to say... "
didnt they know the award recipient doesnt eat durian? so smelly.. sob.. im getting a smelly award!
" hahahha
sherlyn and anu who were supposed to help me take pictures of me receiving the award from the big big big big boss end up cam whoring and doing a fish....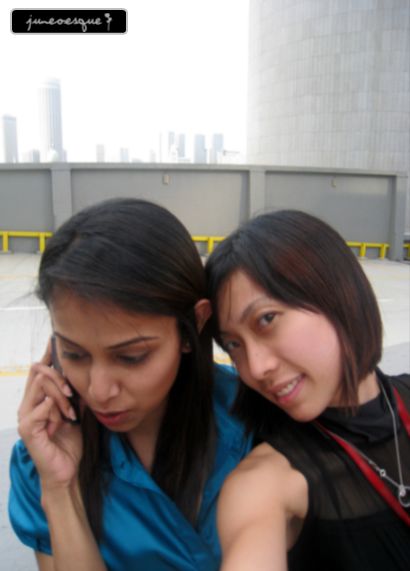 haha..
receiving my award...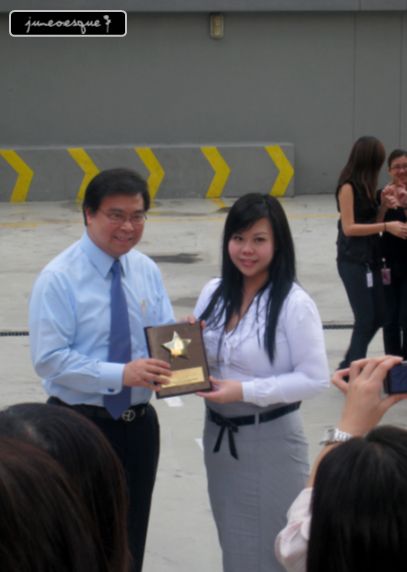 John took the pictures. and although there were a few other heads popping but i kinda liked the angle!
with our big big boss....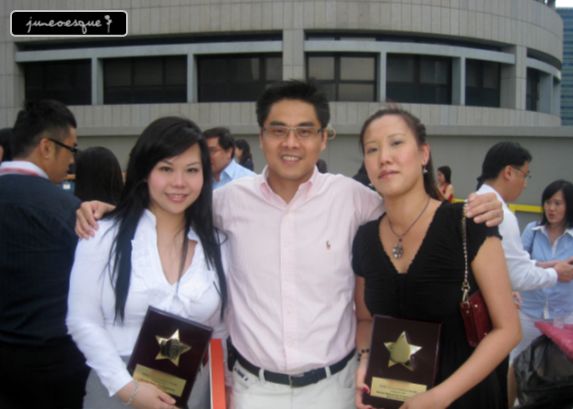 some of the fruits...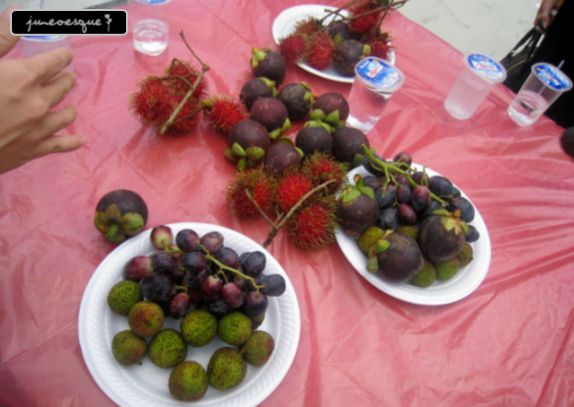 thanks to sherlyn who kinda drafted the nomination letter. actually i was also nominated last year but i guess i was still pretty new so i didnt get it. heee...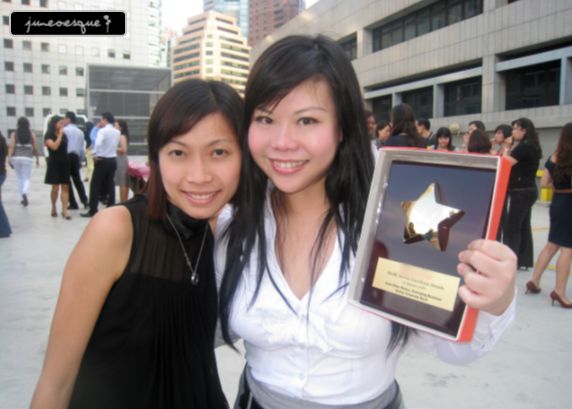 and also my boss shida...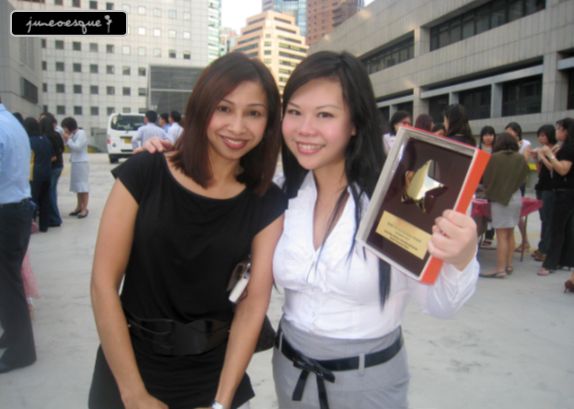 myself with my TL and GTL...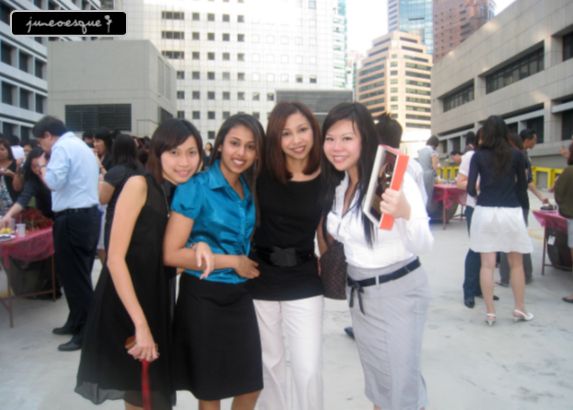 and everyone were enjoying the fruits party....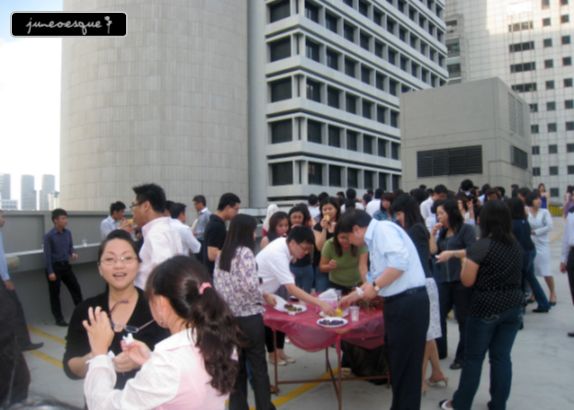 quick congradulate me!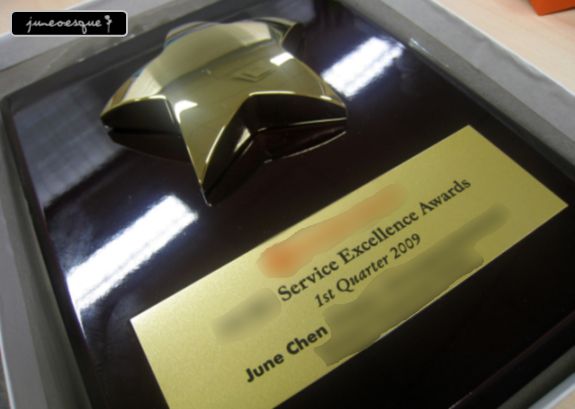 haha...
after the ceremony, i rushed back to office to finish up my work before heading over to the Marmalade Pantry to meet up with the tai tais. They are celebrating my birthday for me today!
like the postcard said....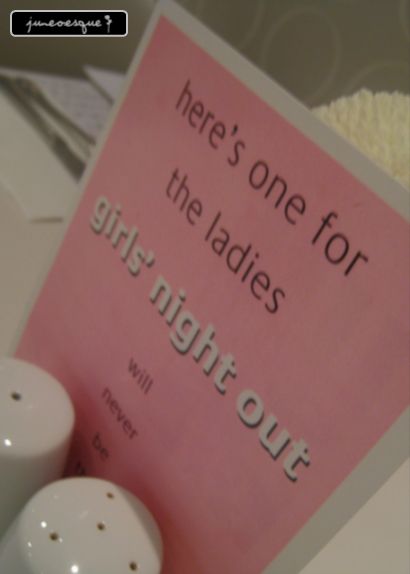 'GIRLS NIGHT OUT!'
the interior of the restaurant...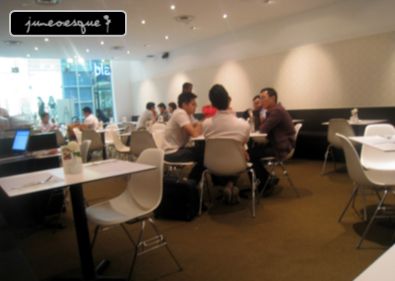 much smaller than the branch at Palais.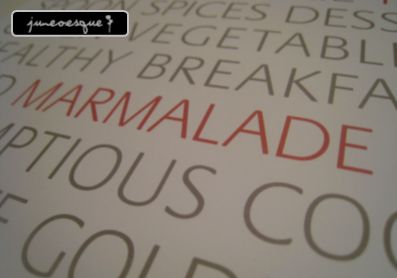 here's what we ordered....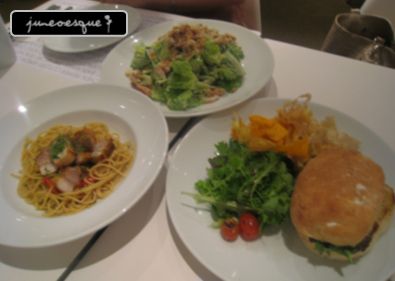 crab caesar salad...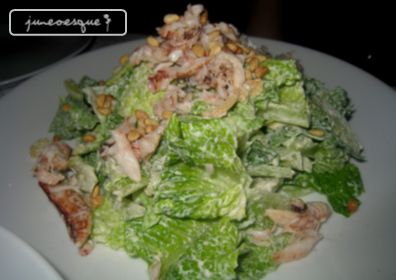 this is super good. the veg were fresh and the sauce was just right. not overly thick or thin. taste wise was also great. the crab meat was generous and scrumptious! The pine nuts added a fragrant touch with every bite. YUM YUM!
aglio olio pasta with kurobuta pork...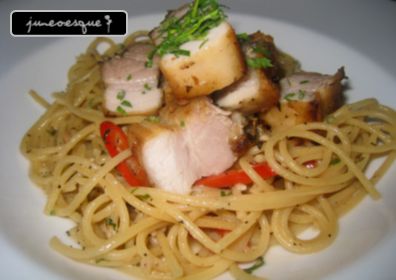 while the pasta tasted good. i think the kurobuta pork was quite disappointing. i didnt find it tender (maybe moomba set my expectations too high) and the crispy parts werent crispy. i think i'd have liked the philip street's roast pork much better. haha
we also shared a beef sandwich...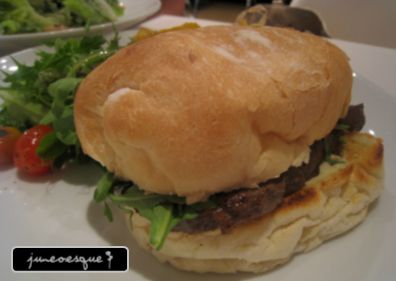 done medium well...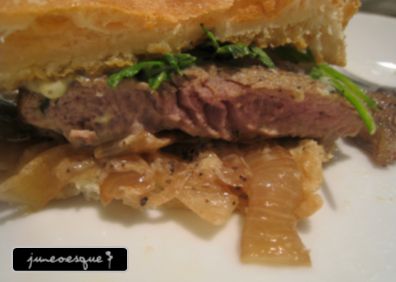 the sandwich was good too. i'd have preferred the beef to be done medium rare. but having blogging this only one week later, to be honest i cannot remember the taste so i guess it wasnt wowing but just nice.
among the 3 i think my fav was the crab caesar. im still craving for it now!
the ladies were very interested in their desserts coz their colleagues and online research have told them that marmalade serves really good desserts.
we shared a mango and lemon grass crumble...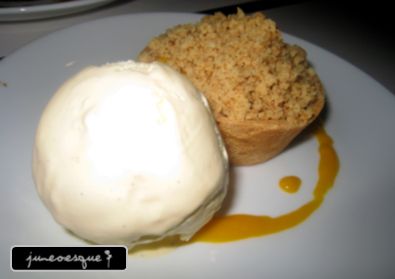 although i dun take mango but i chose this coz i remember loving it when i came wif carol last year and its the only crumble thingy they have. its the crumb bits dat i love of this item. the crumb bits mixed with the ice cream is simply mama mia~! if anyone from marmalade happens to read this, can you pretty pls innovate and come up with some other crumble so that non-mango eaters like myself can order it? haha
toffee date pudding ...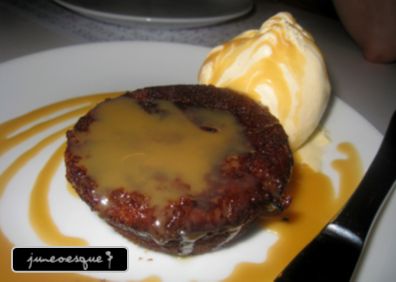 i'd say this is one of their signature dessert. today's one is much nicer than the previous few times i had this from marmalade. its nice. but in comparison i still much prefer broth's version. probably coz broth uses sour cream and it goes fabulously well wif the butterscotch.
us!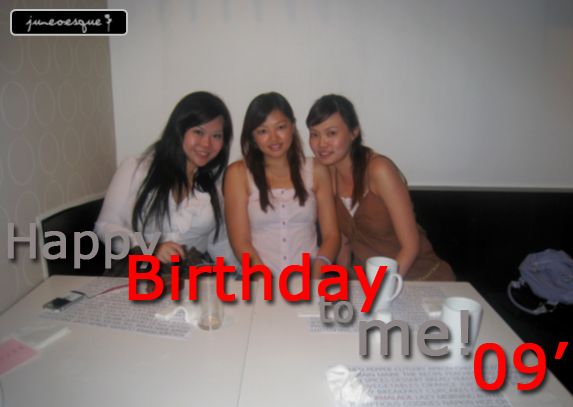 thank cute for the treat tai tais!
we were deciding between going for drinks along the pubs of far east square until we saw the lights at fullerton calling out to us.
we decided dat since its tai tai nights out, it made more sense to continue the night in a more tai tai-ish way. haha..
The courtyard....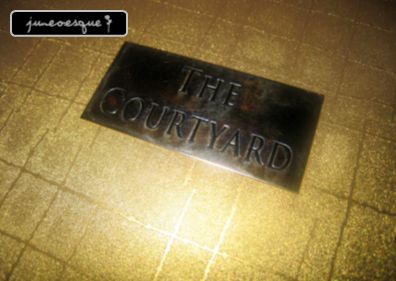 tea~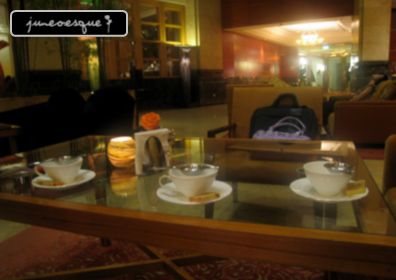 each of us had a pot.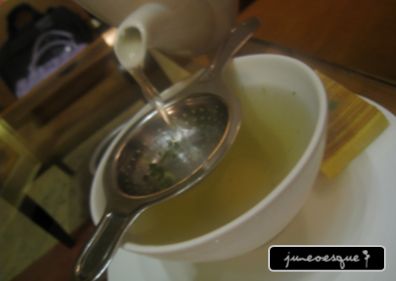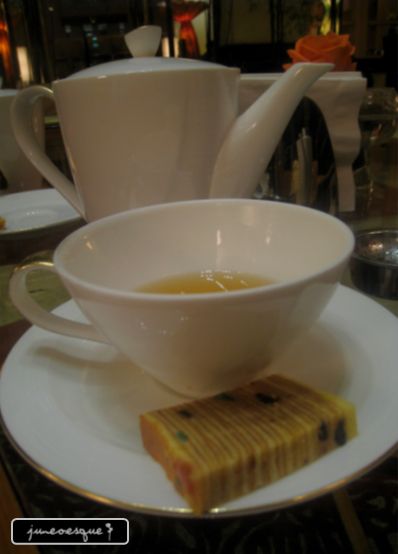 how can we miss cam whoring....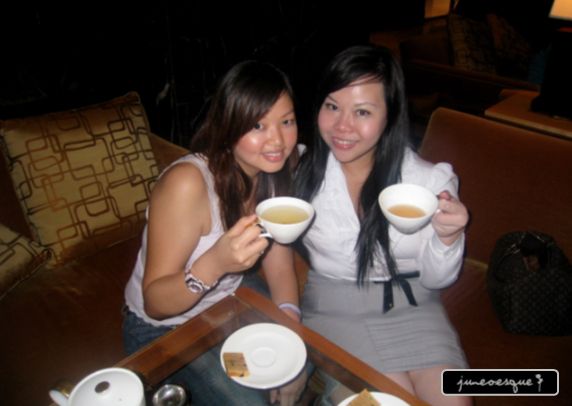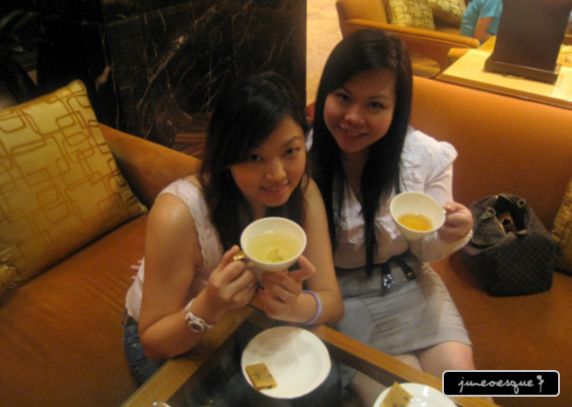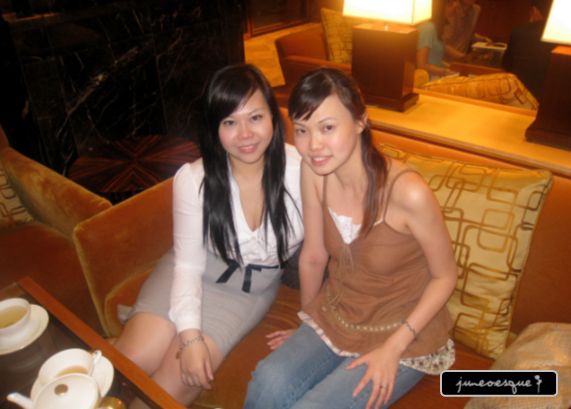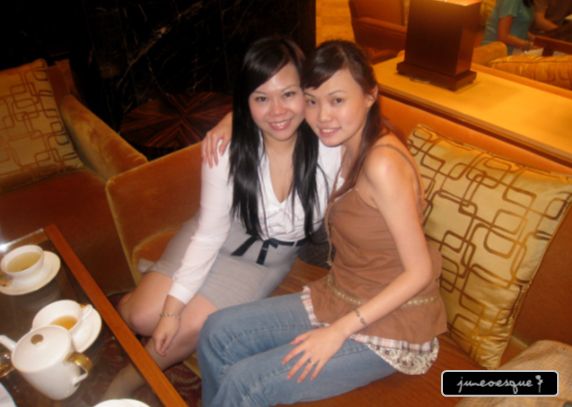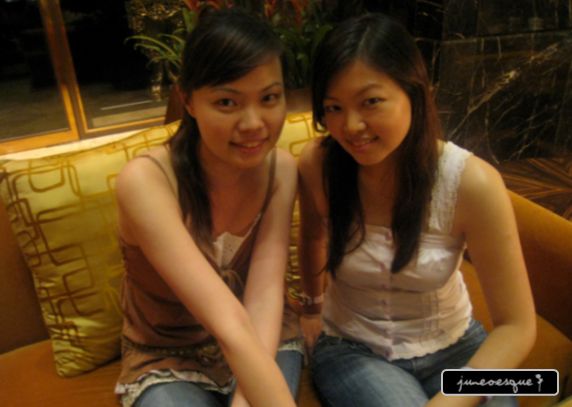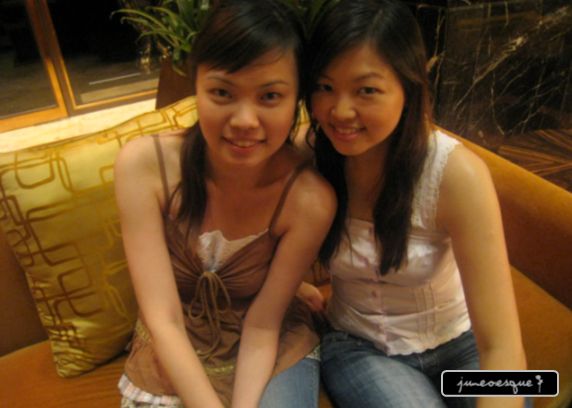 we each othered different types of tea. they had quite a range of tea and they had really interesting names. along the way i kinda had this wacky idea for us to pose and den i'd photoshop us in along with the theme of our different tea. the idea evolved when mummy gorzilla kept saying she wants a geisha to serve her her tea coz her tea is called geisha blossom and ah mah pig kept asking if i had the feeling of celebration after trying her tea.. haha.
ah mah pig began helping to fold the napkins into fans and check out these NG geisha shots...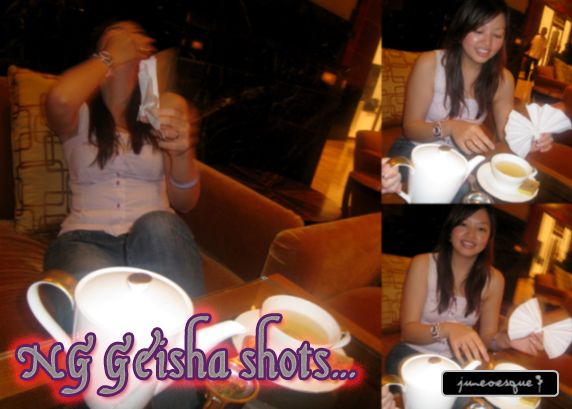 haha...
and so, introducing the different tea....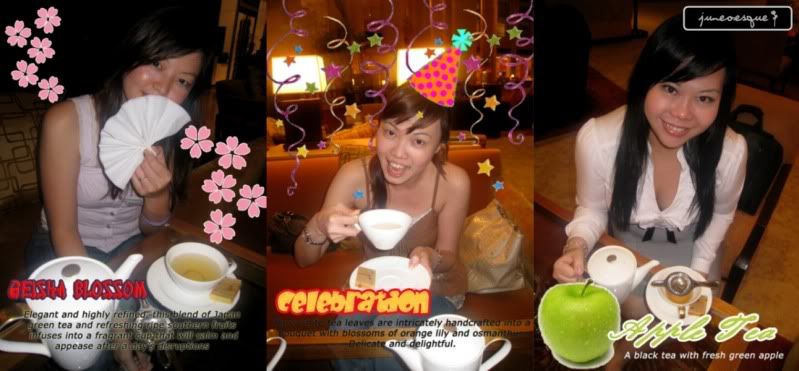 Geisha blossom
($13)-
Elegant and highly refined, this blend of Japan green tea and refreshing ripe southern fruits infuses into a fragrant cup that will calm and appease after a day's disruptions
its got a very strong fragrant fruits like smell. initially i thot the smell was from my apple tea but turned out it was from the geisha blossom.
Celebration
($18) -
Rare white tea leaves are intricately handcrafted into a bouquet with blossoms of orange lil and osmanthus. Delicate and delightful.
among the 3 we ordered today, Celebration has the mildest smell. i'd prefer the Geisha blossom and the apple tea.
Apple Tea
($13) -
A black tea with fresh green apple
I like my apple tea and find it pretty similar to the Geisha blossom.